Just 4 simple ingredients in this classic southern fried squash recipe. Have the best of summer's bounty on your table in just minutes!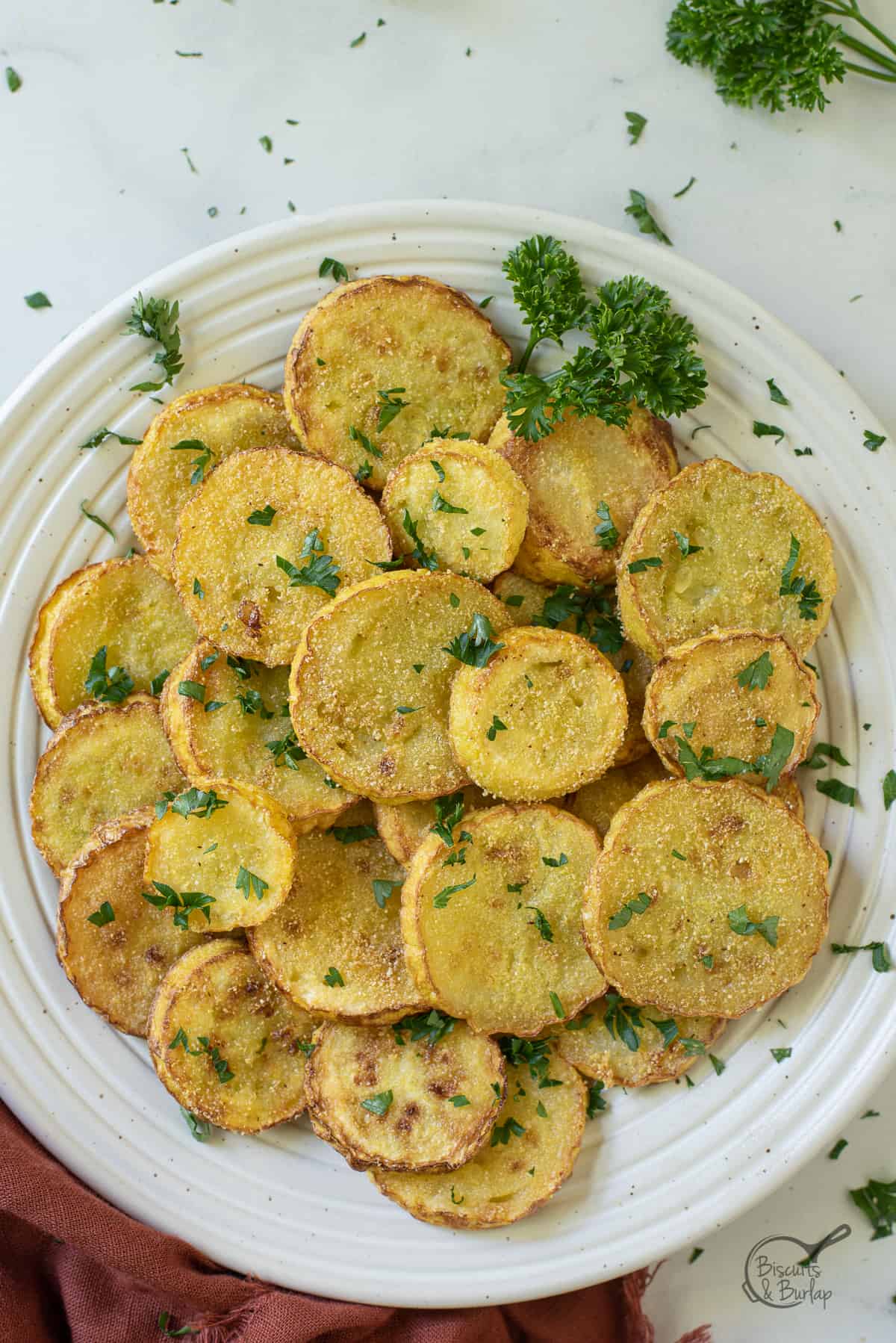 What is Southern Fried Squash?
This is the perfect side dish to highlight one of summer's favorite best crops: yellow squash!
Simple cornmeal crusts the squash medallions before they are fried to a golden brown- Keeping the ingredients and the methods simple ensures that the summer squash shines through.
Why you'll love this Fried Squash recipe
Quick and Easy: This recipe is simple to follow, making it perfect for busy weeknight dinners.
Crispy Perfection: The cornmeal coating ensures the squash turns beautifully golden brown and crispy.
Garden Fresh: Ideal for using up that surplus of fresh yellow squash from your garden.
Minimal Ingredients: With just 4 ingredients, it's budget-friendly and accessible.
Versatile: Can be paired with various dipping sauces or served alongside your favorite Southern dishes.
Ingredients needed to make Fried Squash
You can find recipes for frying squash that involve lots of time, dishes being dirtied and ingredients like eggs, milk and flour. But all of that is really unnecessary, y'all. To let the flavor of the vegetable shine through, we suggest you keep it simple.
Squash - The classic choice is yellow crookneck squash, also known simply as yellow squash. You'll find them in every market, grocery store, and most home gardens in the south each summer. Zucchini would work just fine with this recipe as well.
Cornmeal - While we do love our "cornmeal mix" and use it all the time (just check out our Southern Cornbread Dressing or Buttermilk Cornbread Muffin recipes) in this case you want to use plain cornmeal. Yellow or white is fine.
Salt - Plain old table salt. No need to get fancy here.
Vegetable Oil - Our oil of choice is canola, but whatever you have on hand will work just fine.
(see recipe card below for quantities)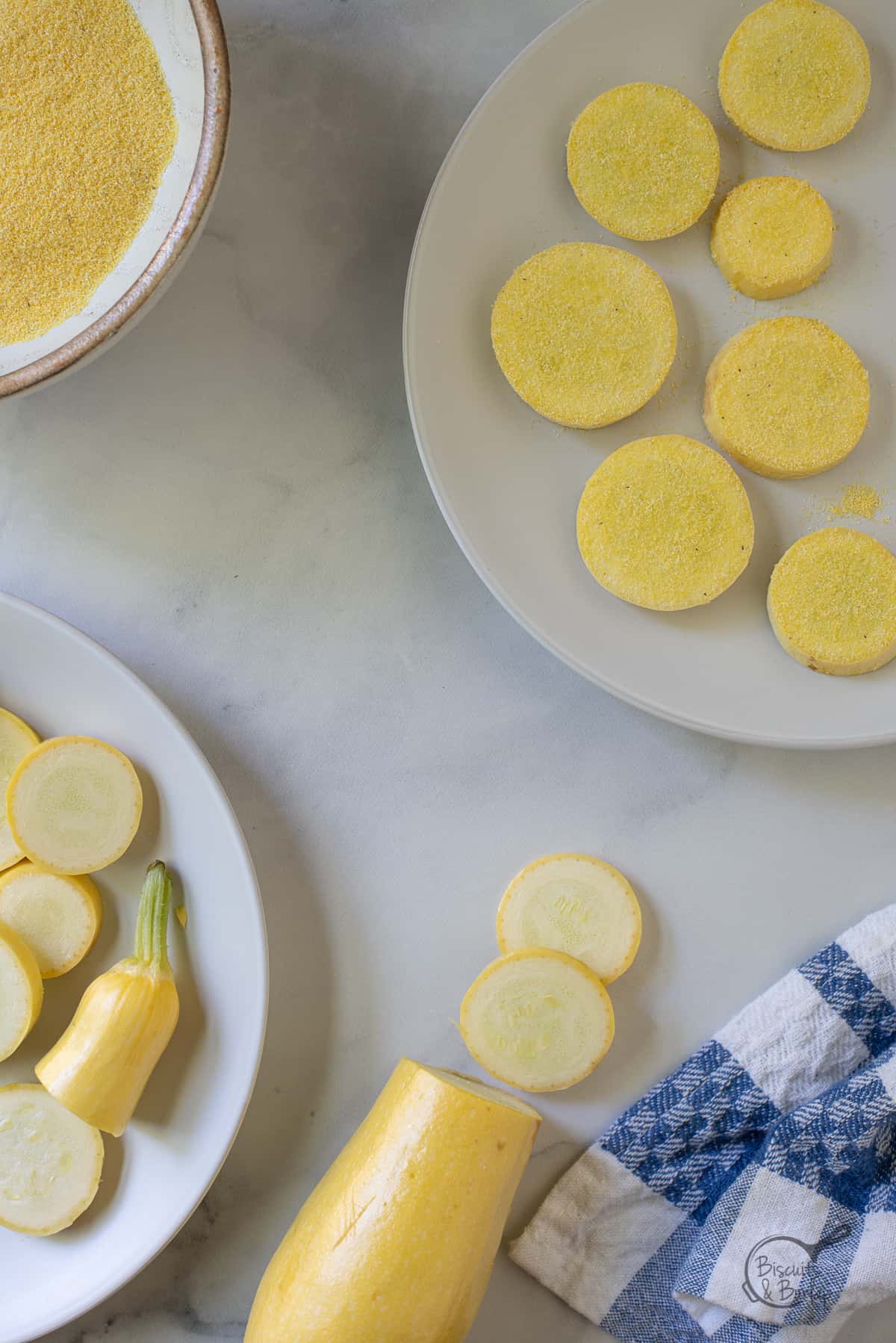 How to fry squash the quick and easy way
Trim both ends off the washed squash and then cut into approximately ¼ inch thick slices.
Mix the cornmeal and salt in a plate or other shallow dish.
Heat the oil. The sweet spot I've found is between medium and medium-high on my stovetop.
Dredge each squash slice in the cornmeal/salt mixture. You may have to pat a little to make sure the cornmeal adheres well to the squash, but the moisture from the squash will most likely do the job for you.
Add the squash slices to the hot oil and fry until golden brown, about 1 and a half to 2 minutes per side. Allow oil time to recover before adding more squash.
Drain on paper towels before serving.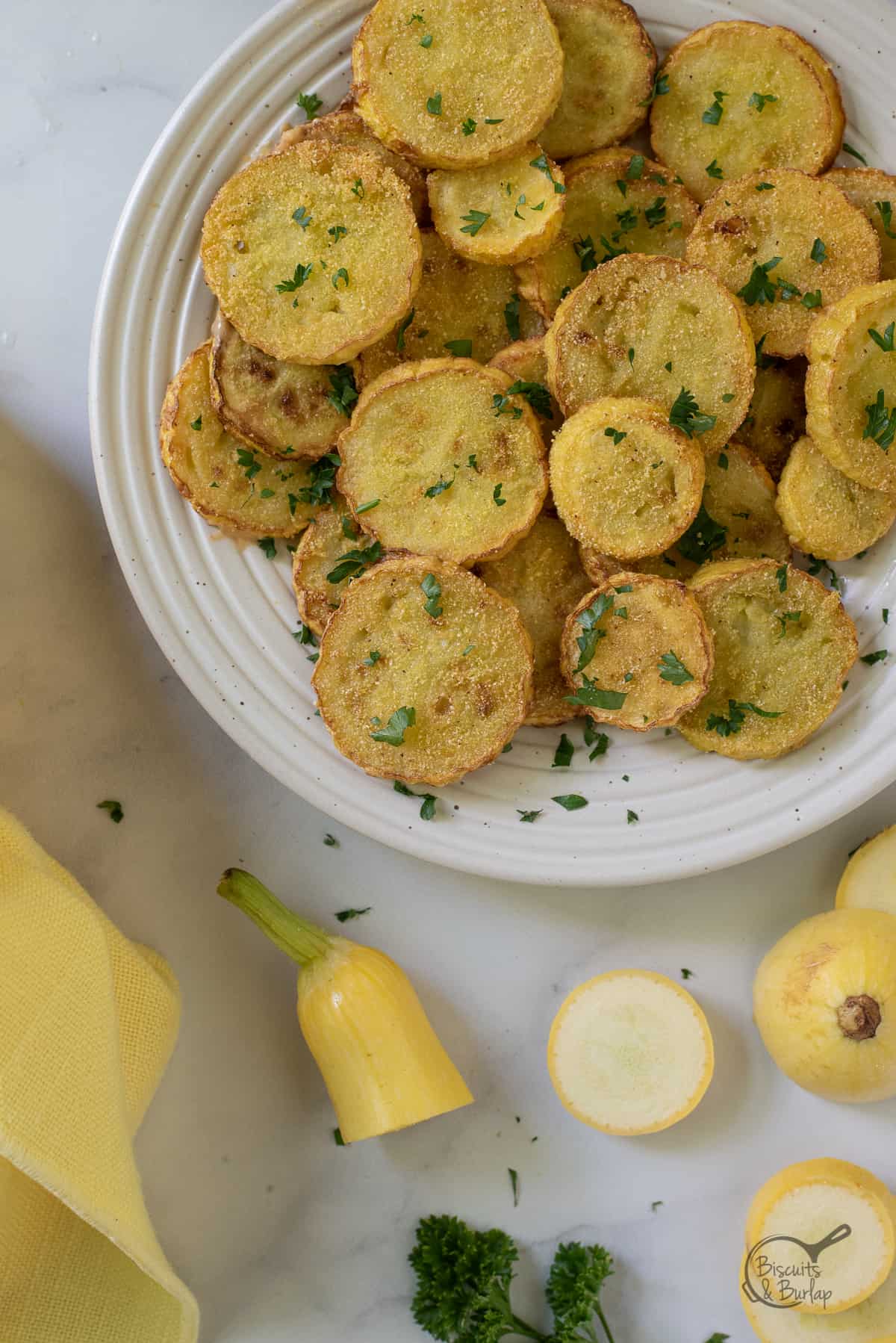 Expert Tips
This is really a simple and easy method for preparing one of summer's favorite comfort foods. But - just to make sure you love your fried squash as much as we do keep these tips in mind:
Make sure you are using fresh squash that has firm flesh and minimal brown spots.
Keep the size of your squash slices as close as possible. We recommend about ¼ inch, but if you go ⅓ or even ½ inch thick you'll be fine as long as the slices are consistent.
The best way to get uniform sized slices of squash or any other vegetable is to use a mandoline slicer. If you don't have one you can order here.
Add squash slices to hot oil gradually so the temperature of the oil has time to recover. I usually add my slices from left to right in the skillet so I know which ones have been cooking the longest.
If you can leave your squash sitting on the counter for a while it's great. Room temperature squash means the heat of the oil won't take as long to recover as when you add cold squash. If you're in a hurry - don't worry about it. Just add the squash more gradually.
Drain briefly on a paper towel lined plate before serving.
This post contains affiliate links, which means if you click on an affiliate link and buy something, we may receive a very small commission.  It does NOT result in additional charges to you or cost you anything extra. Click here for our full privacy and disclosure policy. As an Amazon associate we earn from qualifying purchases.
Substitutions and Variations
Zucchini: If you're out of yellow squash, zucchini makes an excellent substitute.
Panko Breadcrumbs: Replace cornmeal with panko breadcrumbs for a slightly different texture.
Seasonings: Experiment with different seasonings like paprika, garlic powder, or cayenne for added flavor. You could even sprinkle some chili powder or hot sauce into the cornmeal mixture for a spicy version.
Parmesan Crusted: Add grated Parmesan cheese to the cornmeal mixture for a cheesy twist.
Dipping Sauces: Serve with a variety of dipping sauces such as ranch dressing, marinara, or aioli.
Squash Fries: Cut the squash into thin strips instead of slices for a fun "fry" variation.
Storage Tips
This is a dish best served immediately after cooking, but if you have leftovers you can store them in an airtight container for up to 3 days and reheat in an air fryer to maintain crispiness.
We don't recommend freezing this fried squash recipe.
How to serve your fried squash
This is a traditional southern summer side dish and you can't go wrong pairing it with other southern classics like country fried steak, fried chicken, and easy buttermilk biscuits.
If you like to update and have some fun serving your old classics, we suggest trying these Yellow Squash Fritters or pairing your fried squash with something to dip the slices in for extra flavor. Remoulade Sauce is a favorite of ours, but everyone will also love a classic Ranch dressing, just like we serve with our Fried Pickles.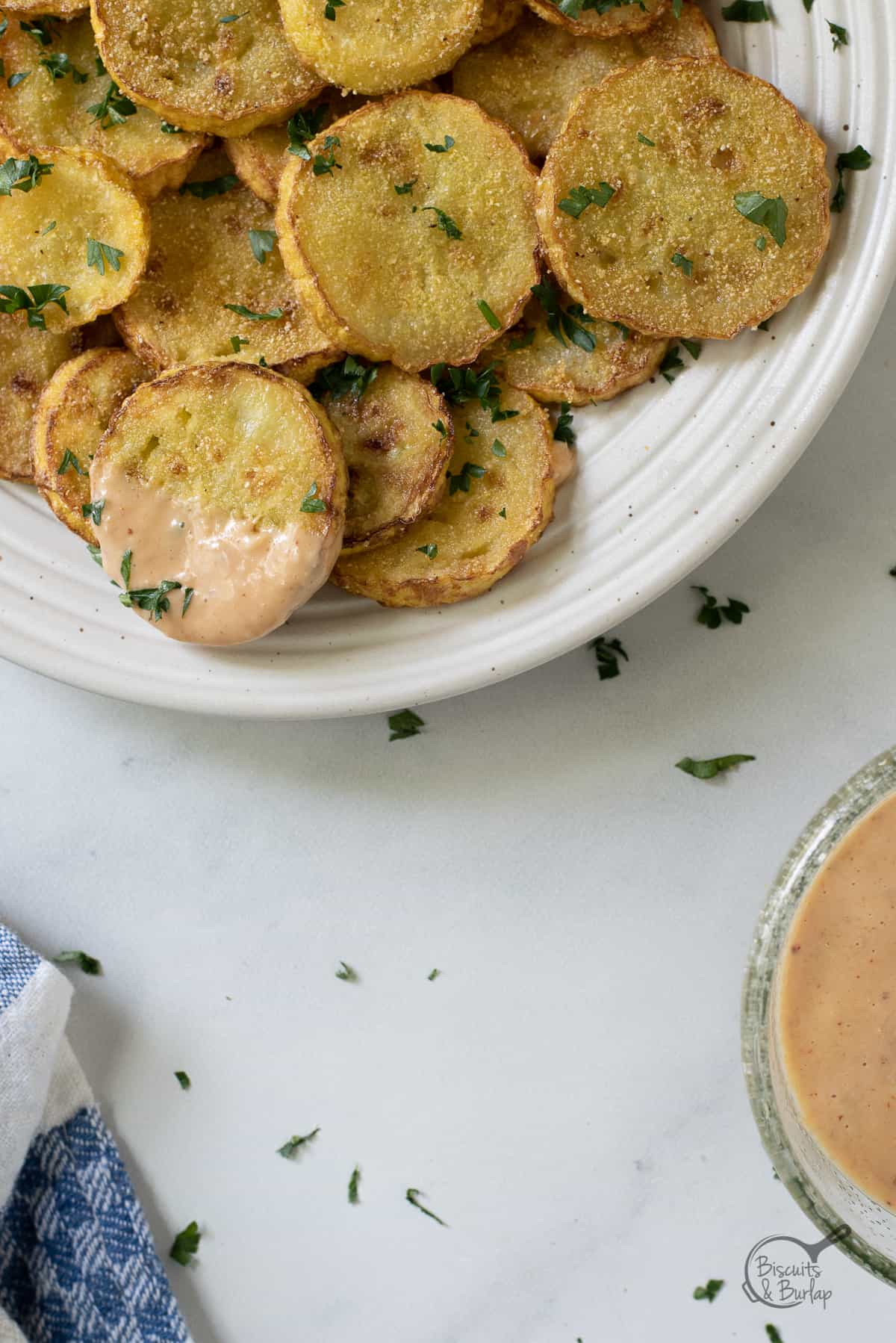 Recipe FAQs
Do you need to peel squash before frying?
No, it's not necessary to peel the squash. The skin is edible and adds texture to the dish.
How do I know when the oil is hot enough for frying?
You can test the oil's readiness by dropping a small piece of squash or a sprinkle of cornmeal into the oil. If it sizzles and starts to fry, it's hot enough.
What dipping sauces go well with fried squash?
Popular dipping sauces include ranch dressing, remoulade sauce, marinara sauce, aioli, or a simple garlic mayo.
Can I use a different type of oil for frying?
Vegetable oil works well, but you can also use canola oil, peanut oil, or other oils with a high smoke point.
For a fun and quick look at this recipe check out the Google Web Story.
📖 Recipe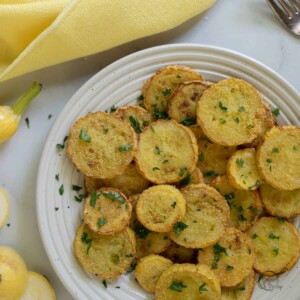 Fried Squash Recipe
Just 4 simple ingredients in this classic southern fried squash recipe. Have the best of summer's bounty on your table in just minutes!
Ingredients
1

pound

yellow crookneck squash

sliced in ¼ inch slices

½

cup

cornmeal

white or yellow

¾

teaspoon

salt

1

cup

vegetable oil
Instructions
Mix cornmeal and salt in plate or shallow dish.

Dredge each squash slice in cornmeal mixture and set aside.

Heat oil in skillet until hot. Between medium and medium high on stovetop is recommended.

Add squash slices to hot oil being careful to not crowd or overlap.

Cook 1½-2 minutes per side or until golden brown.

Remove from oil and drain briefly on paper towels before serving.
Notes
Zucchini squash may be used instead of yellow squash
Room temperature squash will require less time for oil temperature to recover when adding to skillet. 
Don't crowd squash slices in skillet. It may take 2-3 skilletfuls to cook all squash.
Nutrition
Serving:
8
slices
Calories:
246
kcal
Carbohydrates:
24
g
Protein:
4
g
Fat:
15
g
Saturated Fat:
2
g
Polyunsaturated Fat:
9
g
Monounsaturated Fat:
4
g
Trans Fat:
1
g
Sodium:
585
mg
Potassium:
482
mg
Fiber:
4
g
Sugar:
4
g
Vitamin A:
302
IU
Vitamin C:
26
mg
Calcium:
25
mg
Iron:
1
mg

More recipes for southern summers