Just 4 simple ingredients in this classic recipe for southern fried squash. Have the best of summer's bounty on your table in just minutes!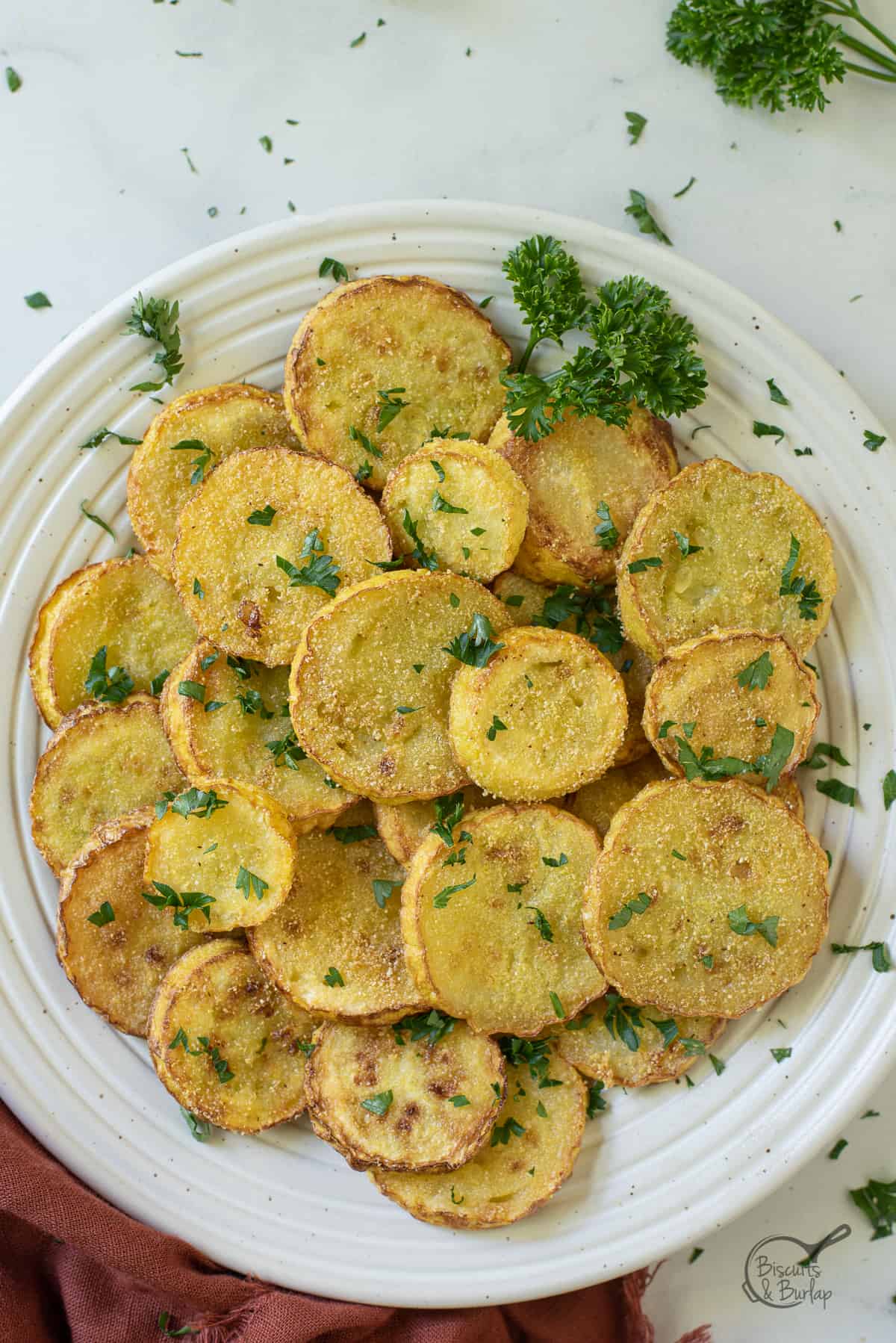 You can find recipes for frying squash that involve lots of time, dishes being dirtied and ingredients like eggs, milk and flour. But all of that is really unnecessary, y'all. To let the flavor of the vegetable shine through, we suggest you keep it simple.
Just 4 ingredients are needed
Squash – The classic choice is yellow crookneck squash, also known simply as yellow squash. You'll find them in every market, grocery store, and most home gardens in the south each summer. Zucchini would work just fine with this recipe as well.
Cornmeal – While we do love our "cornmeal mix" and use it all the time (just check out our Southern Cornbread Dressing or Buttermilk Cornbread Muffin recipes) in this case you want to use plain cornmeal. Yellow or white is fine.
Salt – Plain old table salt. No need to get fancy here.
Vegetable Oil – Our oil of choice is canola, but whatever you have on hand will work just fine.
(see recipe card below for quantities)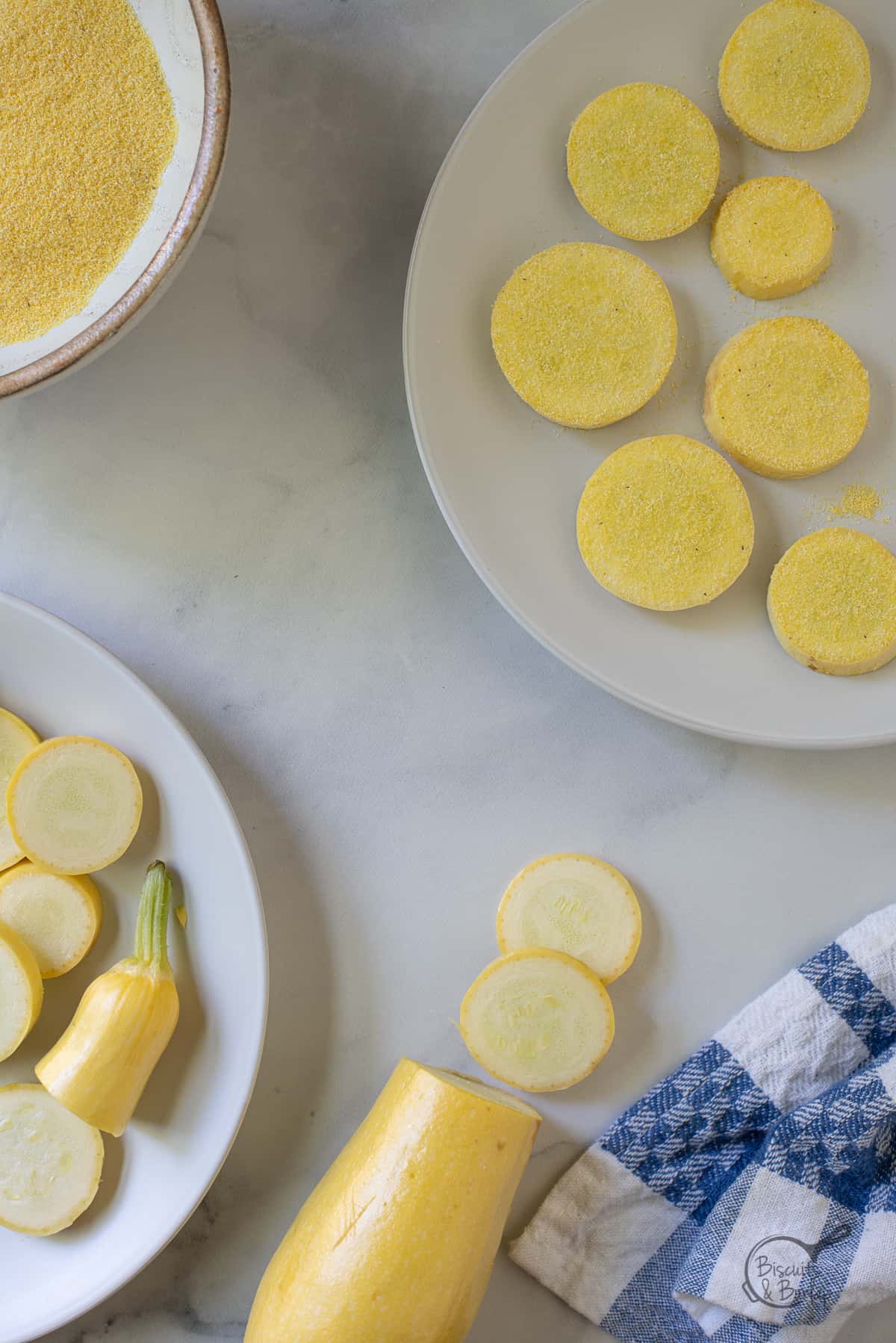 How to fry squash the quick and easy way
If you can leave your squash sitting on the counter for a while it's great. Room temperature squash means the heat of the oil won't take as long to recover as when you add cold squash. If you're in a hurry – don't worry about it. Just add the squash more gradually.
Trim both ends off the washed squash and then cut into approximately ¼ inch thick slices.
Mix the cornmeal and salt in a plate or other shallow dish.
Heat the oil. The sweet spot I've found is between medium and medium-high on my stovetop.
Dredge each squash slice in the cornmeal/salt mixture. You may have to pat a little to make sure the cornmeal adheres well to the squash, but the moisture from the squash will most likely do the job for you.
Add the squash slices to the hot oil and fry about 1 and a half to 2 minutes per side, or until golden brown.
Drain on paper towels before serving.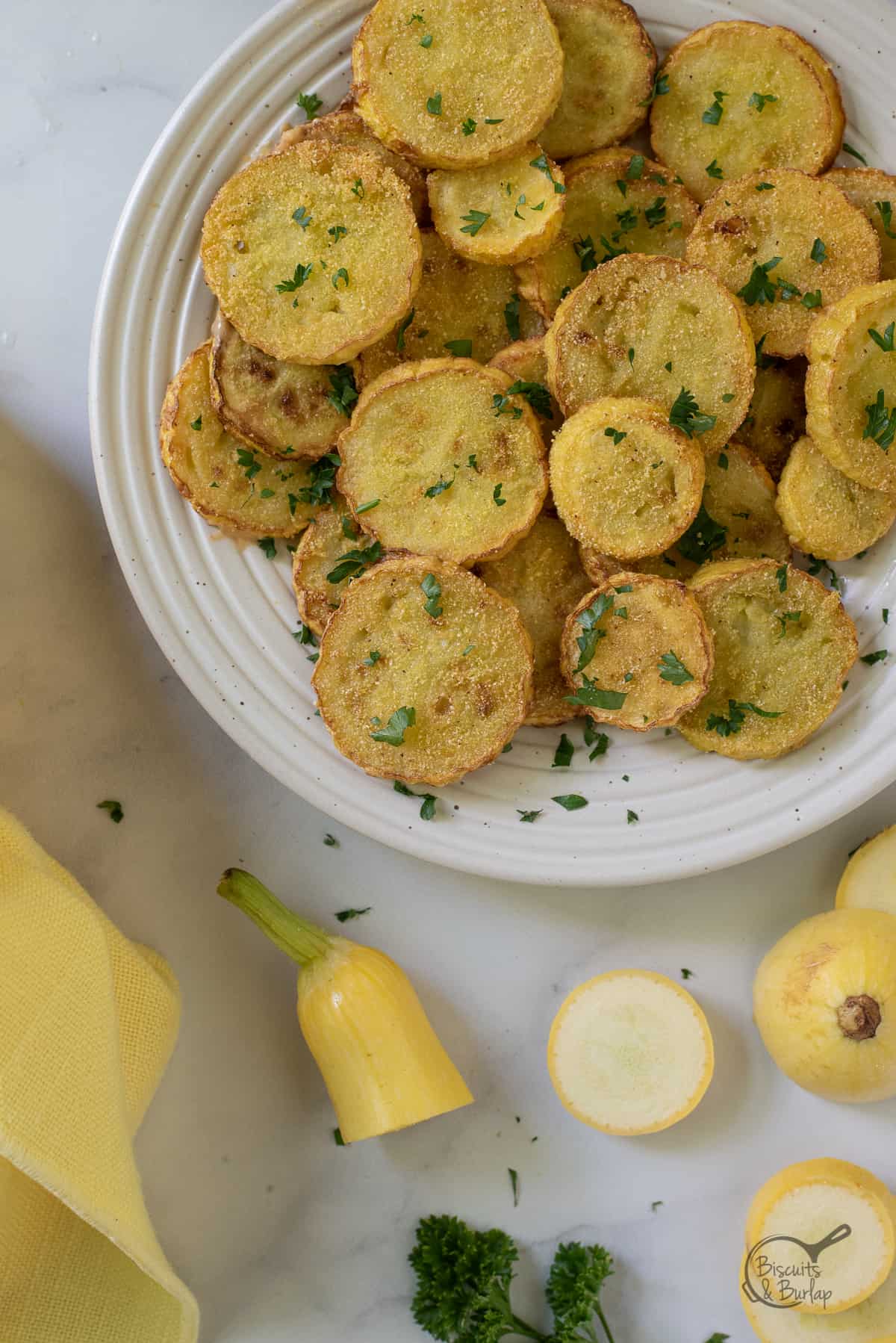 Tips and Tricks
This is really a simple and easy method for preparing one of summer's favorite comfort foods. But – just to make sure you love your fried squash as much as we do keep these tips in mind:
Make sure you are using fresh squash that has firm flesh and minimal brown spots.
Keep the size of your squash slices as close as possible. We recommend about ¼ inch, but if you go ⅓ or even ½ inch thick you'll be fine as long as the slices are consistent.
Add squash slices to hot oil gradually so the temperature of the oil has time to recover. I usually add my slices from left to right in the skillet so I know which ones have been cooking the longest.
Drain briefly on a paper towel lined plate before serving.
How to serve your squash/what to serve with it:
This is a traditional southern summer side dish and you can't go wrong pairing it with other southern classics like country fried steak, fried chicken, and easy buttermilk biscuits.
If you like to update and have some fun serving your old classics, we suggest trying these Yellow Squash Fritters or pairing your fried squash with something to dip the slices in for extra flavor. Remoulade Sauce is a favorite of ours, but everyone will also love a classic Ranch dressing, just like we serve with our Fried Pickles.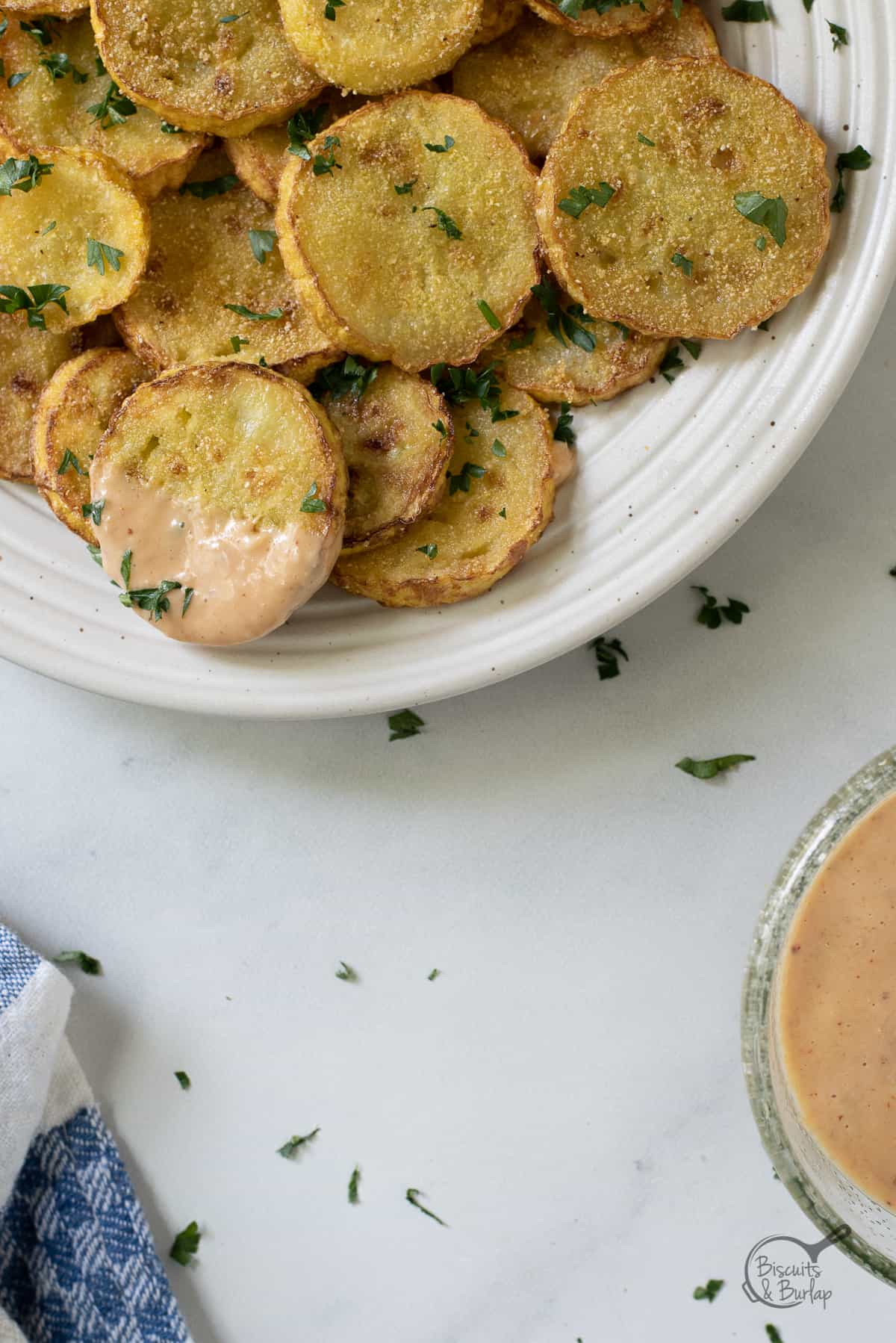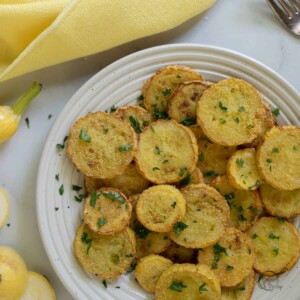 Fried Squash: A Southern Classic
Just 4 simple ingredients in this classic recipe for southern fried squash. Have the best of summer's bounty on your table in just minutes!
Ingredients
1

pound

yellow crookneck squash

sliced in ¼ inch slices

½

cup

cornmeal

white or yellow

¾

teaspoon

salt

1

cup

vegetable oil
Instructions
Mix cornmeal and salt in plate or shallow dish.

Dredge each squash slice in cornmeal mixture and set aside.

Heat oil in skillet until hot. Between medium and medium high on stovetop is recommended.

Add squash slices to hot oil being careful to not crowd or overlap.

Cook 1½-2 minutes per side or until golden brown.

Remove from oil and drain briefly on paper towels before serving.
Notes
Zucchini squash may be used instead of yellow squash
Room temperature squash will require less time for oil temperature to recover when adding to skillet. 
Don't crowd squash slices in skillet. It may take 2-3 skilletfuls to cook all squash.
Nutrition
Serving:
8
slices
Sodium:
585
mg
Calcium:
25
mg
Vitamin C:
26
mg
Vitamin A:
302
IU
Sugar:
4
g
Fiber:
4
g
Potassium:
482
mg
Calories:
246
kcal
Trans Fat:
1
g
Monounsaturated Fat:
4
g
Polyunsaturated Fat:
9
g
Saturated Fat:
2
g
Fat:
15
g
Protein:
4
g
Carbohydrates:
24
g
Iron:
1
mg

More recipes for southern summers