Squash fritters are a classic southern recipe. Here they get an update that makes them healthier and easier!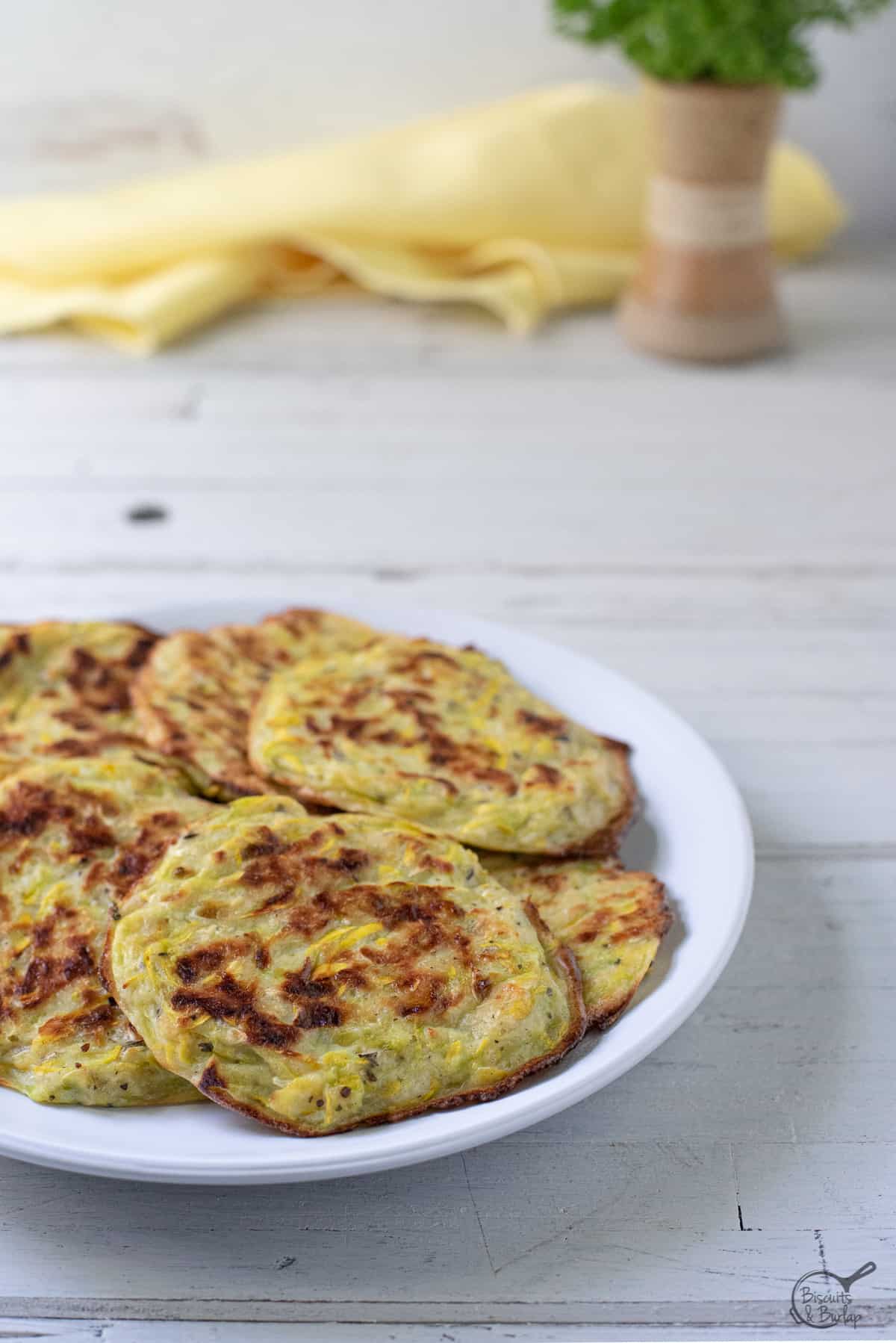 Summer squash are at their peak right now! They're coming in like crazy in the garden and the farmers markets are full of them. You may even be the recipient of a good old southern tradition – a neighbor shares their fresh produce.
Trying to come up with more ways to use those squash? One of our top recipes here is Crustless Squash Pie, but we've also got another standard of down south cooking – Fried Squash and your family will love it, too.
Now you can add squash fritters to your recipe collection. This one is made easier by cooking them in the oven, so they don't need the constant attention they would in a skillet. It's also healthier because the squash patties get just a light spray of oil.
Ingredients/Substitutions
Yellow Squash (also known as crookneck squash) – While available year round they are at their peak in the summer. Because of this they are one variety of summer squash and zucchini is another. We've not tested this recipe with zucchini, but we believe they should be interchangable.
All purpose flour – If you need to go gluten free we would suggest trying an almond flour subsitute, but we haven't tested it.
Egg – large is standard
Salt – Plain uniodized table salt
Optional add ins for extra flavor
Chopped onion (add it to taste, but about ¼ cup should be good)
Grated parmesan cheese (again – to taste, but ¼ cup is what we like)
Italian seasoning (dried)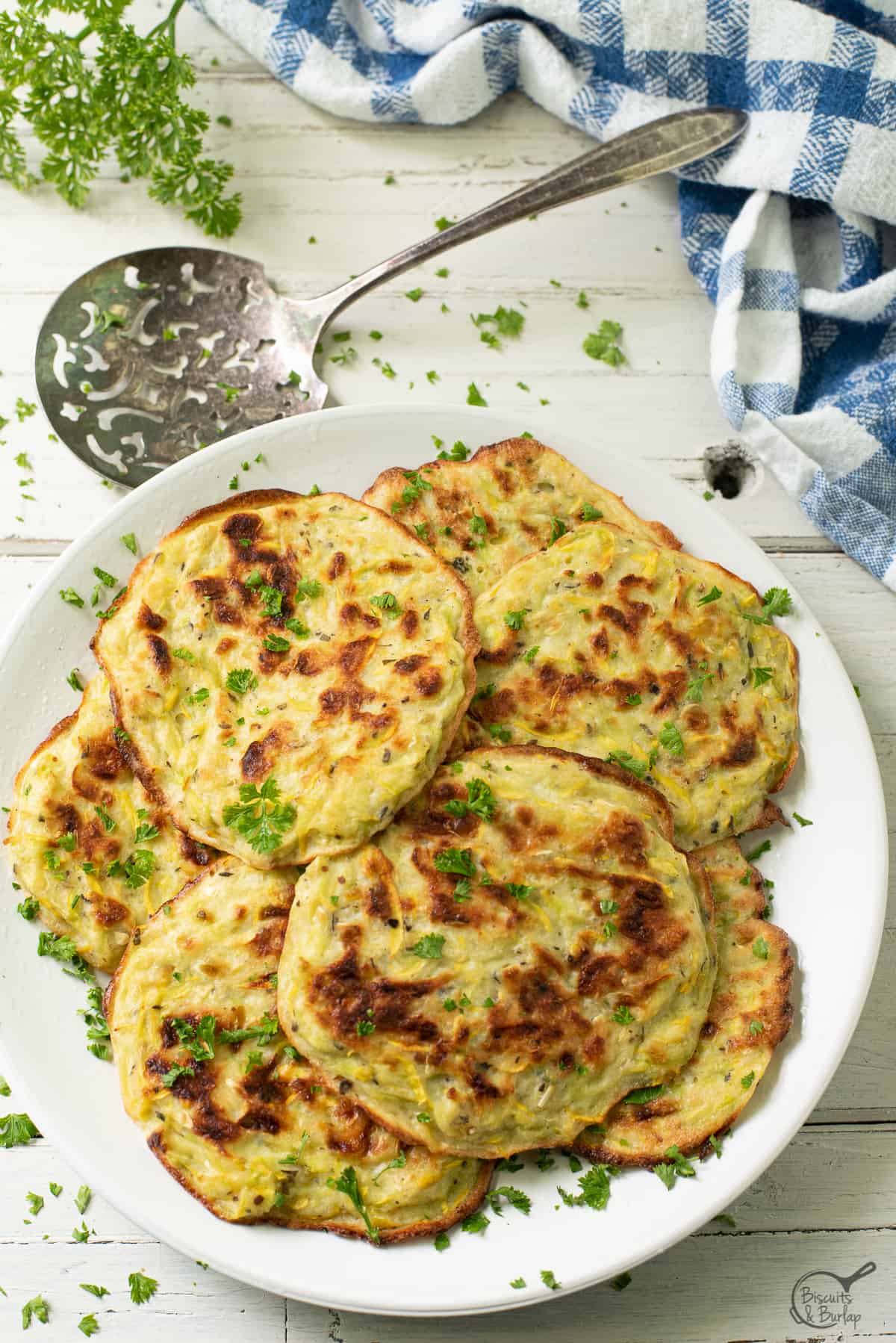 How to make squash fritters
See the recipe card below for specific amounts and directions, but this is generally how you'll make them.
Shred or grate squash and then toss with 1 teaspoon of salt. Place in a colander to drain for about 30 minutes.
Press on squash to get as much liquid as possible out, and then pour out on paper towels. Top with more paper towels and press again.
Mix grated squash with remaining ingredients.
Line a baking pan with parchment paper and spray with oil.
Make squash patties by scooping ¼ measuring cupful at a time and empty onto parchment paper.
Press lightly with fingertips until fritters are about ½ inch thick.
Spray tops with oil.
Bake at 425 for about 8-10 minutes and then flip.
Continue baking until golden brown.
Tips and Tricks
Squash are really easy to grate with a box grater (link below if you need to order one). You can certainly use your food processor if you like but I don't think it's worth the trouble to get it out.
Draining the squash in a colander and then pressing with paper towels is an important step. This removes the excess moisture and helps the fritters be easier to handle.
If you use a ¼ cup measuring cup to scoop out your patty portions they'll be a consistent size.
Parchment paper is great to use in the oven. We use it all. the. time. (see our Hummingbird Bread recipe post for the method to get your breads out perfectly).
For best results with your spray oil use the type designed for spraying food (link below) and not the kind you spray a pan with. They have extra additives that can burn.
This post contains affiliate links, which means if you click on an affiliate link and buy something, we may receive a very small commission. It does NOT result in additional charges to you or cost you anything extra. Click here for our full privacy and disclosure policy. As an Amazon associate we earn from qualifying purchases.
A few things that might come in handy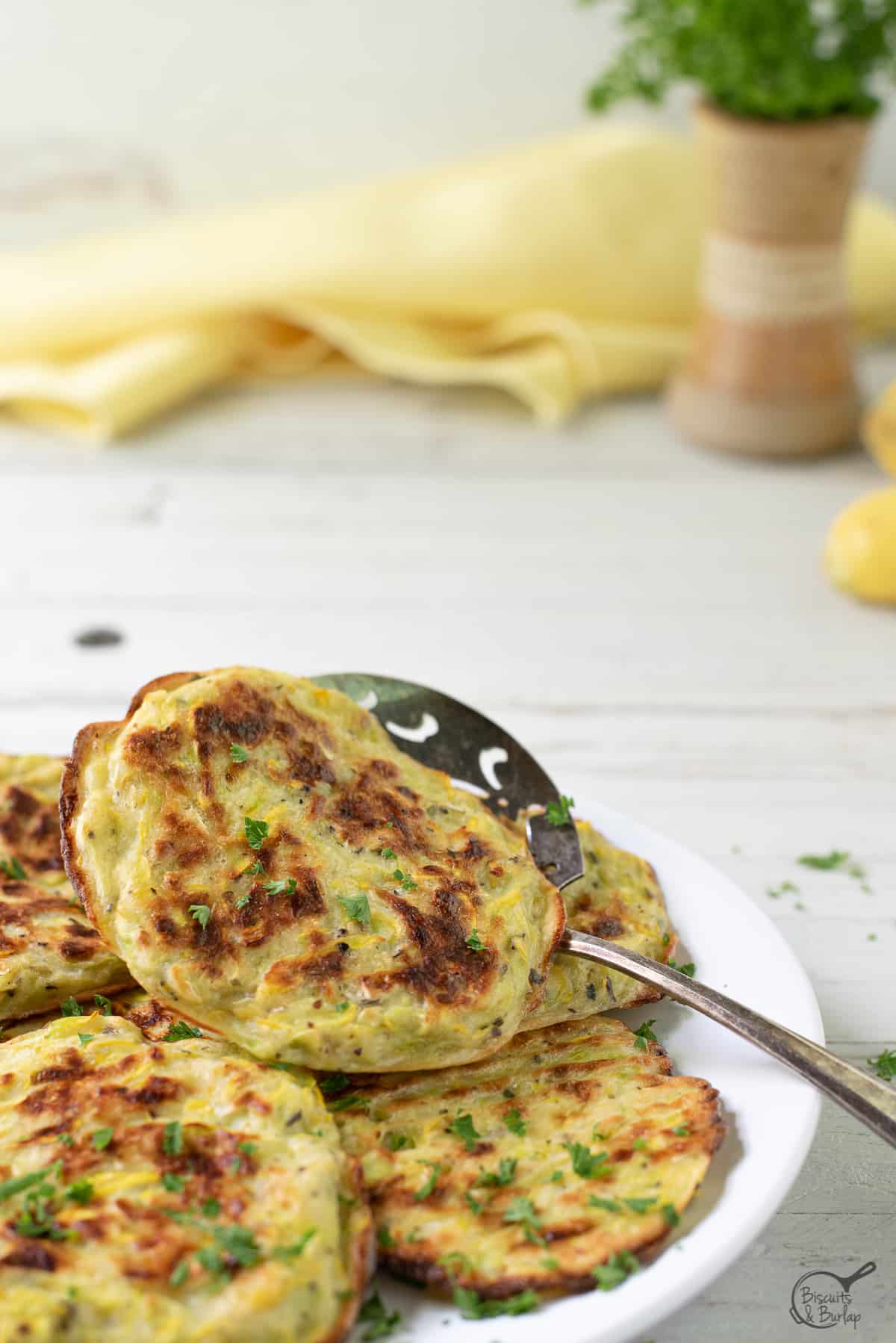 Storing/Reheating
This recipe makes a small amount, but if you have lots of squash you can certainly double or triple it. In that case you might have leftovers.
They'll keep just fine wrapped tightly in the refrigerator for 5-6 days. My favorite way to warm them up is in the air fryer. Preheat it to 350 degrees and warm them for 3-4 minutes.
If you don't have an air fryer you can warm them in a 375 degree oven for 8-9 minutes or in a skillet on medium to medium low, until they're hot in the middle.
Your squash fritters can also been frozen for up to 3 months. Separate them with parchment paper and place in an airtight plastic bag. Thaw at room temperature for 1-2 hours and then heat as directed above.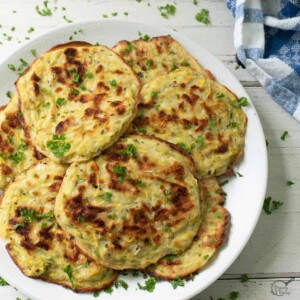 Yellow Squash Fritters (Oven Baked)
Squash fritters are a classic southern recipe. Here they get an update that makes them healthier and easier!
Ingredients
1

pound

yellow squash

grated

2

teaspoons

salt

divided

¼

cup

all purpose flour

1

egg

½

teaspoon

freshly ground black pepper

¼

cup

diced onion

optional

¼

cup

grated Parmesan cheese

optional

½

teaspoon

Italian seasoning

dried, optional
Instructions
Toss grated squash with 1 teaspoon of salt and place in colander in sink or over pan to drain for 30 minutes.

Press squash to get as much liquid out as possible. Then put squash on paper towels, top with more paper towels and press.

Combine squash with remaining ingredients.

Line a baking pan with parchment paper and spray with cooking oil spray.

Make patties with ¼ cup measuring cup and place squash mixture on baking pan. Press lightly until fritters are about ½ inch thick.

Spray tops with cooking oil spray and bake at 425° for 10 minutes, then flip.

Bake 8-10 additional minutes or until golden brown. Serve immediately.
Notes
This recipe makes about 5 fritters, but is easily doubled.
Squash may be grated by hand using a box grater, or with a food processor.
Draining squash is important for removing excess moisture.
Onion, parmesan cheese and Italian seasoning are all optional ingredients.
Spray cooking oil is recommended instead of baking pan type spray. 
Nutrition
Calories:
75
kcal
Carbohydrates:
10
g
Protein:
4
g
Fat:
2
g
Saturated Fat:
1
g
Polyunsaturated Fat:
1
g
Monounsaturated Fat:
1
g
Trans Fat:
1
g
Cholesterol:
37
mg
Sodium:
1033
mg
Potassium:
283
mg
Fiber:
1
g
Sugar:
2
g
Vitamin A:
277
IU
Vitamin C:
16
mg
Calcium:
70
mg
Iron:
1
mg