San Marzano Tomato Sauce is made with just a few ingredients to let those special tomatoes be the shining star. You can make it with fresh or canned tomatoes and use it lots of ways!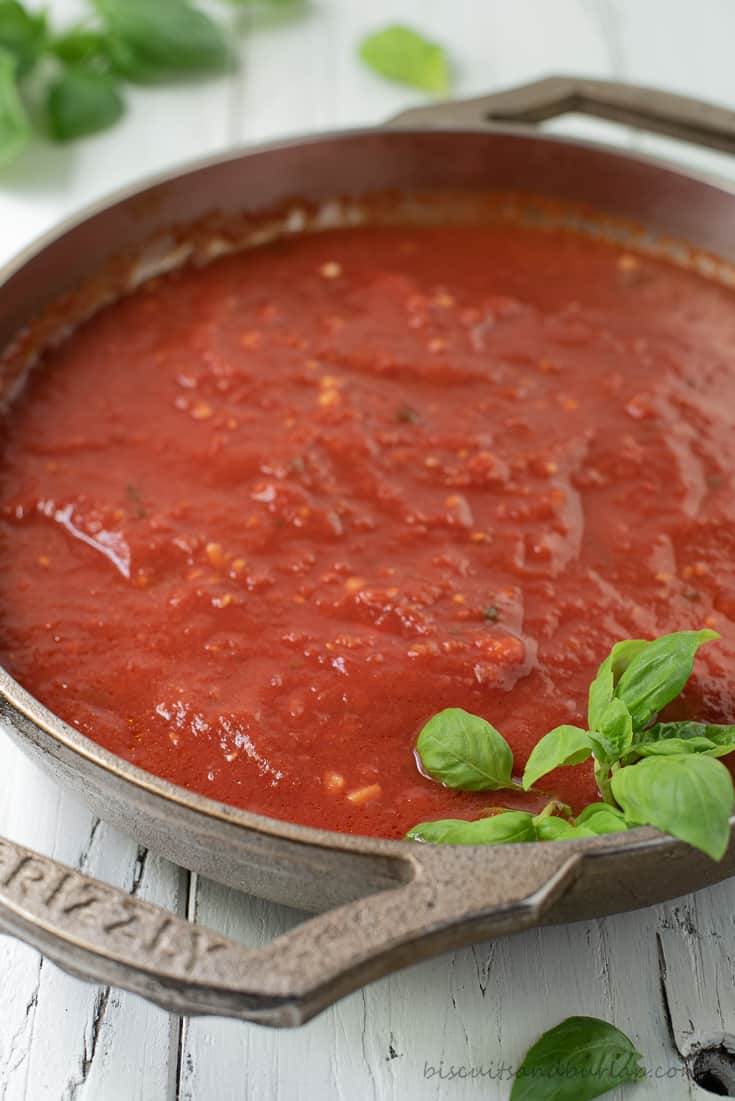 Exactly what are San Marzano tomatoes?
San Marzano is a type of plum tomato that is considered the crown jewel of the tomato world. They have less seeds, are sweeter and less acidic than other tomatoes.
According to our friends over at Martha Stewart you will want to look for the Italian "DOP" designation on the tomato can. This refers to the Protected Designation of Origin. It assures that your tomatoes were grown in the designated region of Italy between Naples and Salerno known for this special crop.
Widely available in the U.S. and a favorite of ours is the Cento Brand. They have taken the origin of their tomatoes a step further. With Google Earth and the lot code on the can you can "Find My Field" and pinpoint the exact field where your tomatoes were grown!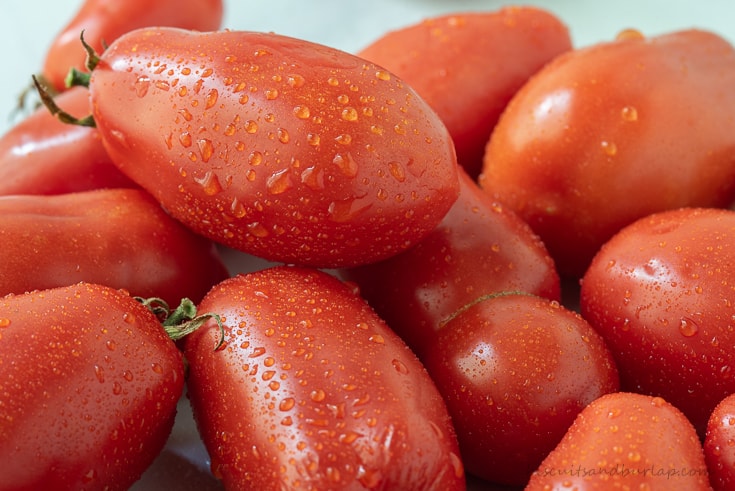 However, seedlings and seeds are now widely available in the U.S. and San Marzano tomatoes can be grown here. They just won't have the DOP designation.
That's, in fact, how I got curious about the variety for this San Marzano Tomato Sauce. We grew some of the tomatoes in our garden this year and I wanted to know the details to share with you.
How to prep the tomatoes if you start with fresh
Starting with ripe, clean tomatoes you'll first dip them in a pot of boiling water for about 45 seconds to 1 minute. Cool them off with a quick dip in a bowl of cold water. You could even rinse with cold water in a colander in the sink.
This process will make them easier to peel. I make a small cut with a serrated knife to give a place to grab the edge of the peel. It should come right off.
I like to trim off the very top of the stem end, but you can leave them on. It's your choice. Then coarsely chop them and put in a sauce pan over medium low heat.
Once the tomatoes get good and hot you'll want to stir occasionally and "stew" them for about an hour. At this point you've got fresh tomatoes similar in form to what you can buy canned.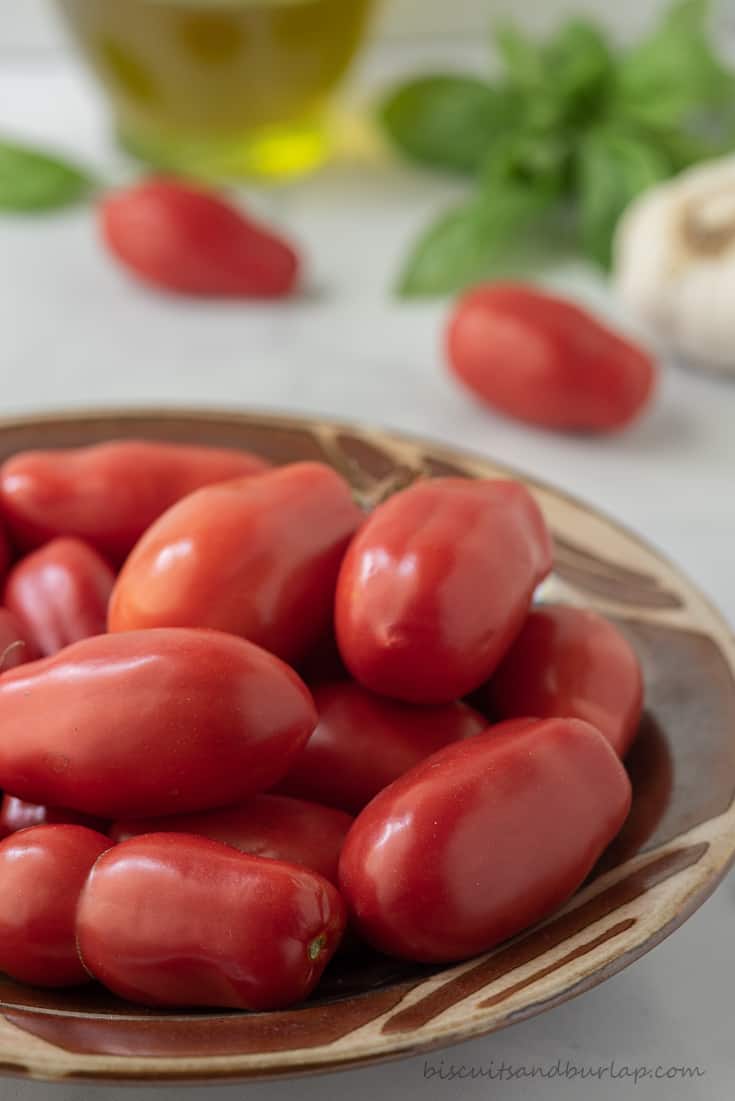 Canned or fresh tomatoes take one additional step of preparation
This post contains affiliate links, which means if you click on an affiliate link and buy something, we may receive a very small commission.  It does NOT result in additional charges to you or cost you anything extra. Click here for our full privacy and disclosure policy. As an Amazon associate we earn from qualifying purchases.
The tomatoes for your homemade sauce will need to be further chopped or pureed. The choice is yours as to how smooth or chunky you like them.
Our preference is to still have little pieces of tomato. We do this with a few pulses in a standard blender. You could also use a food processor and pulse it to keep chunks or leave it going to make your sauce smooth.
An immersion blender is another choice, but that's only good if you make it in a deeper pot. Of course you could blend your tomatoes in a pitcher or deep bowl and then transfer them.
We like making this sauce in a skillet to get more liquid evaporation. It keeps your tomato sauce naturally thick from the tomatoes themselves.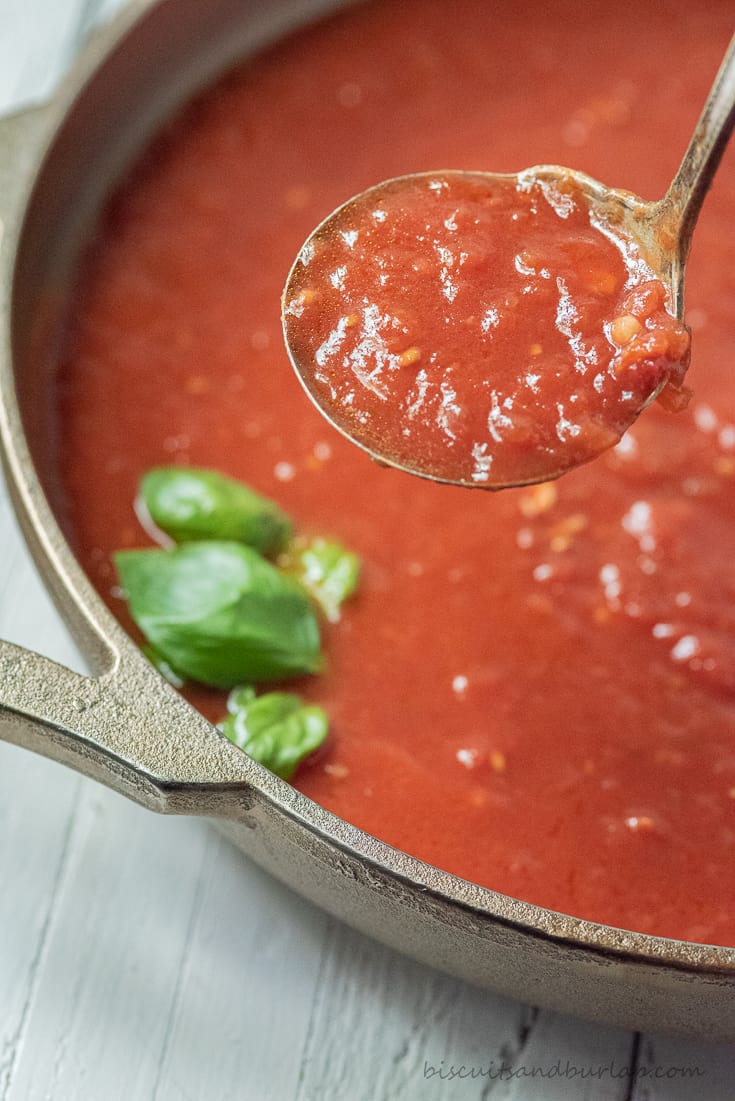 Keep it simple
These tomatoes are the star of the show and you don't want to overcomplicate your sauce. Too many additional flavors will begin to hide the main event.
Basil is the only herb we used. If you're someone who thinks a good homemade tomato sauce must have oregano, then by all means, add some, but keep it light. We had fresh basil and just simmered it in the sauce whole and removed at the end.
If you don't have fresh herbs you can certainly use dried ones, but again - use a light hand when adding them. If you have extra tomatoes left over from this sauce, you may like these Baked Tomato Slices with Parmesan.
📖 Recipe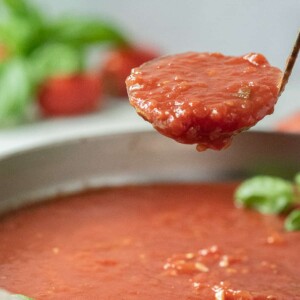 San Marzano Tomato Sauce
San Marzano Tomato Sauce is made with just a few ingredients to let those special tomatoes be the shining star. You can make it fresh or canned tomatoes and use it lots of ways!
Ingredients
28

ounces

San Marzano Tomatoes

canned, or fresh that have been prepared for cooking

2

Tablespoons

Extra virgin olive oil

3

cloves

garlic

minced

1

ounce

red wine

1

teaspoon

salt

¼-½

teaspoon

red pepper flakes, optional

½

teaspoon

black pepper

freshly ground

8-10

leaves

fresh basil

substitute ½ teaspoon dried basil

10-12

sprigs

fresh oregano, optional

substitute ½ teaspoon dried oregano
Instructions
Heat olive oil over medium heat.

Add garlic and stir until fragrant, but not brown.

Add tomatoes, wine, salt, pepper, red pepper flakes and herbs. Bring to a boil and then reduce heat to simmer.

Simmer for at least one hour and up to 4 hours, stirring occasionally. If simmering for longer cover sauce when it reaches desired thickness.

Remove whole herbs before serving.
Notes
Get tomatoes to desired smoothness before cooking. A blender, food processor or  immersion blender can be used.
Nutrition
Calories:
90
kcal
Carbohydrates:
10
g
Protein:
2
g
Fat:
5
g
Saturated Fat:
1
g
Polyunsaturated Fat:
1
g
Monounsaturated Fat:
3
g
Sodium:
563
mg
Potassium:
404
mg
Fiber:
3
g
Sugar:
6
g
Vitamin A:
321
IU
Vitamin C:
13
mg
Calcium:
50
mg
Iron:
2
mg
More tomato recipes you'll love