The Smith and Kearns is a creamy but light cocktail perfect for after dinner or as a nightcap. A splash of soda gives it a fun fizzy finish!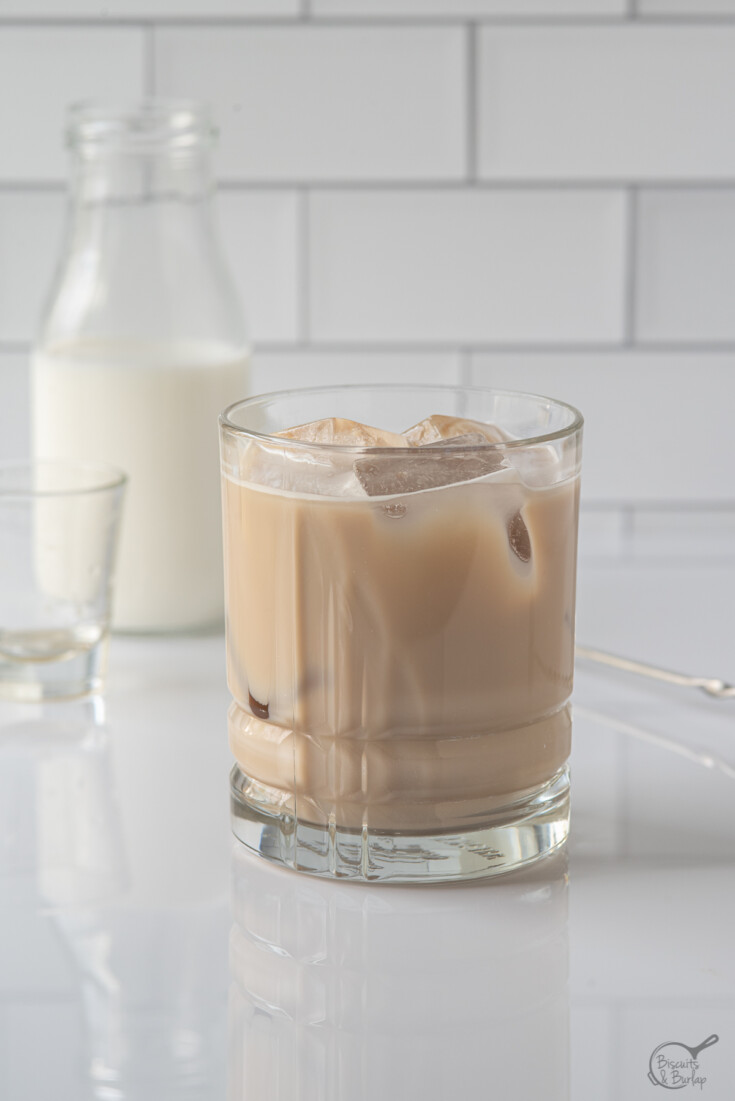 Jump to:
A cocktail with a history
When it comes down to it though, don't they all have a history?
The story goes that this one was created in a bar frequented by two men – one named Smith and the other one Curran. The bar was loud and the name Curran was misunderstood as "Kearns". Who knows about the spelling because you sometime see it called Smith & Kerns.
The location of this bar is the subject of more great debate. Some say Edinburgh, Scotland and some say as far from there as North Dakota. Either way, it was a happy creation.
I have my own memories of this tasty drink. After a long night of food and drinks at a conference, a very special friend suggested that we order one. I was immediately sold!
It was just the right way to end the evening. Creamy, slightly sweet and with a fun tang from the bubbles of soda this drink was a new favorite.
That special friend is gone now, but I will always think of her when I have a Smith & Kearns. Here's to you, Roz!
You may have to tell your bartender how to make a Smith & Kearns
Not incredibly well known, you may have to guide the bartender, but they'll thank you afterwards. The next thing you know they'll be making it for their regulars and they'll be the hero.
With just three ingredients, it's simple enough and crazy how refreshing a drink it makes.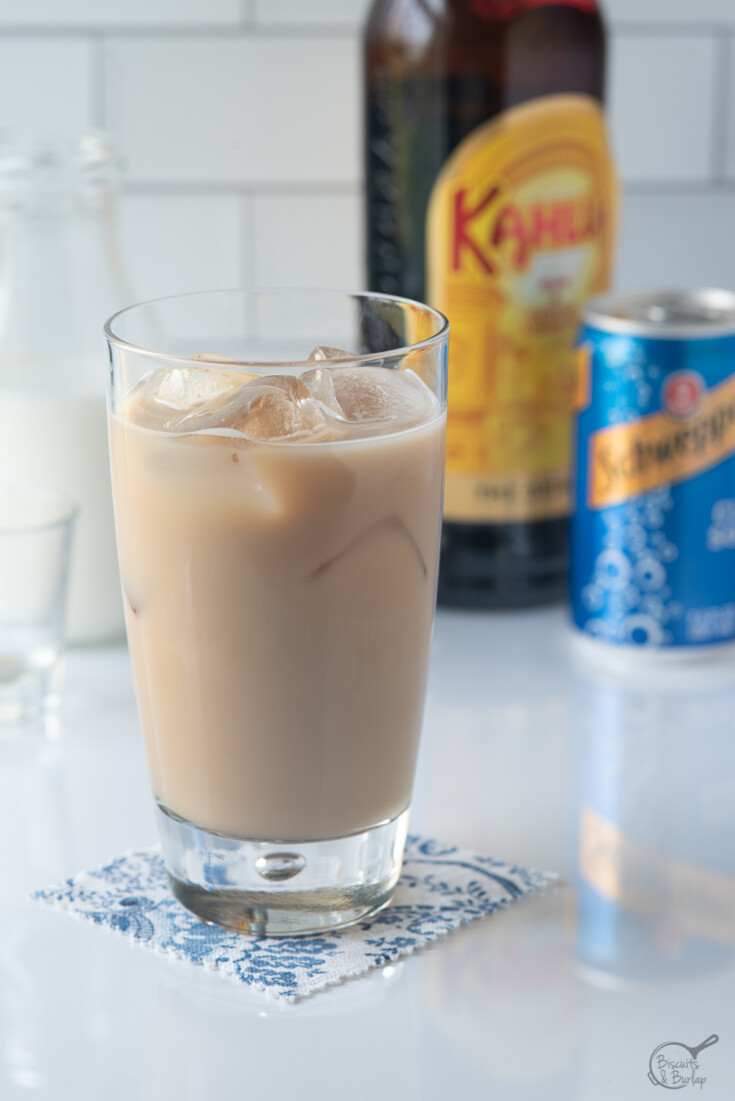 Make it with coffee liqueur or chocolate
Now, when Roz educated the bartender that first time she told him to use Kahlua, which is a coffee liqueur, so that's how I make it, too.
However, it appears that the mixology historians all agree that it was originally made with cream de cacao. We've written the recipe in such a way that you can use either and they will both be amazing!
When you're in the mood for chocolate use the cream de cacao and for coffee flavor, use the Kahlua.
Love chocolate and coffee together? You'll want to be sure and save White Chocolate Mocha to make sometime soon!
Make it with milk, cream, or half and half
The original Smith & Kearns was made with cream, so naturally it was rich and extra indulgent. If that's your favorite way to describe a cocktail then you should feel free to use cream.
Half and half is a good happy medium and makes an excellent drink. It has some of the indulgence of the cream, but not too much.
We're always looking for somewhere to cut back, though, and this is the place to do that if you're like us. We use whole milk in lots of recipes where a richer cream is usually used and it works out fine. Check out this old fashioned Sausage Gravy.
You'll never miss the cream in it or this S&K. They're both perfectly divine!
For a fun look at this recipe, check out the web story!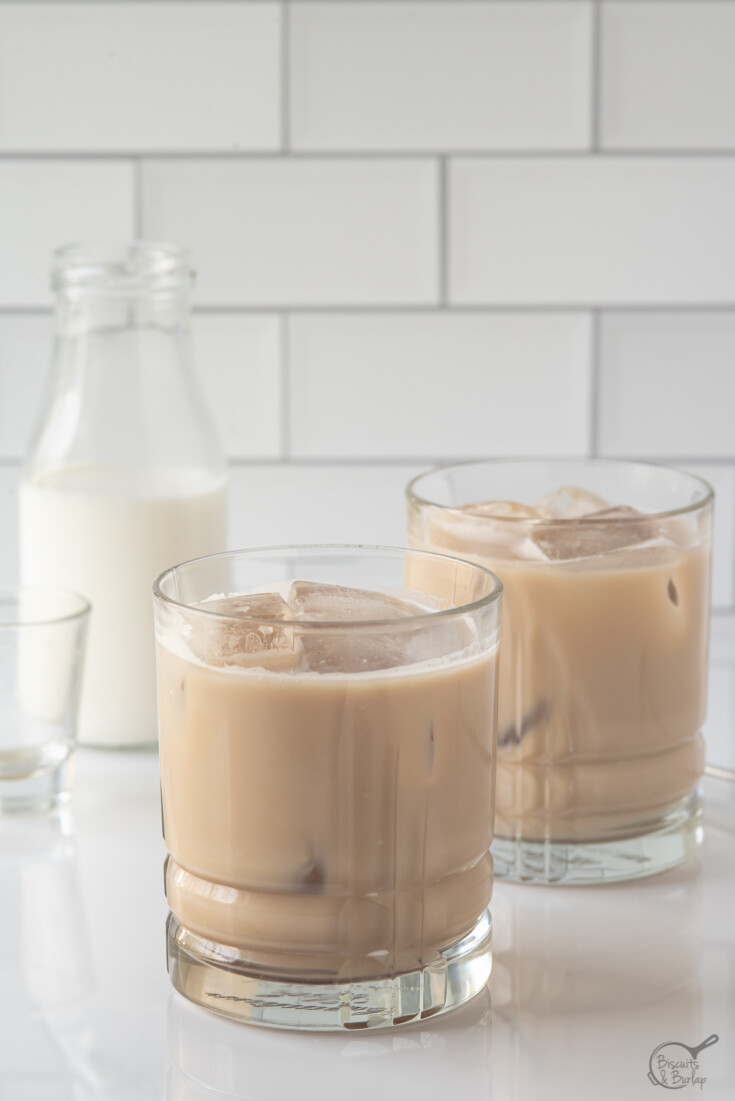 This post contains affiliate links, which means if you click on an affiliate link and buy something, we may receive a very small commission. It does NOT result in additional charges to you or cost you anything extra. Click here for our full privacy and disclosure policy. As an Amazon associate we earn from qualifying purchases.
The best way to mix the Kahlua and Cream for your cocktail
You can certainly put both ingredients in a cocktail shaker with a bit of ice and shake vigorously. If you mix it like this, do it fast. You don't want to dilute your mixture.
We like to stir it with a cocktail spoon in another glass or even your cocktail shaker without the lid on it. The idea is to make sure it's well blended.
The main thing to keep in mind is that you don't add the club soda until the end. Those fizzy bubbles are what makes this drink special and we want to preserve them.
Similar to an egg cream, but with booze
Being from the south, egg creams are not a thing in our area. But, we've heard all about them, and they do sound tasty.
For our southern friends, an egg cream actually has neither egg nor cream in it, but soda and milk are combined and most frequently chocolate of some sort is added for flavoring. The milk and the soda are the combination that works with our cocktail and with an egg cream.
If you love an egg cream you will most definitely want to give this recipe a try!
FAQ's
What is the difference between a Smith & Kearns and a Smith & Wesson drink?
A Smith & Wesson also contains vodka, making it a much stronger cocktail.
Can I make them ahead of time?
You could mix the cream and the liqueur ahead and have it chilling. You would only add the club soda at the last time to preserve the bubbles.
Is the history of the drink true?
Who knows the answer to this one. As is true about many cocktails and their origin – the truth can get twisted and turned through the years.
📖 Recipe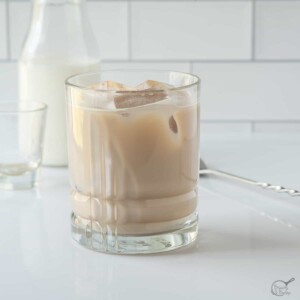 Smith and Kearns Cocktail
The Smith and Kearns is a creamy but light cocktail perfect for after dinner or as a nightcap. A splash of soda gives it a fun fizzy finish!
Ingredients
2

ounces

coffee liqueur

or chocolate liqueur

3

ounces

whole milk

or cream or half-and-half

1-2

ounces

club soda or seltzer
Instructions
Thoroughly mix liqueur and milk.

Pour mixture over a glass of ice.
Notes
Cream, half-and-half or whole milk may be used
Coffee liqueur or chocolate liqueur may be used
Always add soda last after mixing milk and liqueur
Nutrition
Calories:
246
kcal
Carbohydrates:
31
g
Protein:
3
g
Fat:
3
g
Saturated Fat:
2
g
Polyunsaturated Fat:
1
g
Monounsaturated Fat:
1
g
Cholesterol:
10
mg
Sodium:
37
mg
Potassium:
128
mg
Sugar:
31
g
Vitamin A:
138
IU
Calcium:
105
mg