Planning an event with a southern theme? The guests will all love these pretty little appetizers of cheese grits topped with the smoky taste of barbecue pork.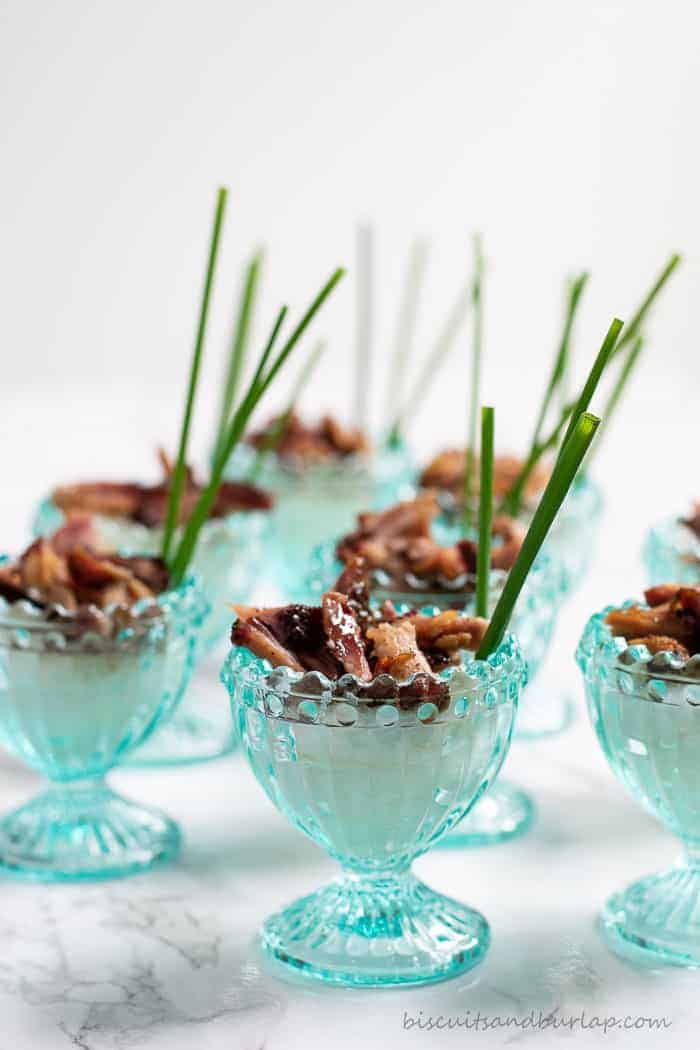 Southern appetizers are the perfect way to start your party and they will set the stage for the rest of the event. These are served in colorful little glasses and have a small serving of cheese grits topped with a generous dab of barbecue pork.
We took ours a step further and topped it with a touch of another favorite – Salted Caramel Peach Spread from our friends at Unicoi Preserves.
Hey, are you getting our new recipes delivered straight to your in box? You can sign up here.
Brilliant idea, right?
Okay, I have a confession. I didn't come up with this idea. A couple of years ago I was at a catered party and something very similar was served.
They were in mini martini glasses, which you could certainly use. In fact, any small, individual dish would be wonderful and you can further customize them to your party's color scheme and style.
I searched high and low for recipes or articles which suggested the pairing of cheese grits and barbecue for an appetizer and I couldn't find a thing!
So… straight from your friends here at Biscuits and Burlap, we present you Southern Appetizers with Barbecue and Cheese Grits.
If you love barbecue, grits and all things southern you'll want to read Southern Food Then and Now.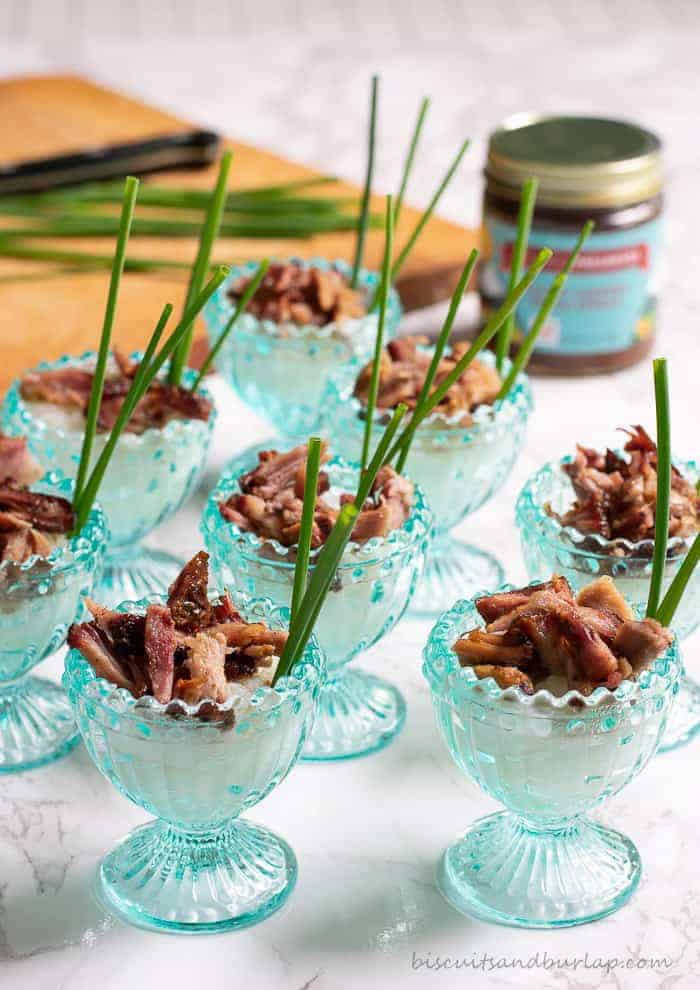 Totally Customizable
This post contains affiliate links for your convenience. Click here to read our full disclosure policy
Besides choosing the dish that you want to use you can customize these apps many other ways: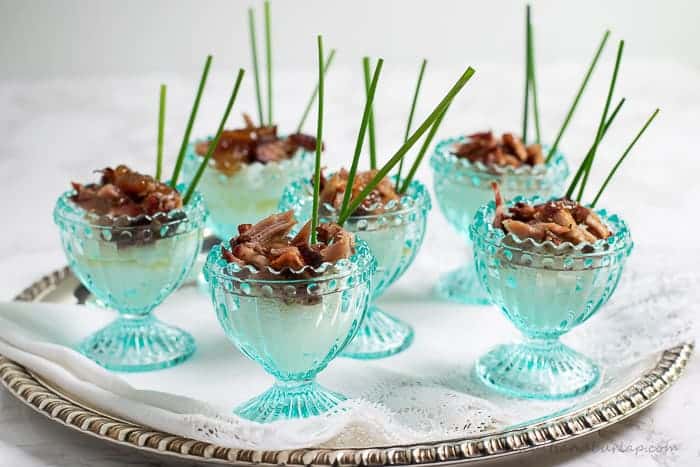 We gave ours an elegant twist with the silver tray and lace cloth, but it would also be fun to make them look country style. This wood serving tray is gorgeous and you will have the perfect tray of southern appetizers if you make yours in mini mason jars.
Now, we love our barbecue pork slow cooked on the Big Green Egg, but if you're planning a party you may not have time for that. These apps would be a breeze to put together with barbecue picked up from your local joint.
If you're looking for more southern style crowd-pleasing appetizers be sure to check out our version of Fried Green Tomatoes.
For ideas on making a charcuterie style board that's uniquely southern be sure to check out Southern Appetizer Board. It's got something for everybody!
📖 Recipe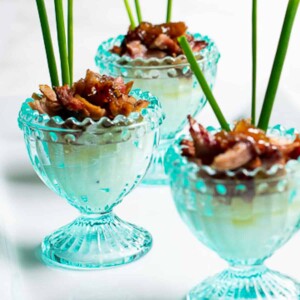 Southern Appetizers with Barbecue & Cheese Grits
Set the stage for your southern themed event with these appetizers with a base of cheese grits topped with barbecue pork.
Instructions
Place about 2 Tablespoons of grits in individual appetizer glasses.

Top grits with about 1 Tablespoon of shredded barbecue pork.

Top each appetizer with about 1 teaspoon of peach preserves.
Notes
Our Barbecue Pork recipe will yield a lot more than you need for these appetizers. Just save the rest to eat after your party (or freeze for later).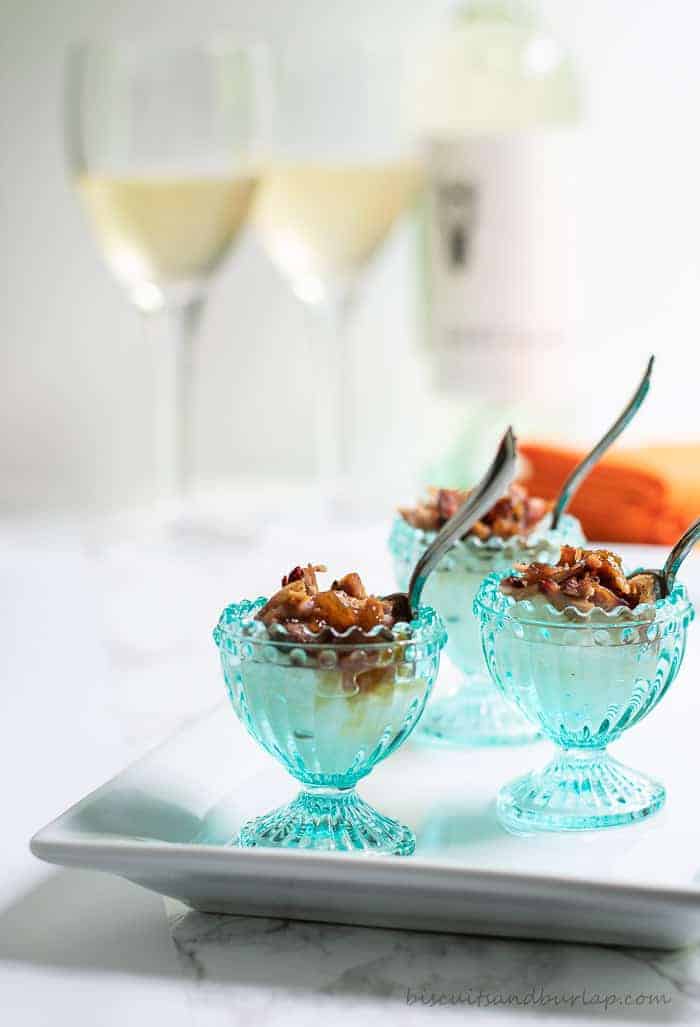 A few things you'll need for these fun southern appetizers:
More ideas for that southern themed party: