Quick pickled carrots are a breeze to make and perfect for serving numerous ways. Besides charcuterie boards, salads and snacking they make an amazing hostess gift.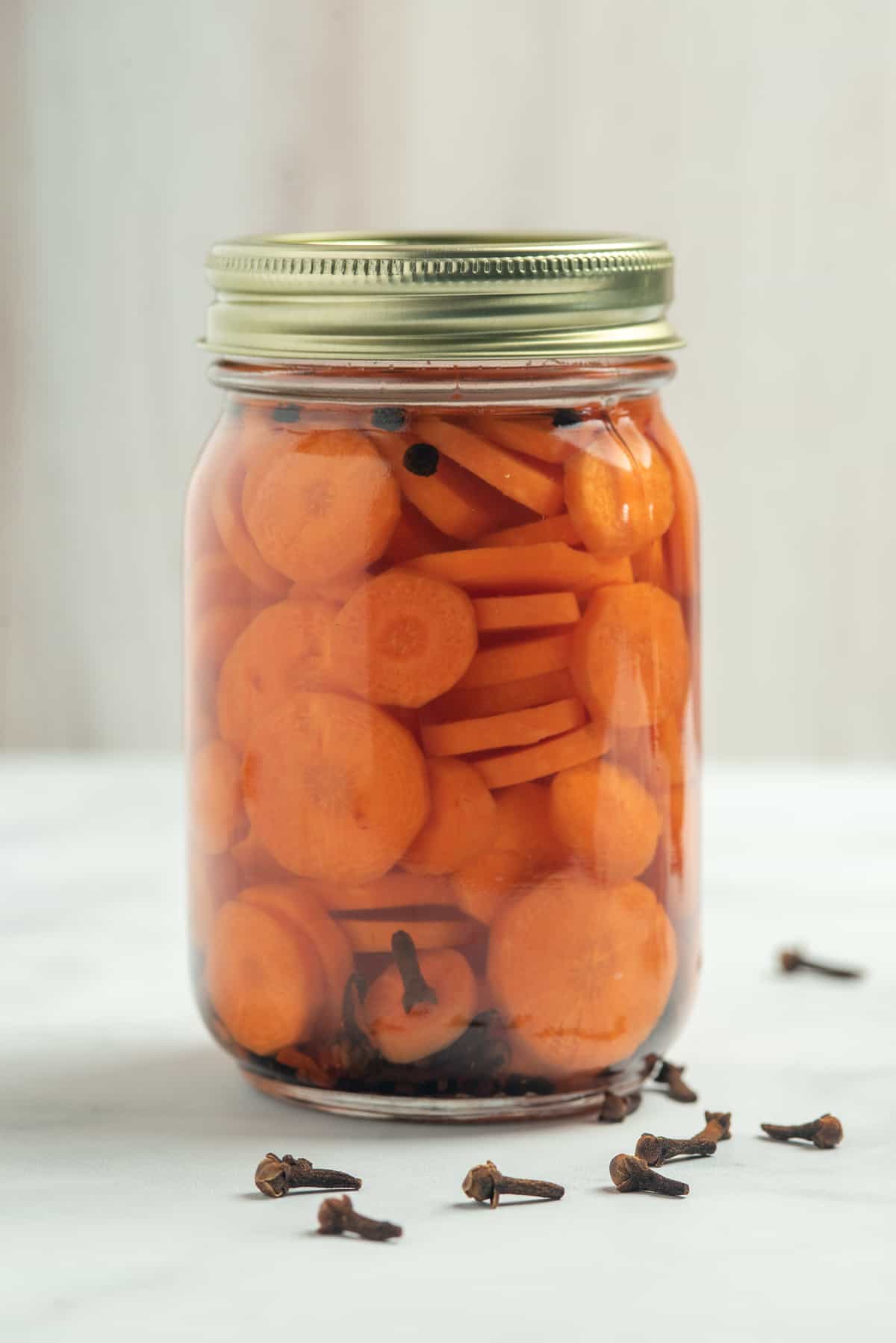 Jump to:
Quick pickling is the way to go
Sara and I decided years ago that traditional water bath canning was not our thing. We admire those who do it, but we rarely have enough of any produce that we need to preserve it for months and months.
We started out making spicy pickled okra and it was a big hit - with our readers and our families! Then we moved on to pickling green beans and got the same reaction.
This year we added quick pickled asparagus to our repetoire and now carrots. What should be next?
Flavors that enhance carrots
We wanted to step outside our usual pickling flavor profile with the carrots. We didn't use garlic like we have with the other veggies and no dill either.
To find something that would really complement the flavor of carrots we consulted our Flavor Bible and came up with cloves. It was the perfect addition!
If you've been around here long you've heard us sing the praises of the Flavor Bible. We believe no kitchen should be without one and, if you don't have your own, look below for the place to order one.
This post contains affiliate links, which means if you click on an affiliate link and buy something, we may receive a very small commission.  It does NOT result in additional charges to you or cost you anything extra. Click here for our full privacy and disclosure policy. As an Amazon associate we earn from qualifying purchases.

Here's what you'll need to make them:
Carrots - Naturally you'll want them to be as fresh as possible. Since we've cut these in medallion, or coin shapes, a medium size is just perfect. We don't recommend "baby" carrots for pickling.
Water
Salt - Any kind is fine as long as it's uniodized. The iodine can make your pickling solution cloudy.
Distilled White Vinegar - This will give you a clean look and not overpower the flavor of the carrots.
Whole Black Peppercorns
Whole Cloves
Red Pepper Flakes - optional, but recommended
Sugar - just plain white sugar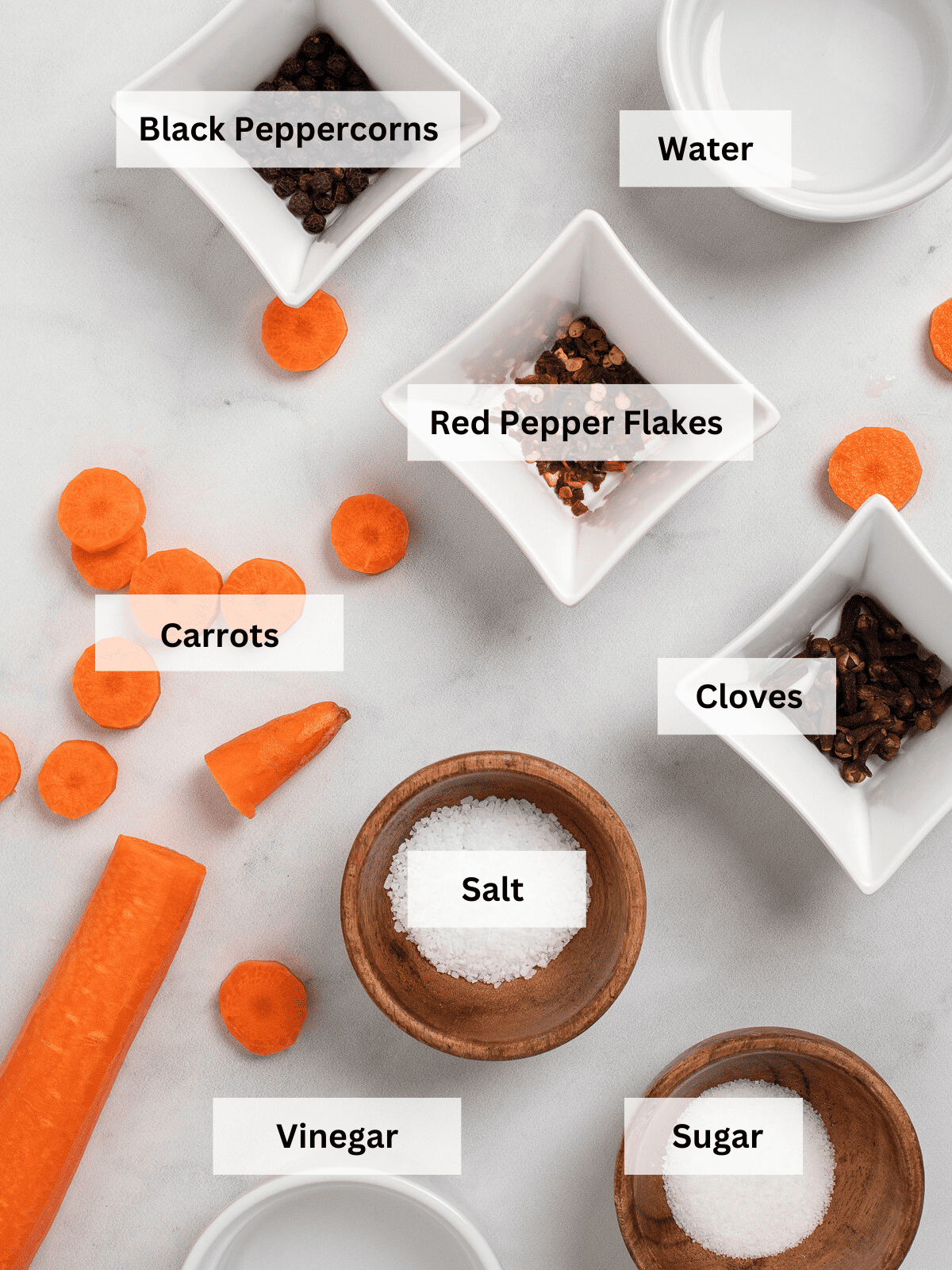 See recipe card below for specific quantities.
How to make pickled carrots
First wash your carrots thoroughly, peel them as lightly as possible and cut off the tops and bottoms.
Now cut into medallions about ⅛ inch thick and put them in a clean mason type jar (Tip - for even slices use a mandoline.)
Make your brine solution by combining the remaining ingredients in a small saucepan and bringing it to a boil. Stir just until the salt and sugar are dissolved.
Take it off the heat and pour over the carrots. Tightly seal and refrigerate.
Frequently asked questions about pickling carrots:
How long does it take for pickled carrots to be ready to eat? You can eat them starting at about 1 day after pickling. The flavor will be best if you wait 2-3 days.
How long do pickled carrots last in the fridge? A good rule of thumb when making quick pickled veggies of any kind is one month. Many times they will last longer, though. If you see any cloudiness in your brine it's time to discard.
How do chefs quickly pickle vegetables? This is it, y'all! A softer less firm veggie (like a cucumber) can actually be ready to eat in just a few hours.
Should I blanche carrots before pickling? It's not necessary. We do blanche our green beans and asparagus to preserve the bright green color and assure that they're clean. But carrots will stay nice and bright and crunchy without blanching.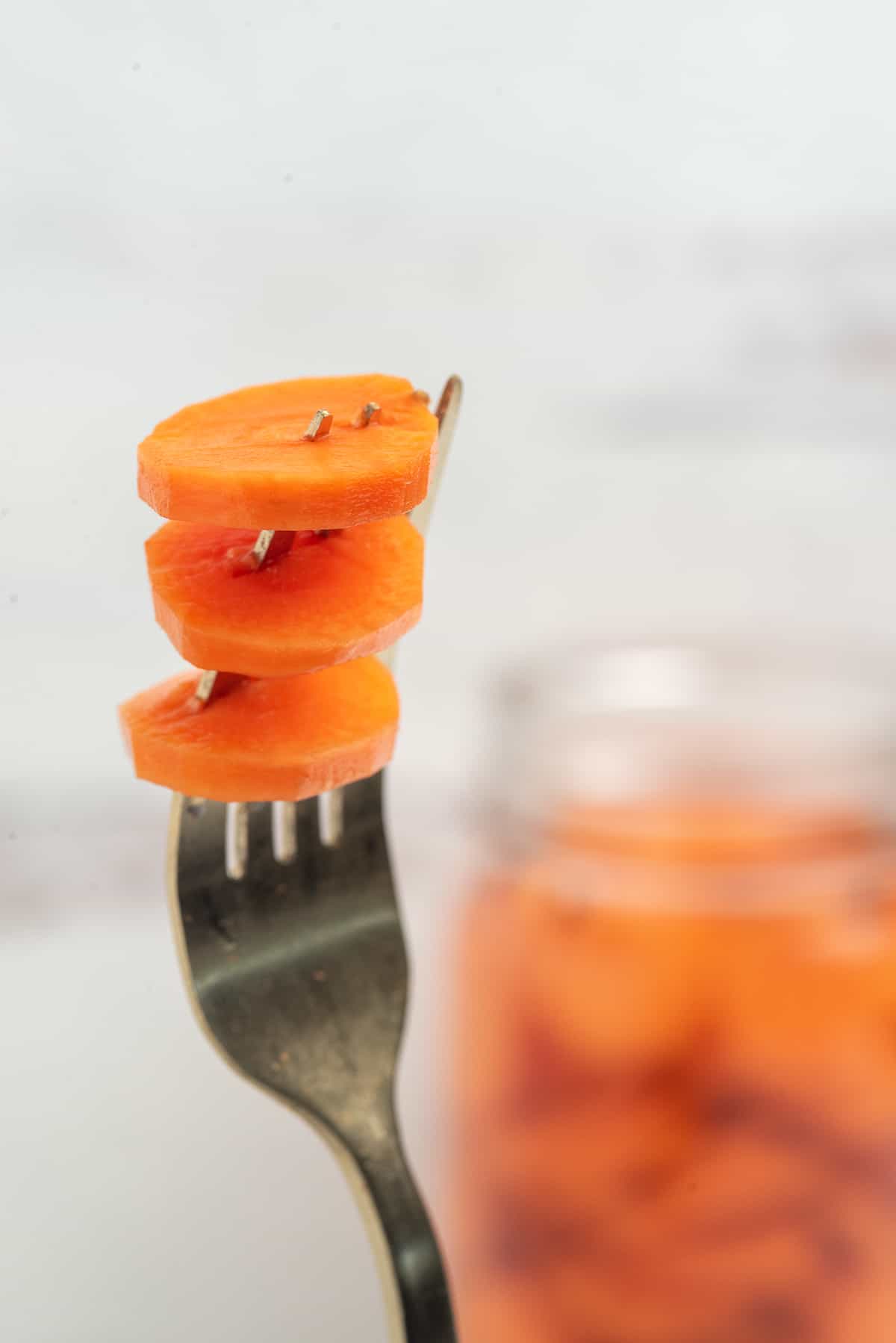 How can I use pickled carrots?
First of all they're great to snack on straight out of the jar. Beyond that you can put a few in a small bowl and add it to any charcuterie board.
Add them to any salad that you like. The bright color and crispy texture are perfect!
We love to give a jar of anything homemade as a hostess gift. Just tie a pretty ribbon or piece of cord around the jar and be sure to mark the date on it somewhere. Who doesn't love a gift straight from the heart?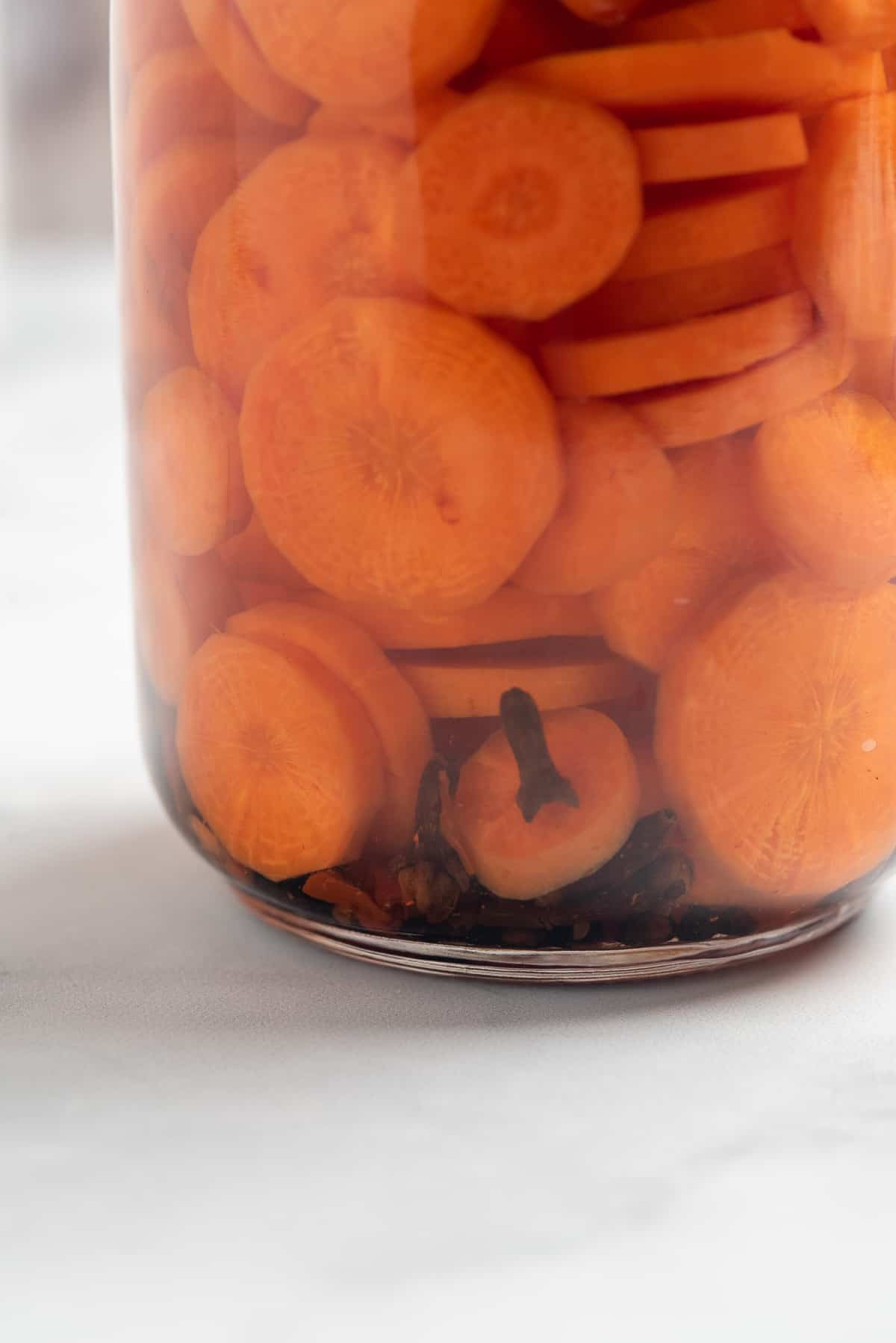 For a quick and fun look at this recipe be sure to check out the Google Web Story.
📖 Recipe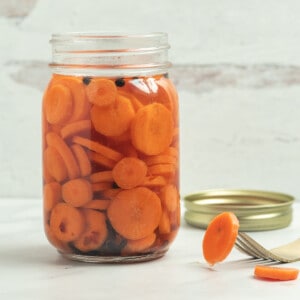 Quick Pickled Carrots
Quick pickled carrots are a breeze to make and perfect for serving numerous ways. Besides charcuterie boards, salads and snacking they make an amazing hostess gift.
Ingredients
10

ounces

carrots

about 4 medium carrots

1

cup

water

1

Tablespoon

uniodized salt

¼

cup

distilled white vinegar

½

teaspoon

whole black peppercorns

¾

teaspoon

whole cloves

¼

teaspoon

red pepper flakes

optional

1

teaspoon

sugar
Instructions
Wash and peel carrots. Trim off the tops and bottoms and cut into approximately ⅛ inch thick slices. Place in a clean pint size jar.

Combine remaining ingredients in a small saucepan and bring to a boil. Stir just until sugar and salt dissolve and then remove from heat and pour over carrots.

Seal tightly and refrigerate until ready to eat - about 2 days.
Notes
This recipe makes enough for one pint sized jar, but can easily be doubled or tripled. 
Use uniodized salt. Any type may be used.
Amount of cloves can be adjusted for strength of flavor desired. 
More Fruits and Veggies