Do you struggle with getting your bed skirt just the right length? This one is fully adjustable and can be made in less than 3 hours for about $30.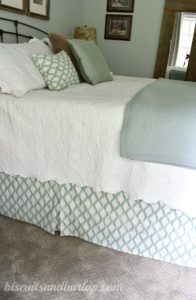 Do you struggle with getting your bed skirts just the right length? I know I did, and all I could find were basic colors or sets that included bed skirts. I'm sure you could have one custom made, but no idea how much THAT would cost. I bet way more than the $32 I paid for this fabric.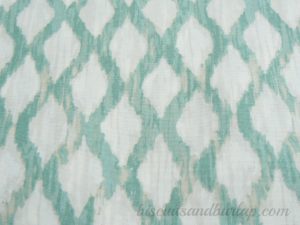 The colors are perfect and the price was right.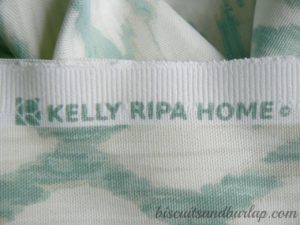 Did y'all know that Kelly Ripa now has a line of decorator fabric? I didn't. I think Joann's is the exclusive retailer for them. I tagged Kelly on Instagram with a shot of her fabric....just in case she wants to come by and check it out. I haven't heard from her yet. (wink, wink)
This post contains affiliate links for your convenience. Click here to read our full disclosure policy
So many readers have asked about my fabric that I'm including a link here if you want to order it:
Kelly Ripa Upholstery Fabric-Floating Trellis Spa
This post contains affiliate links for your convenience. Click here to read our full disclosure policy.
HERE'S HOW I DID IT
This was the easiest project ever. I do a little sewing, but I think you could do it with that Stitch Witchery stuff
if you don't have a sewing machine, because it's really just hemming straight lines.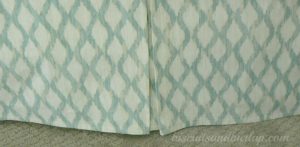 My measurements are for my king sized bed and the height of my bed. If you want to make a bed skirt for another size just measure the length and width of your bed. I added an inch top and bottom and ends to hem and about 2 inches to fold across the top of the box springs and attach it. This bed skirt does not have a deck (the big flat piece of fabric that usually goes between the box springs and mattress. Not having that is what makes it adjustable.
If you like our style, click here to keep up with what's going on at Biscuits & Burlap. Did you know that we are an awesome source of Southern Recipes? We have lots of old favorites AND some with a new twist.
BOX PLEAT IN THE MIDDLE OF THE SIDES
I thought adding a box pleat made it look ever so classy. I added 6" to do that.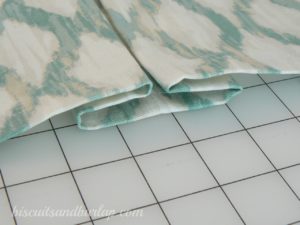 This close up shows what I mean. You would do your hemming (ironing each hem as you go) and then come back and add the pleat and iron it in place, then go back over it with the machine or Stitch Witchery stuff. You could do without the pleat and you would just have a plain, flat panel. If your room is contemporary that would look best. (Subtract 6 inches off the side measurements if you don't want the pleat).
If you're in the market for an affordable, but solid sewing machine I highly recommend mine. I reviewed it here and it's under $160!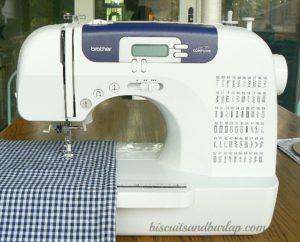 This shows the measurements I used for cutting.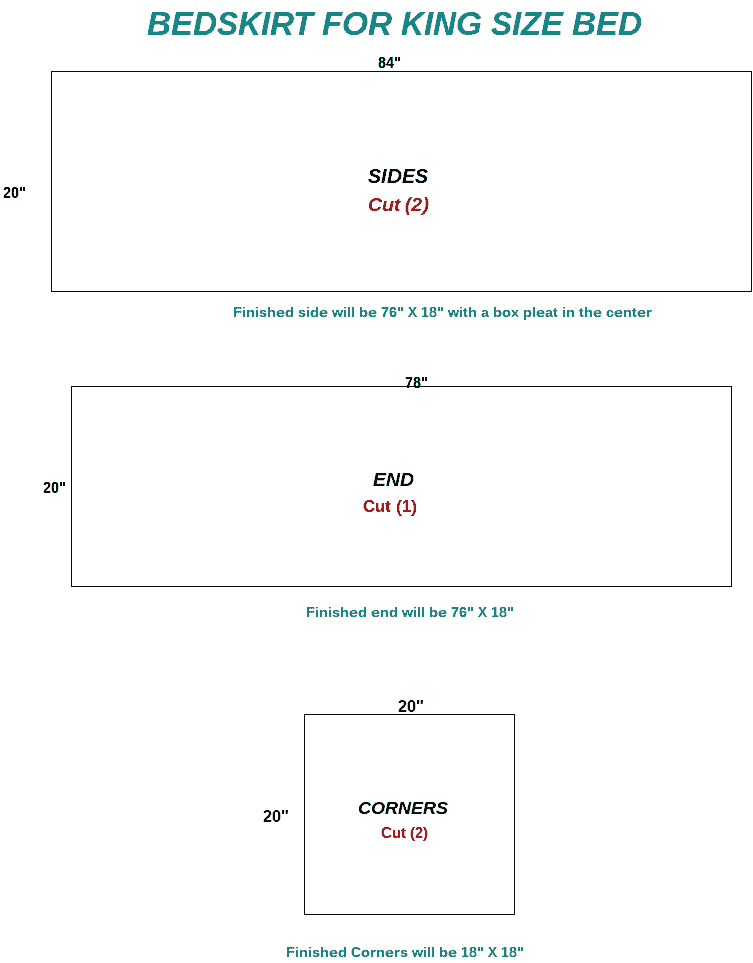 The corners are just little squares, that you fit in place, like so, and then the flat panels go on top.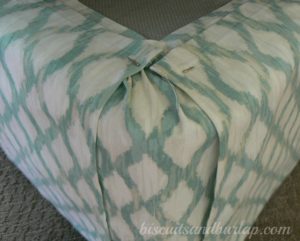 THIS IS THE BEST PART ABOUT THIS BED SKIRT!
You don't even have to move the mattress off to put these on. Seriously! I use T Pins
and slide them through the bed skirt straight into the box springs at an angle. I did this by myself, just holding the mattress up a little with one hand and using the other to pin. Update: A reader tells us that she used these twist upholstery pins and thought they stayed in place better. Mine haven't swifted with the T Pins, but you may want to use these.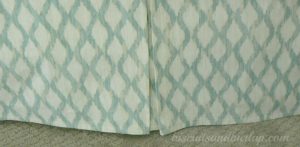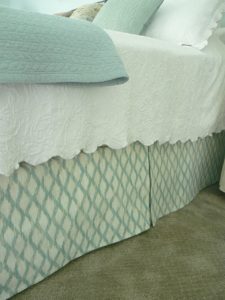 I'm pretty happy with the way this turned out, and thrilled with the small amount of time and money, too!
The Home Tour Part 3 covers the Master Bedroom. Check it out here.
This Fabric Covered Lampshade was even quicker and cheaper than the DIY bed skirt!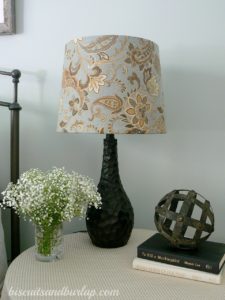 I found a few more fabrics for you that I think would make beautiful bed skirts. Click the images or the link below each image for more information or to search for other fabrics. Just go into Home Decor fabrics and choose something medium weight.
If you're sold on my Brother sewing machine (under $160) you can click here to order.
If you want to use my exact fabric you can order it by clicking the link below:
Kelly Ripa Upholstery Fabric-Floating Trellis Spa

I ordered 4 yards of fabric and had enough left over for a couple of small pillows. Don't forget your T Pins
for attaching your bed skirt and Stitch Witchery
if you don't sew. And, please y'all, feel free to comment or drop an email with questions. This is a project anyone can do and it will make your bedroom look awesome!
This Shower Curtain and Cornice is one of our most popular how to posts, even though it's an early one. You might like that project too.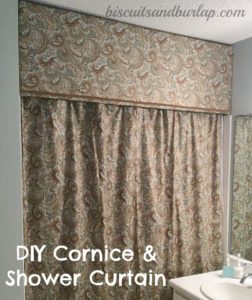 DIY Photo Framing on the Cheap. That's one you don't want to miss.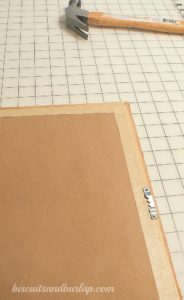 Wow, you found an old post! Did you know we're a food blog now?
If you love food, especially Southern food, you're going to love what we've done with the place! Check out some of our favorite recipes below.