Sauce with Sundried Tomatoes and Olives is a fabulous blend of flavors, and it pairs beautifully with chicken or fish. Serve it over pasta for a vegetarian dish and, if you must, leave the olives out for those non olive lovers in your midst.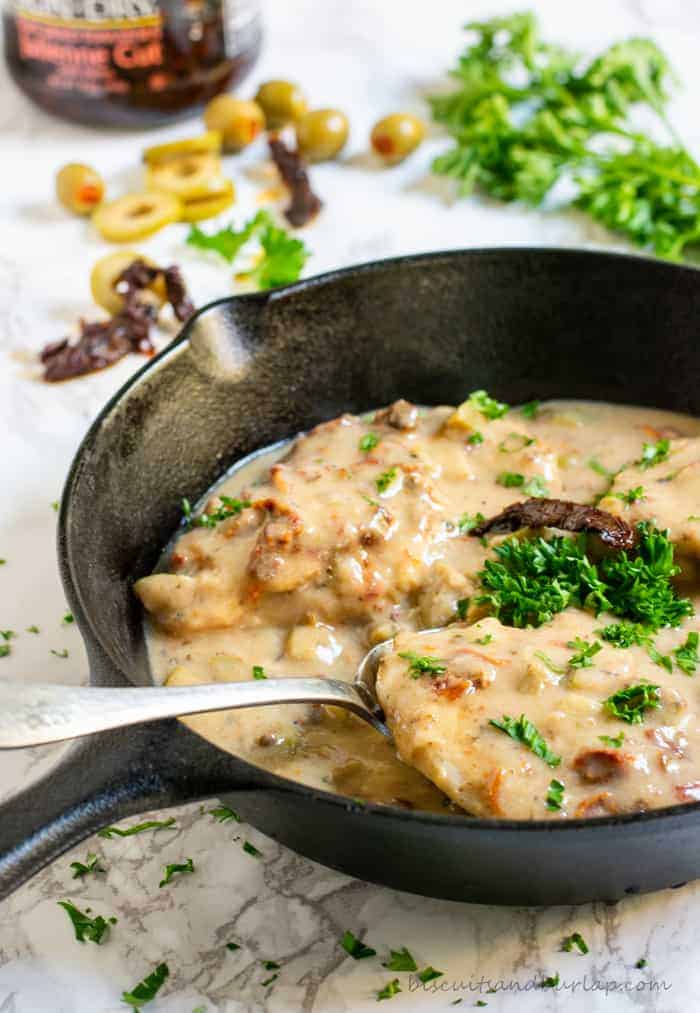 We're just crazy about our sauces around here and this Sauce with Sundried Tomatoes and Olives is no exception. Seriously, what can elevate a plain piece of chicken or fish or a pile of pasta like a mouthwatering sauce? Nothing. That's what.
Hey, are you getting our new recipes each week? Sign up here for delivery straight to your In Box.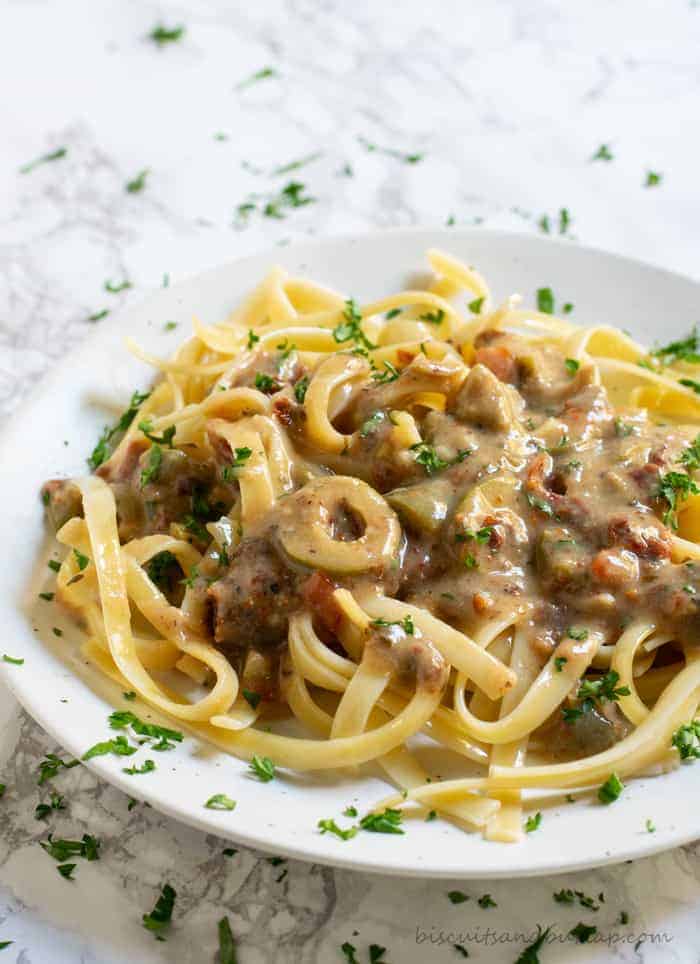 What is it about Sundried Tomatoes?
They have such a unique flavor, don't they? I mean, they taste absolutely nothing like a tomato, but that doesn't mean they're not delicious. Anything you add them to takes on a different spin. We love them on pizza, in soups, stews and on crostini. What are your favorite ways to use sundried tomatoes?
This post contains affiliate links for your convenience. Click here for our full disclosure and privacy policy.
We like to cook with the ones packed in olive oil and we're linking to the brand we use most often, though any of them should be delicious. But, here's the thing about sundried tomatoes. They're UGLY! It happens all the time. Some of the best tasting foods aren't good-looking and they don't do anything to enhance the look of the dish we add them to.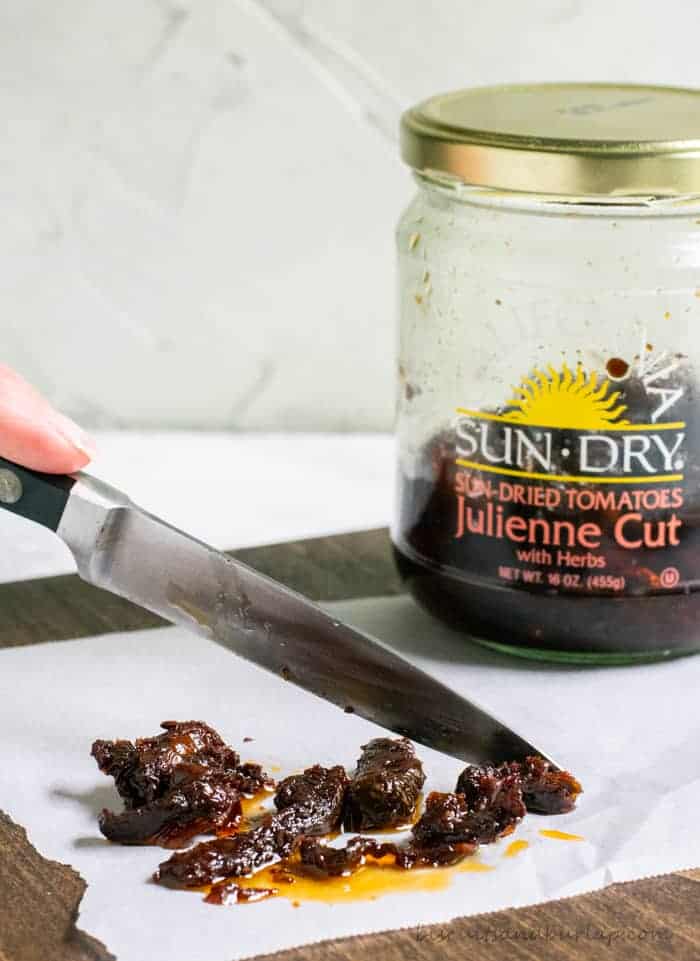 Just try to overlook the shortcomings. This Sundried Tomato Sauce is going to be so good over your chicken, fish or pasta that you'll soon forget you started out with an ingredient that's so unattractive.
What about the olives?
When I started out to develop this recipe I wanted to add another dimension of flavor, but was unsure what. Most sundried tomatoes that are packed in oil use olive oil, right? So, olives seemed like a natural addition and they do add a tangy, brininess that you'll love if you're an olive lover.
We realize, though, that many people are not - in fact, we have a couple of those in our family. So, if you would like to make the sauce without olives - go right ahead. It's still going to be wonderful.
📖 Recipe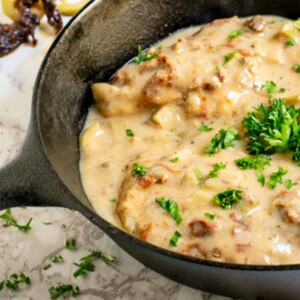 Sauce with Sundried Tomatoes and Olives
A tasty Sundried Tomato Sauce with optional olives. This sauce makes the perfect topping for chicken, fish or as a vegetarian dish with pasta.
Instructions
Cook garlic in olive oil over medium heat 1-2 minutes, or until lightly browned.

Stir in Italian seasoning, lemon juice, stock and half and half. Continue to cook over medium heat until heated through.

Add flour, a Tablespoon at the time stirring constantly until desired consistency is achieved.

Stir in tomatoes and olives.

Garnish with additional whole olives if desired.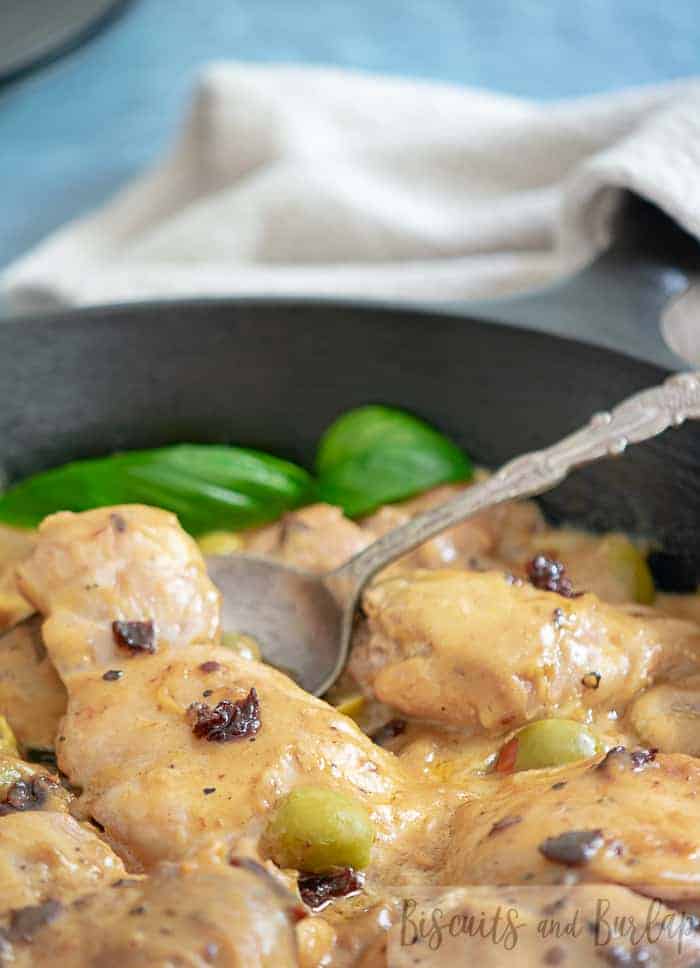 A few notes to make the best Sundried Tomato Sauce:
We love to use Wondra Quick-Mixing Flour for sauces and gravies. It's specially formulated to make smooth, lump-free sauce.
Chicken stock is better than broth if you can use it. Also, the stock or broth can be supplemented with white wine. For example, instead of using all stock you can use ½ cup wine and ½ cup stock
The perfect complement to anything with this sauce would be Skillet Focaccia Bread with Herbs and Parmesan, and y'all - it's so quick and easy!
Don't forget to sign up here for our weekly updates.

More recipes from Biscuits and Burlap that you'll love: