Okay, y'all, we have never had a product review on Biscuits and Burlap. It just makes sense to share how much I LOVE my sewing machine with our readers. This post is not being sponsored in any way. I am not an expert at sewing and I am not an expert on sewing machines.
I hope that you will appreciate the perspective I'm coming from. If you are an expert in either area, this review is not for you. This is for the beginner, or someone like me — with limited skills, just looking for a solid, reliable machine that won't cost an arm and a leg.
My Perspective
I would say I'm somewhere between an advanced beginner and a moderately-skilled sewer. I enjoy mostly the home decor accessories that I can make with my limited sewing skills, but I do occasionally like to make some minor alterations to clothes. I find that you can give your clothes a more custom-look with just a few adjustments.
That being said, my sewing skills have really not advanced much over the years. I occasionally try something new, but mostly, I find that I can make a few throw pillows, or drapery panels with the skills I have. My favorite so far has been this DIY Bed Skirt that's so easy and adjusts to the height of your bed.
Until a couple of years ago the only sewing machine I ever had was a hand-me-down from my mother. It sewed straight, zig-zag and I think it would make buttonholes, but I never had the nerve to tackle that. It was in a big, wooden cabinet so sewing was done at home. Period.
So, that's where I'm coming from. If you're a beginner or looking to modernize from what your grandma gave you (but not spend much) then read on.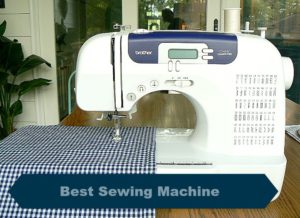 Easy to Use and Affordable
I think I hesitated getting a new machine for so long mainly because I thought it was a big investment. I figured I would spend $400-$500. My sister-in-law, Susan, was telling me about her new sewing machine and I could not believe how cheap it was.
This post contains affiliate links for your convenience. Click here to read our full disclosure policy.
Seriously, right now it's $142.00 on Amazon. What a deal!
I read a few of the short reviews on Amazon and listened to Susan and how much she like it. But, this sealed the deal. The instructor at a sewing class I was taking recommended it. She, of course, had numerous big, expensive, machines with lots of crazy features, but for basic sewing, this machine was her recommendation. Sold!
This is it! This is my exact sewing machine. It's the Brother CS-6000i
You can click the image, or the link right above it, to get all the technical information.
My Favorite Features
Now, y'all, it probably does a lot that I don't know about, but here are a few features I love:
It's idiot-proof! I mean it! There are actually drawings on the top that show you how and where to thread. If you're winding a bobbin, you follow the dotted-line drawing. If you're threading for actual sewing you follow the solid line.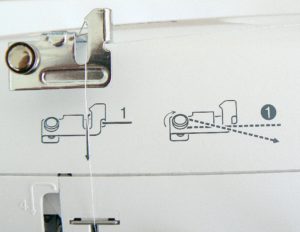 At the bottom there is a drawing for threading the bobbin. It shows you which way the spool should turn and where to pull the thread.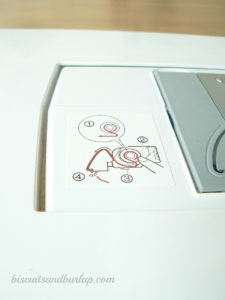 On the front is a diagram of all the stitches it will make. Some of them are for a specific purpose and some are just fancy, decorative stitches. You dial in the corresponding number, step down on the foot pedal, and away it goes.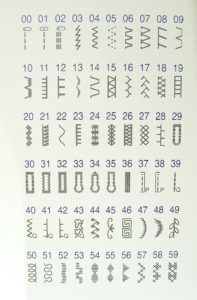 When I first got mine I made a few of these little Christmas ornaments just so I could play with the decorative stitches.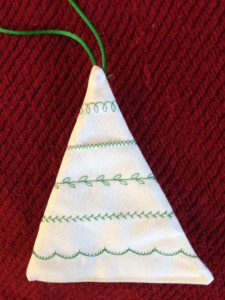 It comes with this "flat bed attachment" which gives you a flat surface to work on. With it attached the sewing machine looks like this.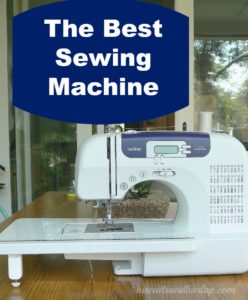 Or, you can remove the flat bed and it would be easier to put something small (like a sleeve) on the work surface.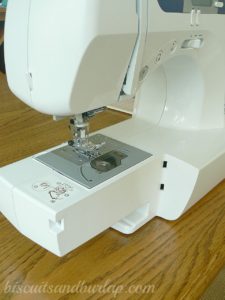 The case is very simple. It just slides over the machine and has an opening where you reach through to grab the handle. I sort of wish it clipped on, but this works fine, once you get used to it. Another of my favorite features is how lightweight it is. I can literally put two fingers into that handle and lift it.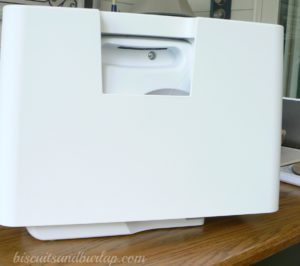 This shows a close up. There is yet another diagram of how to thread the bobbin and to the right of the presser foot there are metered lines that you can follow, depending on how wide you want your seam allowances.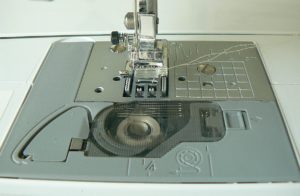 Button holes are super easy. (With my Brother CS-6000i I finally had the nerve to tackle them). That's about it. If I had to find something negative I would say I wish the case would fit on with the thread sitting on top, but it won't. A minor inconvenience, but a little hump in the top of the case to accommodate the thread would have solved that.
Hard to believe this sewing machine is $142.00 right now on Amazon.
Are you getting our newsletters? That's the easiest way to keep up with what we're up to here at Biscuits & Burlap. We don't overdo it. Pinkie swear!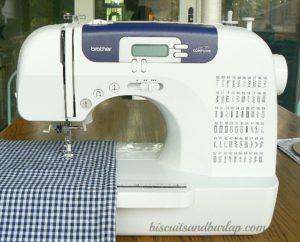 Feel free to comment and ask questions. I've had my Brother CS-6000i Machine over two years now. I've made numerous projects with it, and a few of them are posts here on the blog if you want to check them out.
My favorite (and apparently a reader favorite) is this DIY Bed Skirt, which is fully adjustable according to the height of your bed.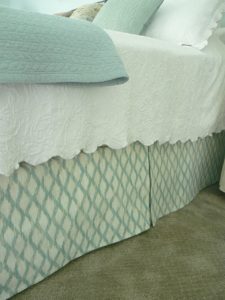 Way back when we first started Biscuits & Burlap I made this Shower Curtain with Cornice. I think that was my first time trying the button hole feature.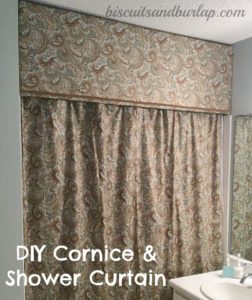 For your convenience, you can order the Brother CS-6000i by clicking right here.
Wow, you found an old post! Did you know we're a food blog now?
If you love food, especially Southern food, you're going to love what we've done with the place! Check out some of our favorite recipes below.