It's almost time for St. Patrick's Day corned beef, right? I'll be honest about this. I've taken a hiatus from St. Patrick's Day and corned beef for the last couple of years.
Skip St. Patricks Day? Why?
This St. Patrick's Day will be three years to the day since I lost my Mama. Up until then I've made this corned beef and cabbage for at least twenty-five years, and my family all loves it. But, for the last two years I just didn't have the heart to make it.
It's Time to Celebrate
This year, though, I've decided that I will no longer mourn my loss, but instead I am celebrating Mama's life. I love this picture of her and my grandson, Beau, taken about a year before she died. That laugh is a great reminder of her fun spirit. She would love the idea of me sharing this recipe.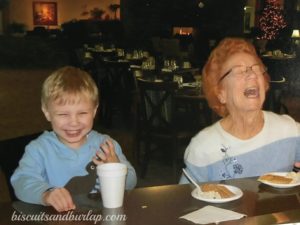 Let's Get to the Corned Beef
My friend, Lisa, got this recipe many years ago off a Killian's Beer display. I tried a google search and a Pinterest search and couldn't find anything, so Lisa and I must be the only two people left on earth who make it. The rest of the world is missing out, so I decided, in honor of my Mama, I would share with you all.
Are you getting our newsletters? That's the easiest way to keep up with what's going on at Biscuits and Burlap. Sign up here.
Corned Beef Cooked in Beer You Say?
Yes, it's a bit different. It's cooked in beer and lots of other wonderful flavors. There is also a crunchy sweet coating (similar to what you find on a honey baked ham). It would still be delicious, but a more basic corned beef, if you want to leave off the coating, but I've never left it off. We all love it!
By the way, we've been collecting recipes, decor and fun on our St. Patrick's Day Pinterest Board. Check it out and follow here.
A bonus of making this corned beef is the aroma. It's like potpourri for your house, only better. How could it not smell delicious with all this delicious stuff cooking in beer along with your corned beef?
I'm only giving you the corned beef recipe. For my cabbage, I usually scoop a cup or two of the pan juice into the cabbage pot when I cook it. Otherwise it's just straightforward cabbage.
Before I get to the recipe I'd like to leave you with this.
AN IRISH KITCHEN PRAYER
Bless us
with good food,
the gift
of gab and
hearty laughter.
May the
love and joy
we share
be with us
ever after.
Amen
Corned Beef Cooked in Beer? You Bet!

Ingredients

1

corned beef

4-6 lbs.

2

bottles Killian's Irish Red Beer

4

bay leaves

3

cinnamon sticks

12

peppercorns

3

cloves

of garlic

1

large onion

cut in half

1/2

cup

brown sugar

1/2

tsp.

ground cloves

1/2

tsp.

dry mustard

1/4

tsp.

celery salt

1/4

tsp.

caraway seeds

Instructions

Place corned beef in dutch oven and add all ingredients through onion.

Add enough water to cover the corned beef.

Cook for 4-5 hours, covered, on medium-low to medium heat, or until corned beef is tender.

Mix remaining ingredients.

Rub or pat onto the warm corned beef.

Cook on grill or under broiler until coating is crunchy.

Serve warm with the rest of the beer from your six pack.
IF YOU LIKE THIS RECIPE, YOU WILL NO DOUBT LOVE THESE TOO!
 Gumbo with Chicken, Sausage, Crab & Shrimp 
Bourbon Glazed Cajun Beef Tenderloin
Preacher Chicken (a Healthy Choice) 
And don't forget, Sign up here for our updates. We won't overdo it. We promise.