This is almost embarrassing it's so simple. I've found through the years that a few pieces of ribbon can add so much to your Christmas decorations. It's easy, inexpensive (okay, cheap), available in a wide array of colors and you don't need any special skills. You can embellish something as simple as magnolia or ivy or pine cut from your yard and it looks like a million bucks.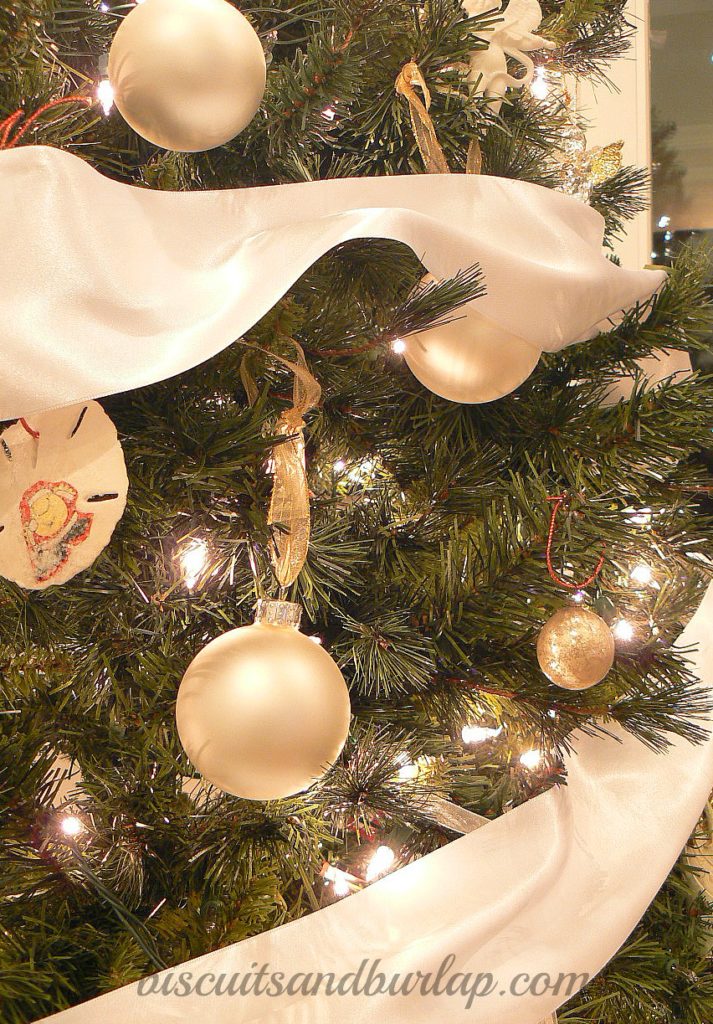 And, no bows here. Those who know me are aware of this. To save my life I cannot tie a bow. I've had friends, family and experts in this field try to teach me, but it's not going to happen. So, I accept that about myself and move on. Ribbon is great for lots of things besides bows.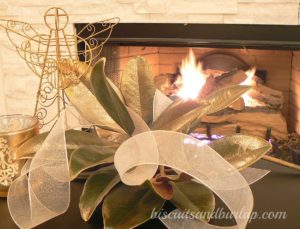 The simplest little vignette can take on an almost ethereal quality with the right ribbon. I love this sheer organza ribbon with a subtle gold sparkle to it. What I used here isn't wired on the edges, but you could use the wired type. I just gently lay it around the elements of the vignette. If you're not pleased at first move it around.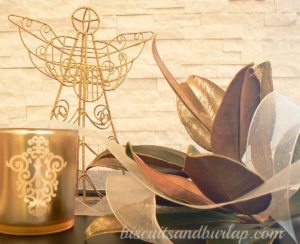 There is no right or wrong way — that's the beauty of it. And no skills needed (like bow-tying). I tend to like white and ivory and gold, but you can find ribbon in hundreds of colors to go with your own palette.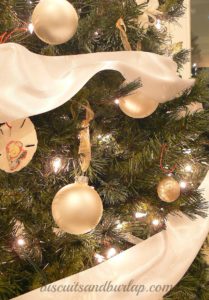 This post contains affiliate links for your convenience. Click here to read our full disclosure policy
Your Christmas tree is another great place to use ribbon to add that special touch. In this photo I've used 4 inch wide satin ribbon. Again, it's not wired, but wired would add its own special look and make it more pliable. Does anybody else still have some adorable, but somewhat dorky ornaments your kids made when they were little? Check out Ziggy on the sand dollar! A treasure from our years in Charleston, South Carolina.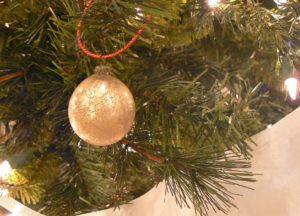 This is another one near and dear to my heart. It's tiny — maybe an inch. The paint is all broken up now and makes it look like mercury, but this little jewel is from my parents' first Christmas together. The year was 1950 and they could only afford a tiny tree and a few tiny ornaments to go on it.
Here I switched over to a wide shimmery sheer organza and swirled it around running vertically on the tree.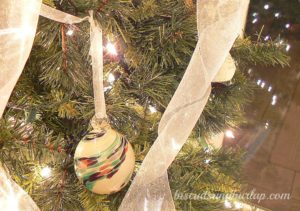 Are you signed up for our newsletters? That's the easiest way to keep up with what's going on here at Biscuits and Burlap. Sign up here.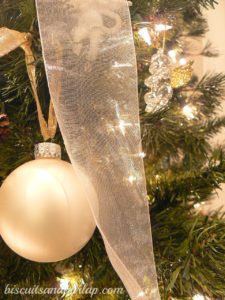 Let the ribbon lay mostly flat and it gives a totally different look. If it suits your look you could add a glittery red ribbon, or candy striped. Let your imagination run wild. A few dollars is all you need to add that special touch with ribbon to everything around your house. And you can practically stand back and throw it. In fact, try that and see what happens. You might like it!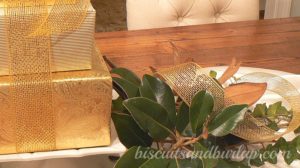 Ribbon Colors
Need help getting started on adding that special touch to your decorations? Find your color scheme below and click for a selection of ribbons.
Let us know in the comments or via email if you enjoyed this post or have questions. Better yet, send a photo of what you did with ribbon. We would love to see it!
Wow, you found an old post! Did you know we're a food blog now?
If you love food, especially Southern food, you're going to love what we've done with the place! Check out some of our favorite recipes below.