These Greek Shrimp Crostini make a delicious and beautiful appetizer with a lemony feta cheese spread, roasted red peppers, juicy shrimp and fresh mint.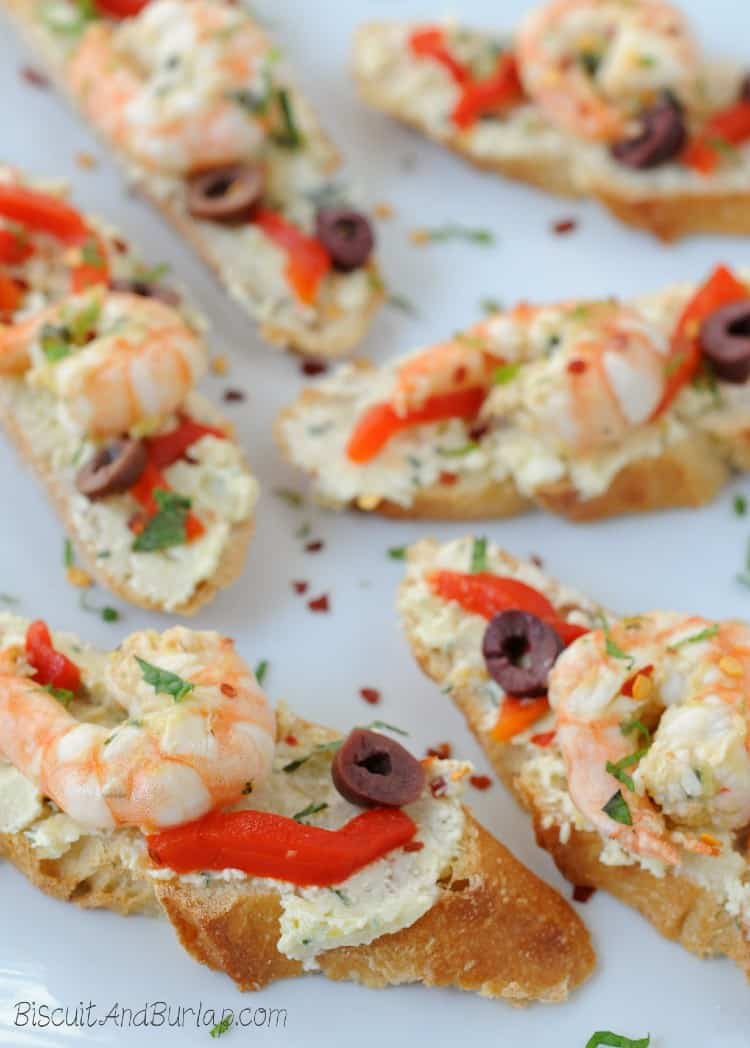 I swear there is just nothing better than the flavors of Mediterranean food. Lemon, garlic, olives, feta cheese... You could put those four ingredients on just about anything and make it good.
These Greek shrimp crostini are pretty as can be, and the tangy flavors of the Mediterranean are out of this world.
Are you getting our newsletters?
Pretty as they may be, the shrimp crostini really are so simple. The feta spread is similar to htipiti and once you try it you'll find yourself making it again and again to spread on crackers, veggies, and sandwiches.
The shrimp marinade is really versatile too and would be great on chicken. We also made a steak version of this recipe for the beef lovers. Switch it up and do what makes you happy!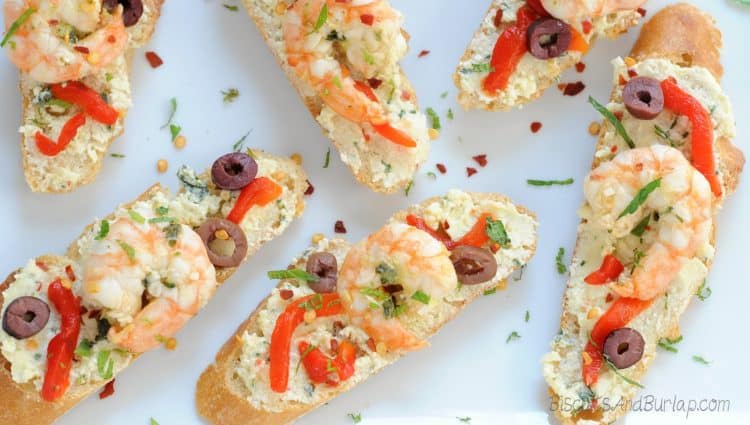 I won't get into too much detail about how to make this recipe because the instructions are really pretty simple. The only part I would like to stress is to think about the size of your bread versus the size of your shrimp.
The french loaves I bought were only about an inch tall and 3 inches wide, and then I bought jumbo shrimp. As you can imagine, when I made them the first time, the shrimp crostini looked disproportional because the shrimp were too big for the bread on which they sat.
The second time, I used the same loaves and shrimp, but cut the bread at a 45 degree angle to get longer slices. This gave me more room for red peppers and olives and made the shrimp sit better in the center. You could do that, or you could buy smaller shrimp or larger bread. If you want something fresh and light to go with these, we'd suggest our Mediterranean Cucumber Salad.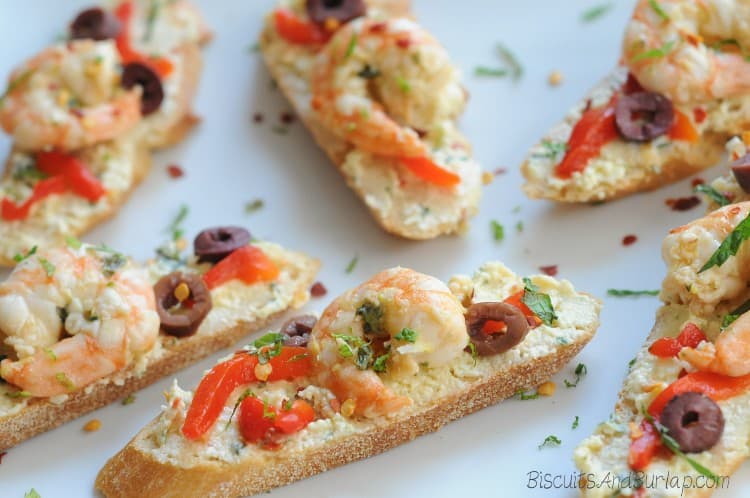 Get our recipes delivered right to your inbox! 
Don't forget to let us know when you try our Greek shrimp crostini by tagging us on Instagram and Facebook!


📖 Recipe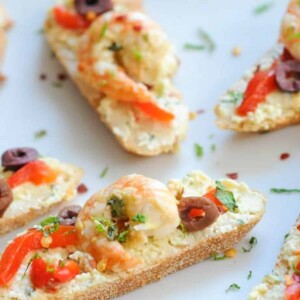 Greek Shrimp Crostini
These Greek shrimp crostini make a delicious and beautiful appetizer with a lemony feta cheese spread, roasted red peppers, juicy shrimp and fresh mint.
Ingredients
1

lb

shrimp

peeled and deveined

8

oz

feta cheese

¼

cup

olive oil

divided

1

lemon

zested and juiced

1

teaspoon

crushed red pepper flakes

divided

4

cloves

garlic

minced

10

mint leaves

thinly sliced

1

tablespoon

oregano

fresh, chopped

2

loaves french bread

1

roasted red pepper

thinly sliced

8

kalamata olives

thinly sliced
Instructions
Combine feta cheese, 2 tablespoons olive oil, half the lemon juice and zest, half the red pepper flakes, 2 cloves minced garlic, and mint in a food processor. Blend until smooth, adding more olive oil if needed. Cover and refrigerate until ready to use.

Put shrimp in a Ziploc bag. Add remaining olive oil, lemon juice and zest, garlic, and red pepper flakes. Add oregano. Seal and refrigerate 2 hours.

Slice french bread into ½ inch slices, cutting diagonally to get desired size. Brush with olive oil and toast lightly.

Pour a tablespoon of olive oil into a pan over medium high heat. Once hot, add shrimp and cook until just opaque, about 2 minutes on each side. Remove from heat and set aside.

Spread feta mixture onto each slice of toast. Top with roasted red peppers, kalamata olives, and one shrimp. Garnish with lemon zest and sliced mint if desired.
We've got more recipes you'll love.
More recipe sources we recommend: