A friend of mine was at the house around Christmas and seemed just fascinated with the runner on my dining table. The truth is, it was just a couple of yards of ivory satin. I fold the edges under and sort of swirled it around the candles and centerpiece until I was happy with the look. I've done this a long time and it hadn't occurred to me that a lot of people think a table runner needs to be designed for that use. Here are a couple of views.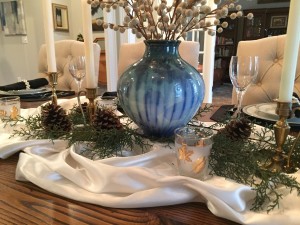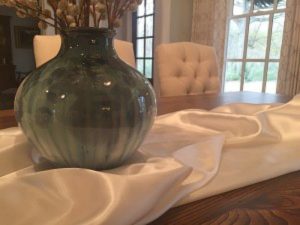 I think there's nothing prettier than satin.
Unless it's velvet.
Or a fun metallic.
I guess you get the picture.
I LOVE fabric!
This post contains affiliate links for your convenience. Click here to read our full disclosure policy
Around the holidays I tend to use a lot of that ivory satin, and for the past few years, 3 or 4 yards of it have been the skirt under our Christmas tree. Again, I just tuck under the raw edges and swirl it around. It catches the light so nicely, especially in the evening.
Order a few yards to have when the holidays get here. You'll find so many uses.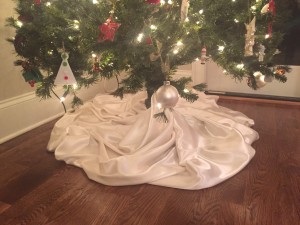 I used this next shot for that little stamp size photo on the back of our Christmas cards.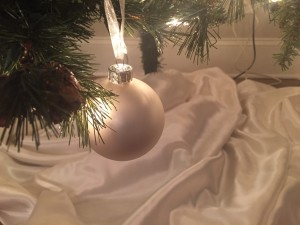 Another fun, easy, no-sew project is the make a wall hanging out of a piece of fabric. The possibilities are endless! You can use any small piece of fabric from a fabric store remnant table, or something that has special meaning to you. What do you think — a baby blanket, a piece of clothing from someone special from your life? I can think of a few things that belonged to my mother that I wish I had preserved this way.
You decide on the size you need and buy those wooden stretcher bars from Michaels, Hobby Lobby or any craft store. They're designed for making art canvases and they have notches cut in the corner so they just fit together. If you can't find the size you need locally, you can order them online in virtually any size you can think of. Then lay your fabric out on a flat surface and put your stretcher bar frame on it. Pull the edges of the fabric around to the back and staple in place with a heavy duty stapler. This one was in our bedroom before we moved and now in the room I'm fixing up (slowly, but surely) for a craft/sewing room. I thought it set off those photos of Boston churches nicely.
What could be easier than that?
Are you getting our weekly newsletters? Sign up here so you don't miss any great projects or recipes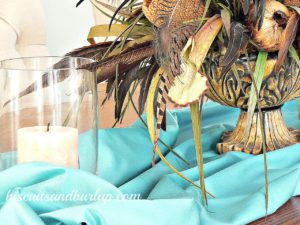 .
I have this gorgeous satin on my table right now. Here's a wider angle of it.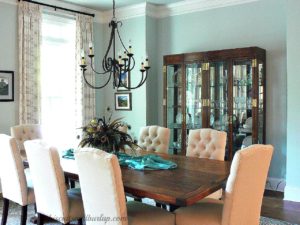 Check out MY HOME TOUR and let me know what you think.
You might like DIY FABRIC COVERED LAMPSHADE and
SHOWER CURTAIN WITH CORNICE BOARD
My latest project is this DIY Bedskirt. I made it in under 3 hours and it's fully adjustable to the height of your bed.
Wow, you found an old post! Did you know we're a food blog now?
If you love food, especially Southern food, you're going to love what we've done with the place! Check out some of our favorite recipes below.