Mexican Dip that's super easy to put together, colorful and low in calories. What more could you ask?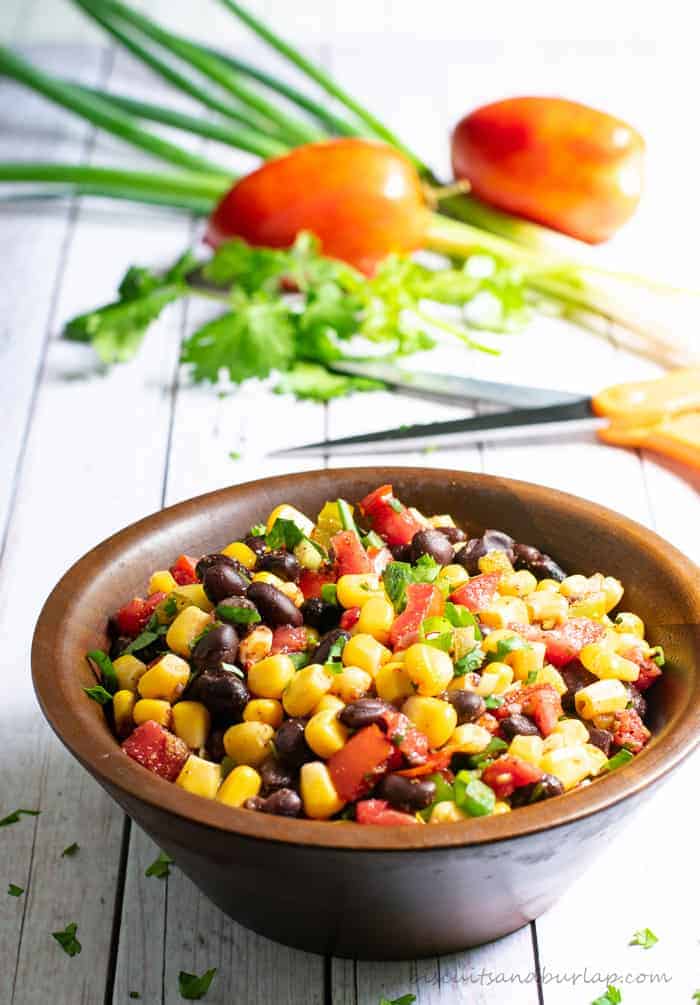 When we were invited to a cookout recently I needed to come up with a "chip and dip" to take that would be filling and low calorie, and of course, hope that it would be a popular item with the other guests. This Mexican Dip turned out to be all of that, and more.
Hey, are you getting our weekly updates? If not, you can sign up right here.
A Mexican Dip that's different
I know these bean, corn, etc. dips have been done to death, but I've never made one and I had my own requirements. Most feature bell peppers. While I love most all other peppers, there is just something about a bell pepper that turns me OFF!
So, I just read through a few recipes and came up with my own, carefully monitoring the calories and serving size.
For a Mexican inspired salad dressing with its own twist you'll want to make this one. It comes together in just minutes. Southwest Vinaigrette is a healthier take on those creamy versions.
Pair this dip with Smoked Queso Dip and your ready for your next party!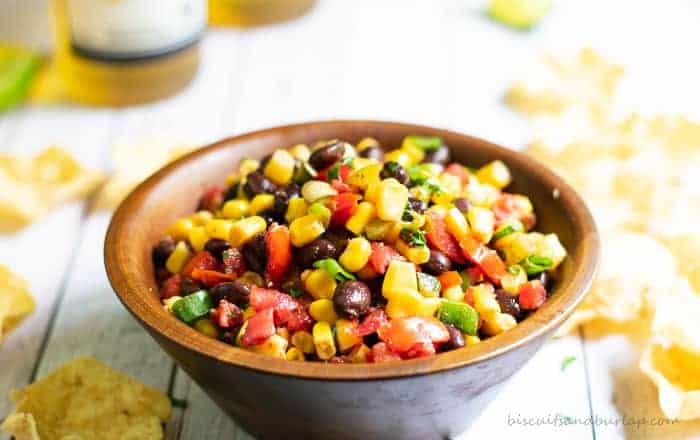 📖 Recipe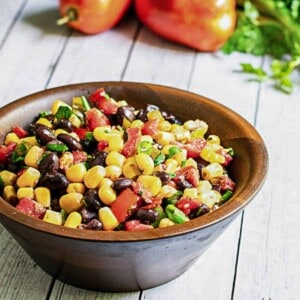 Yummy Mexican Dip (Low Calories)
Stir together in just minutes and have a delicious, colorful and healthy snack.
Ingredients
1

cup

reduced sodium black bean

drained & rinsed

1

small can

whole kernel corn

drained

1

cup

diced tomatoes

2

sliced green onions

1

jalapeno

seeded & finely diced

¾

teaspoon

cumin

1

teaspoon

chili powder

1

lime

juiced

¼

cup

cilantro leaves

chopped

salt

to taste

pepper

to taste
Instructions
Mix together beans, corn, tomatoes, onion and jalapeno.

Add remaining ingredients and stir gently.
Notes
Slice tomatoes 15-20 minutes before you need them and lay slices flat on plate. Salt lightly. When ready to use drain excess liquid off. This keeps the watery juices from diluting the seasonings.
This made 6 one-half cup servings, which would be 75 calories each. Increase according to how many servings you want and what size. Since this was a big party with everyone bringing something I figured this pretty little bowl full with a basket of chips would be good. Honestly, I know it's an appetizer, but I could make a meal off this stuff and it wouldn't be badly balanced.
Lays makes Tostitos Scoops which are oven-baked. The bag says a serving is 16 chips and 120 calories. That seems like a lot to me. 8 should be plenty to "scoop" the ½ cup serving size of dip so that's 80 calories.
To sum it up: ½ cup serving Tex Mex dip = 75 calories
8 oven-baked scoops = 60 calories
Total for a healthy, hearty snack = 135 CALORIES!!!!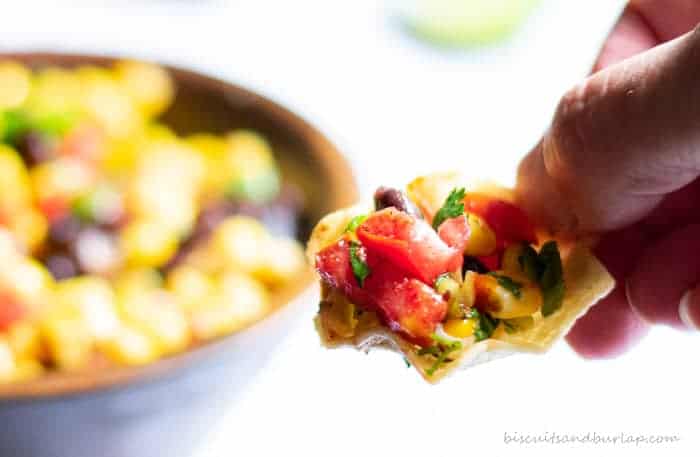 Other Southwestern/Tex-Mex Recipes You Will Love!