These mini Pavlova Desserts are just beautiful and way easier than you think. Pavlova transforms any day into a special occasion.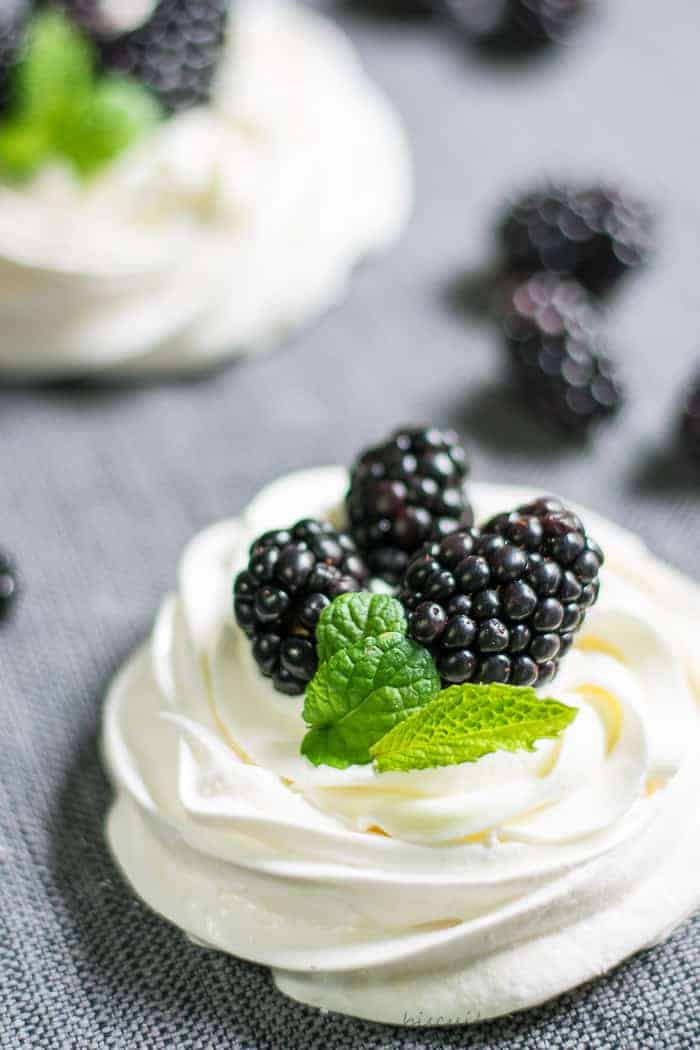 Can you believe I just recently had Pavlova for the first time? I was out with a group of friends for a birthday. The birthday girl must only eat gluten-free, and Pavlova was the one gluten-free dessert option on the menu. Of course, we all had a bite and I was blown away!
Not only was it beautiful, but it was light and airy, with just enough sweetness to satisfy any sweet tooth. Fresh whipped cream and fruit are the crowning touch of pavlova and this one was no exception.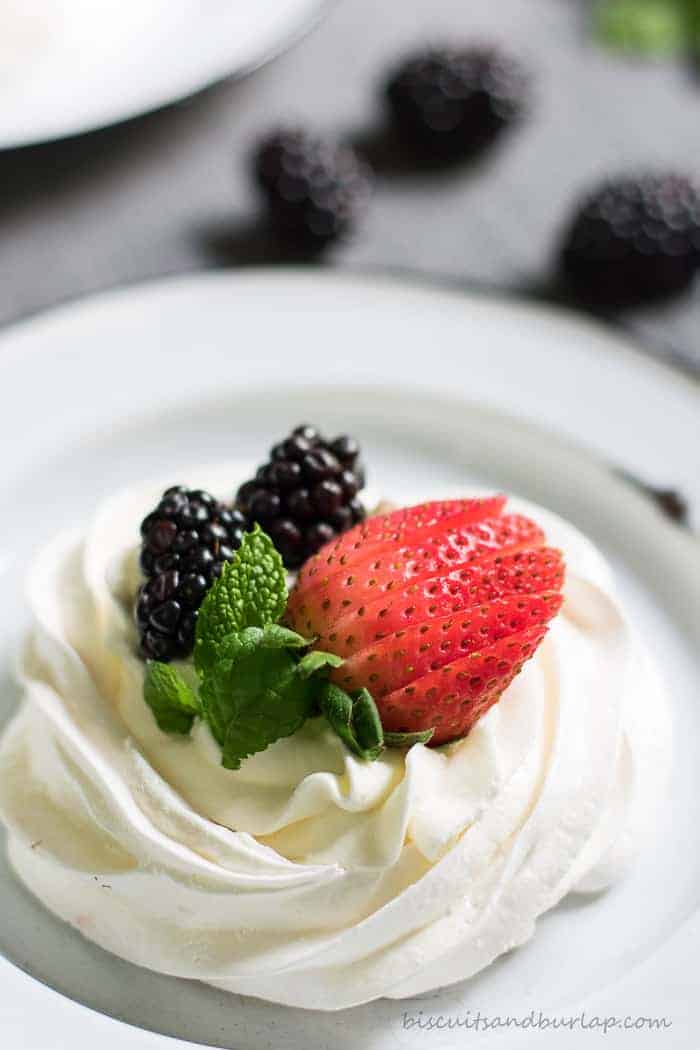 Learning About Pavlova
And so, I set out to learn all about this intriguing dessert. Wikipedia defines it as "a meringue based dessert named after the Russian ballerina, Anna Pavlova". How cool would it be to have a dish named after you?
I learned that Pavlova is traditionally a full size dessert that would be cut into wedges for individual servings, and this is how I made the first one. Though delicious, it was a bit more "rustic" in looks.
Sara suggested trying mini Pavlova the next time, so I set about reading recipes, looking at photos and decided this was the way to go.
Hey, are you getting our weekly updates? Sign up here and new recipes will come straight to you each week.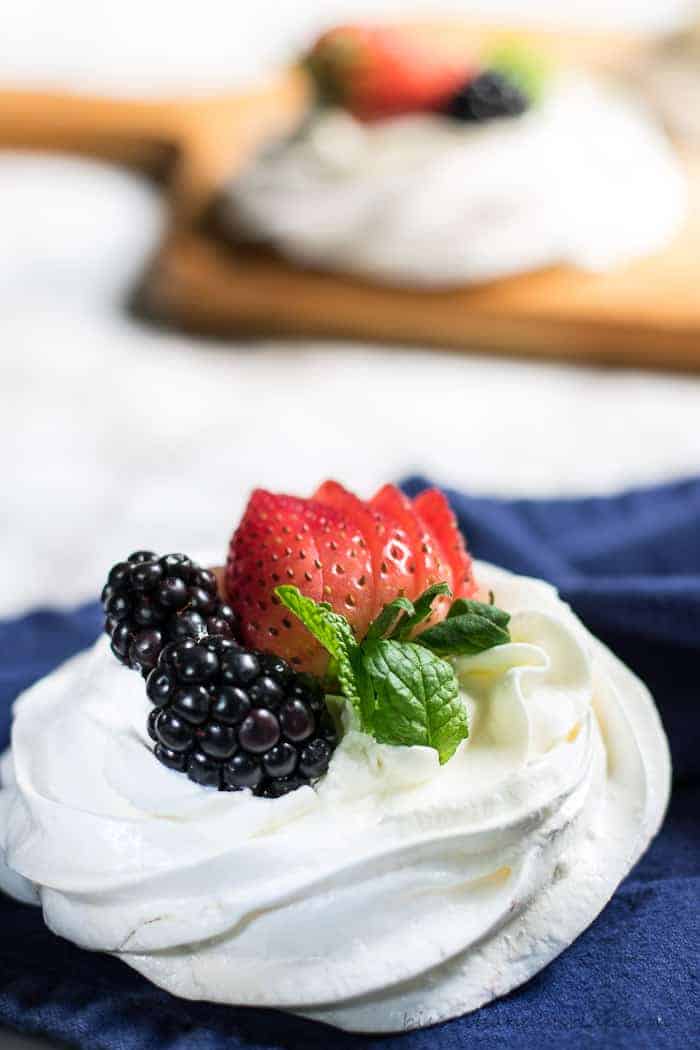 Whether you make the full sized version or the mini's the basics are the same. A meringue base is baked long and slow and then left in the oven to cool as the oven cools. At this point the pavlova can be stored loosely covered at room temperature for up to three days before filling.
I must admit that one full day is as long as they lasted around our house. The temptation got the best of us.
How to make Pavlova
Some recipes call for "superfine" or "caster" sugar and some use regular granulated sugar. The first one I made was with plain sugar and it did have a slightly "gritty" sugar texture. I went to two specialty stores thinking I would find caster sugar, but no such luck.
A google search revealed that a quick spin in the blender would make the texture of granulated sugar "superfine" so that's what I did.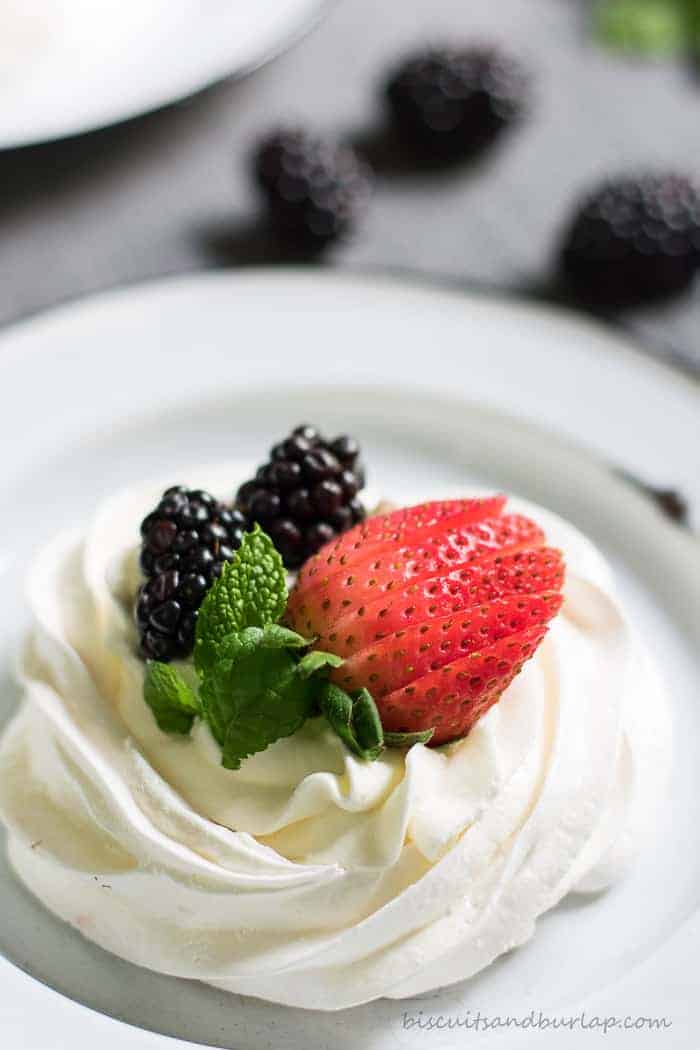 This post contains affiliate links for your convenience.  Click here to read our full disclosure policy
A stand mixer wouldn't be absolutely necessary for making pavlova, but it definitely makes the job easier. I got my Kitchen Aid one for Christmas and I've been on a definite roll of using it. Remember our Homemade Bialys? They were so much fun, and the stand mixer was a necessity with those.
For a full size version you just spoon the meringue onto the baking sheet (lined with parchment paper) and then swirl the top with a spatula. For the mini versions I piped with the Wilton 1M tip into circles. Afterwards I used that same tip to pipe on the whipped cream.
Either version needs a small "well" in the center for the cream and fruit. I formed that with the back of a spoon. wiping off after each one.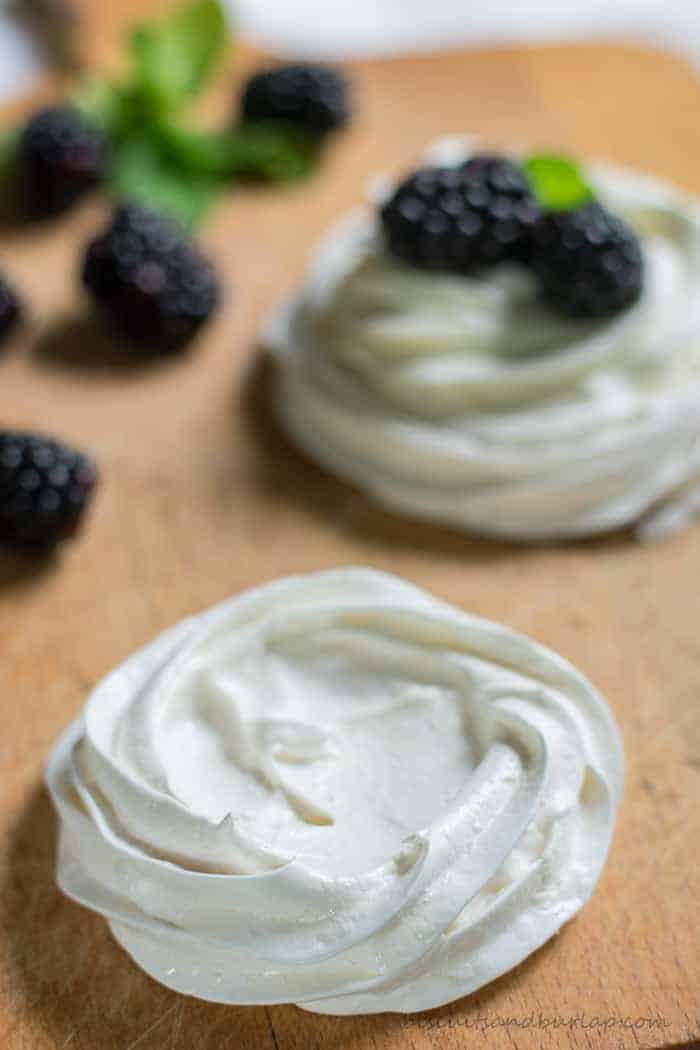 Pavlova is a super versatile dessert
Make as many as you need. Two egg whites will make about 5 mini pavlova, four egg whites about 10 and so on.
Top with whatever fruit is in season, or that you have on hand. I happened to have fresh blackberries and a few strawberries so that's what I used. I think any berries would be great, and wouldn't mandarin orange segments be pretty too?
If you like the shiny look to your fruit, melt a little jelly and brush on the berries or other fruit. Another easy option is to drizzle Blackberry Syrup over the whole thing just before serving. For another "mini" dessert idea be sure to check out these Mini Lemon Tarts. They're super easy, no-bake and beautiful.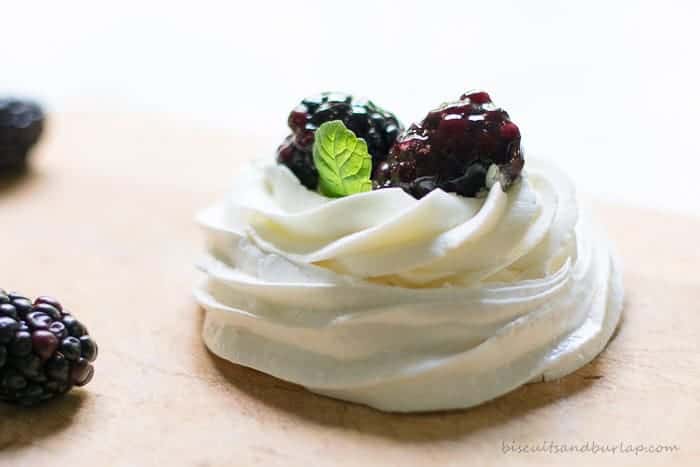 In all honesty, there was one filled with whipped cream and topped with fruit that I refrigerated for a full day. The texture was just slightly more chewy the next day, but still completely delicious. I would not be at all afraid to make pavlova the night before a dinner party.
Oh man! That white on white of the meringue and the whipped cream is a deceiving little tease. The different textures are a party in your mouth that everyone will love.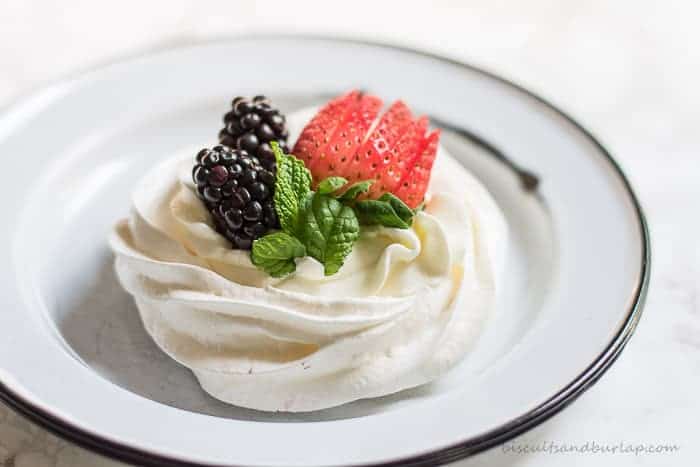 This post contains affiliate links for your convenience.  Click here to read our full disclosure policy
📖 Recipe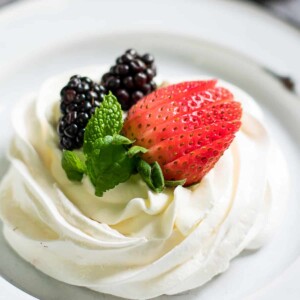 Mini Pavlova Desserts
Pavlova is easier than you think and makes any day a special occasion.
Instructions
Beat egg whites at medium speed for one minute. Turn speed up to high and gradually add sugar, beating for 10 minutes, or until stiff peaks form.

Gently fold in vinegar and vanilla.

Gently fold in cornstarch, just until well blended.

On parchment lined baking sheet pipe into 4 inch circles.

Make a well in the center of each with the back of a spoon.

Bake at 225F degrees for 1 hour, 15 minutes. Turn oven off and leave in additional 20-30 minutes.

Cool completely, and then fill well with whipped cream and top with berries or other fruit.
Notes
Use caster or superfine sugar, or if using granulated sugar it can be blended for about one minute in blender.
Separate eggs one at a time to ensure no yolk gets into egg whites.
A few items you may need for making your pavlova. Click over for easy ordering.
Don't forget about signing up for your weekly updates. You can do that right here. 
For a different version of pavlova check out this Peppermint Chocolate Pavlova Roll at RecipeLion.com
Until next time,

You'll love these recipes too: