Sourdough bread makes excellent french toast. Here is where you'll find how to make this deliciously simple breakfast or brunch dish.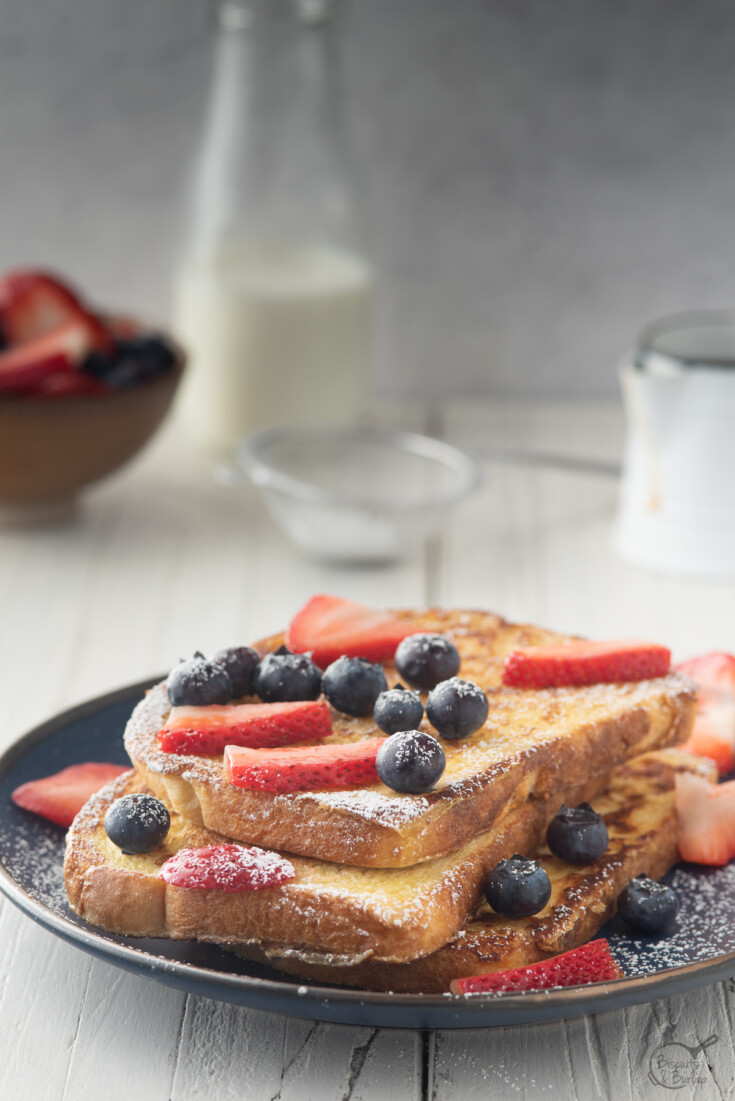 Sourdough bread has been the staple bread in our kitchen for many years. We love the tanginess, the staying power (it has a longer shelf life than most breads), and the plain buttered toast it makes is outstanding too!
Using sourdough bread to make french toast
Because that's what we usually have on hand it's pretty much always our choice. The one exception is our Blueberry Orange Bread, but we typically only have that once or twice a year.
So, I'm just now realizing the uniqueness of using our sourdough for french toast. Naturally, I wanted to share the method and benefits with y'all. You are my people, after all.
Why it's so good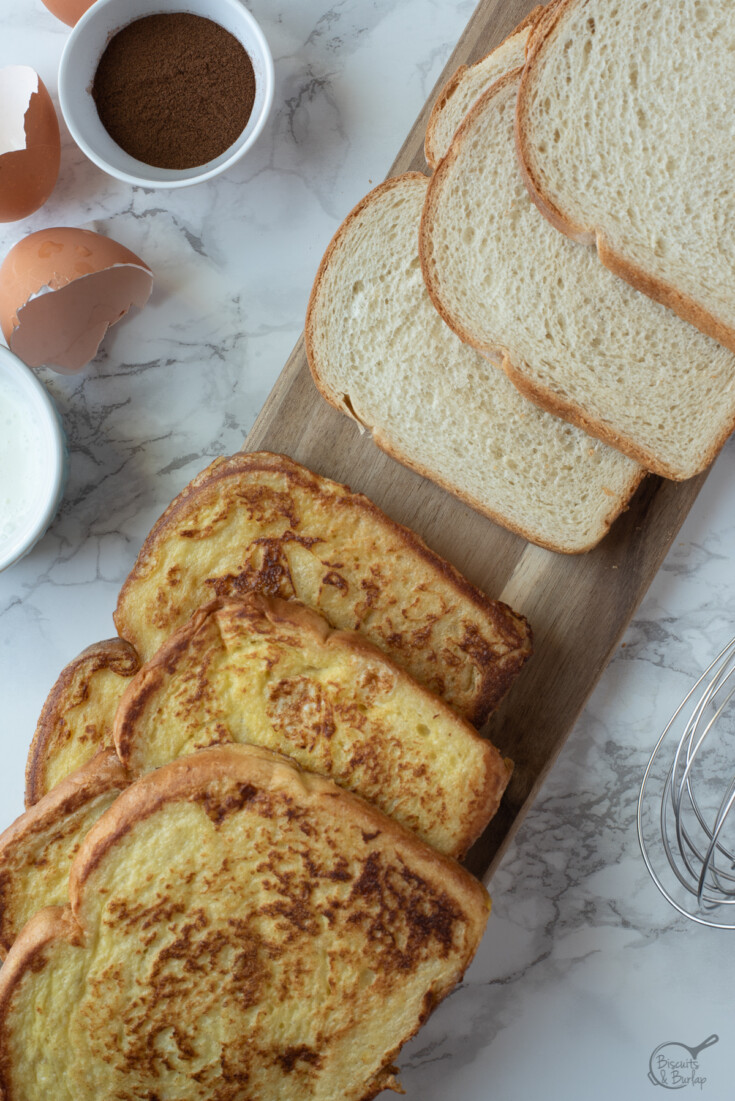 If you've ever made french toast you know that fresh bread is not the best for it. The bread is so soft that it just soaks up the egg mixture and becomes soggy.
Many recipes will recommend "day old" bread, but I'm of the opinion that it should be several days old for the best results. In fact, stale bread may get a bad rap but it's definitely got benefits.
Our good old southern style cornbread dressing wouldn't be the same if we didn't make it with somewhat stale cornbread. The same reasoning applies - you don't want it to get soggy when you add the wet ingredients.
In addition, the very nature of sourdough is what makes it such a good choice. It has lots of "body", or a slightly chewy texture - just perfect for making french toast.
Should you use thick or thin bread slices for french toast?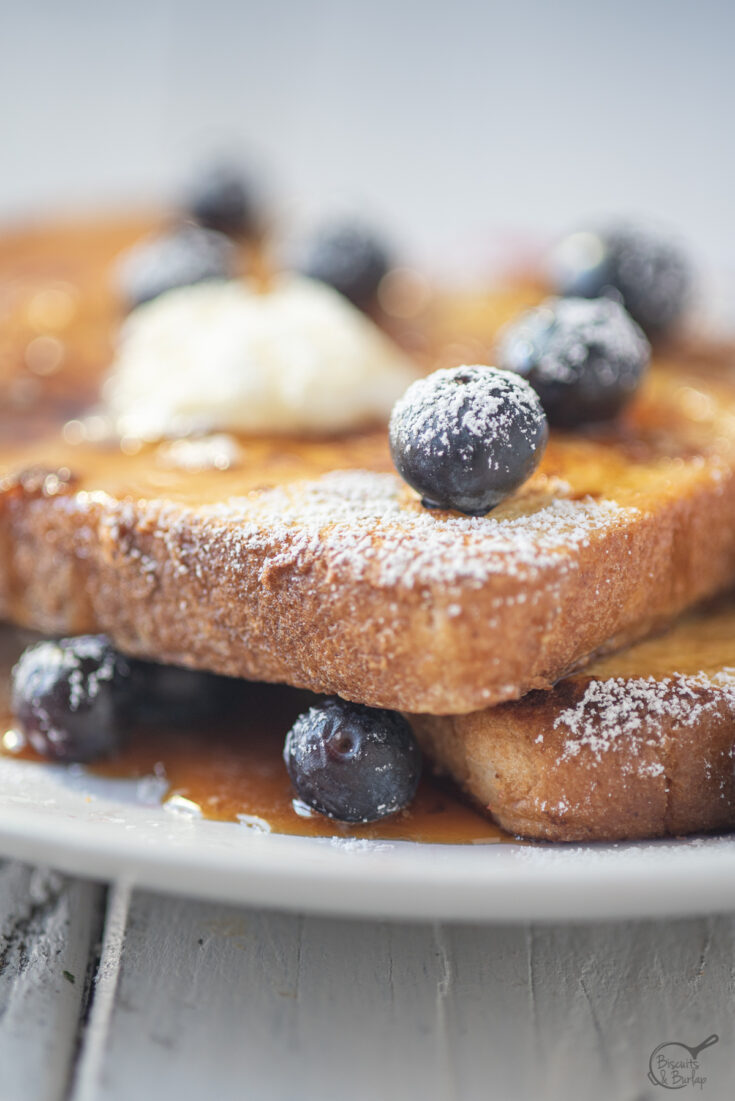 Many recipes will suggest thick slices for french toast, but that's really not necessary. If you're like me you are always trying to keep an eye on what you eat and this is a great place to cut back where you'll never notice the difference.
I will generally make my french toast from sourdough bread that I bought in the bakery section of my grocery store. It is pre-sliced slightly thinner than a loaf of bread from the bread aisle.
This is what I use and it is great. If you have homemade sourdough you can slice it however you like (and I'm jealous, by the way). You can also buy your sourdough from the bread aisle and the slices are usually slightly thicker than from the bakery, but still not "thick".
Frequently Asked Questions:
Is it better to cook french toast in butter or oil?
Butter is definitely our choice. It has so much more flavor than oil. You will have to be careful when heating your pan that the butter doesn't burn. If you're really cutting back on fats you could always use a buttery cooking spray.
Why is my french toast not crispy?
First of all, french toast isn't really super crispy. If yours seems really soft you most likely you have cooked it at too low heat. The other possibility is that the bread soaked in the egg mixture for too long before cooking.
What is the ratio of eggs to milk for french toast?
A good rule of thumb is about 2 Tablespoons of milk for every egg. The number of eggs needed will vary with the size of your bread slices.
Is a cast iron skillet good for cooking french toast?
We love our cast iron skillets and use them often, but this is one occasion that we prefer a traditional modern non-stick surface. Mainly because the heat can be adjusted fairly quickly, where cast iron holds the heat. If you need to cut back because your french toast is cooking too quickly it will be more difficult with cast iron.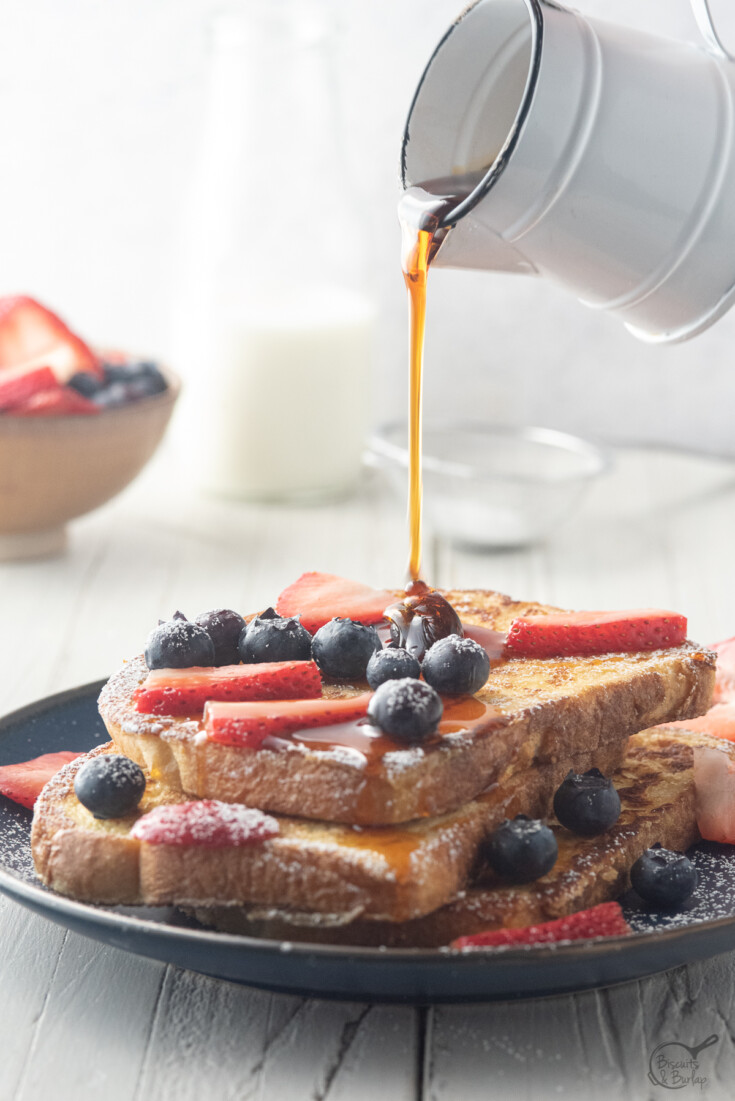 Buttermilk French Toast?
We use a lot of buttermilk around here and usually have it in the fridge. Our signature 3 Ingredient Buttermilk Biscuits are a perfect example, but you'll also find Buttermilk Pie, Buttermilk Cornbread Muffins and Banana Buttermilk Pancakes.
If you have it on hand it makes really good french toast and adds another level of "tanginess" to offset the sweetness of your toppings. If not, any kind of milk will be fine. You can use anything from skim milk to whole milk with success.
Topping Ideas
Speaking of toppings you can let your imagination go wild here. We typically use good old syrup - either our family cane syrup (link goes to a post about an old timey cane grinding) or maple syrup. In our Brioche French Toast Casserole we use blueberries and it gets rave reviews.
A sprinkle of powdered sugar is always good and pretty, and any kind of fruit or berries is the same. Add nutella, peanut butter, a sprinkle of nutmeg or a little extra cinnamon if you like. If you want to add some bold flavor, try pairing it with Peppered Bacon.
For a really special breakfast or brunch for two you'll want to check out our Stuffed French Toast recipe. It's got a cream cheesy, strawberry filling that's divine!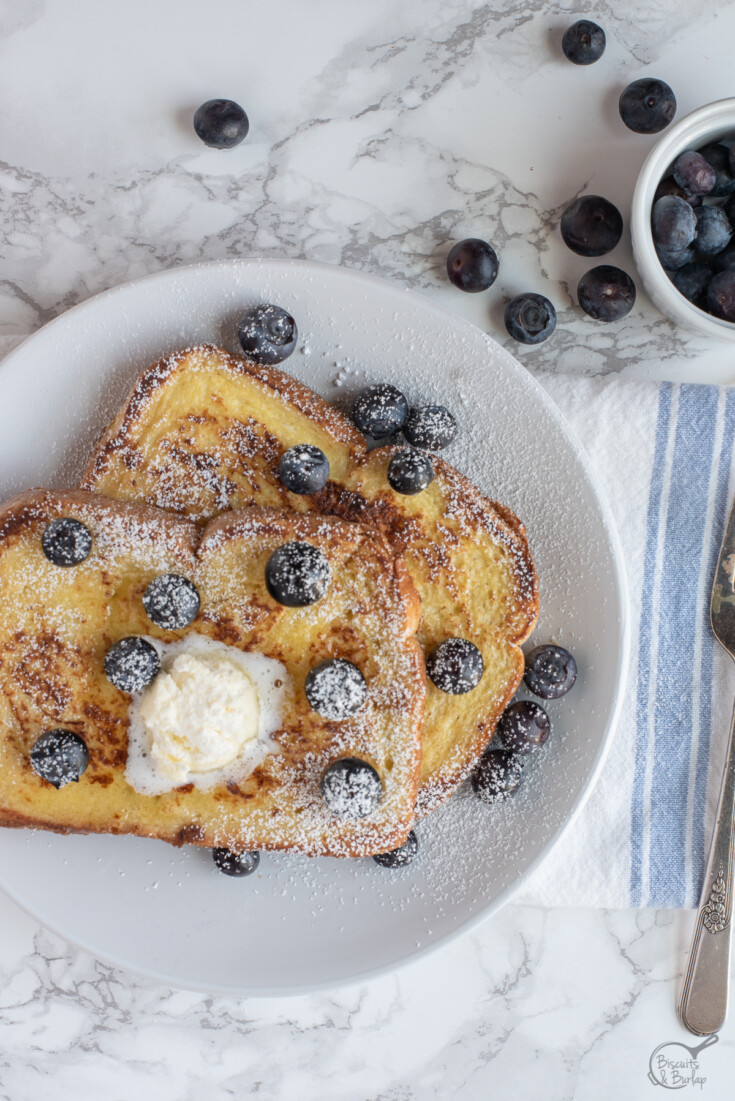 Can this recipe be halved or doubled?
Easily! Like we said in the FAQ's above the rule of thumb is 2 Tablespoons of milk for every egg, and that's enough for about 2 slices of bread (depending on the size of your slices).
Therefore if you just want to make two slices you'll only need one egg and two Tablespoons of milk. If the photos you see here I made 8 slices, so I used 4 eggs and ½ cup buttermilk (which equals 8 Tablespoons).
For a fun and quick look at this recipe check out the Google Web Story.
📖 Recipe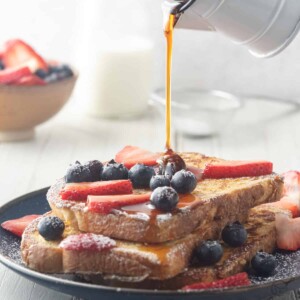 Sourdough French Toast
Sourdough bread makes excellent french toast. Here is where you'll find how to make this deliciously simple breakfast or brunch dish.
Ingredients
Instructions
Lightly beat eggs and then whisk in milk, salt and cinnamon if desired.

Melt butter in skillet over medium heat.

Dip bread slices in egg mixture until coated on both sides and then into hot skillet.

Cook over medium heat until browned on 1st side and then turn, cooking until browned on 2nd side. This usually takes about 2 minutes per side.
Notes
Depending on the size of your skillet and the size of the bread slices you may need to cook the french toast 2 slices at a time. If this is the case use 2 teaspoons of butter for every two slices.
If buttermilk is unavailable, whole milk, 1% or 2% milk or skim milk can be substituted.
Nutrition
Calories:
262
kcal
Carbohydrates:
37
g
Protein:
11
g
Fat:
8
g
Saturated Fat:
4
g
Polyunsaturated Fat:
1
g
Monounsaturated Fat:
2
g
Trans Fat:
1
g
Cholesterol:
94
mg
Sodium:
547
mg
Potassium:
134
mg
Fiber:
2
g
Sugar:
2
g
Vitamin A:
268
IU
Vitamin C:
1
mg
Calcium:
59
mg
Iron:
3
mg

More breakfast and brunch ideas: