This stuffed french toast recipe bursting with strawberries and cream cheese is perfect for impressing that special person in your life.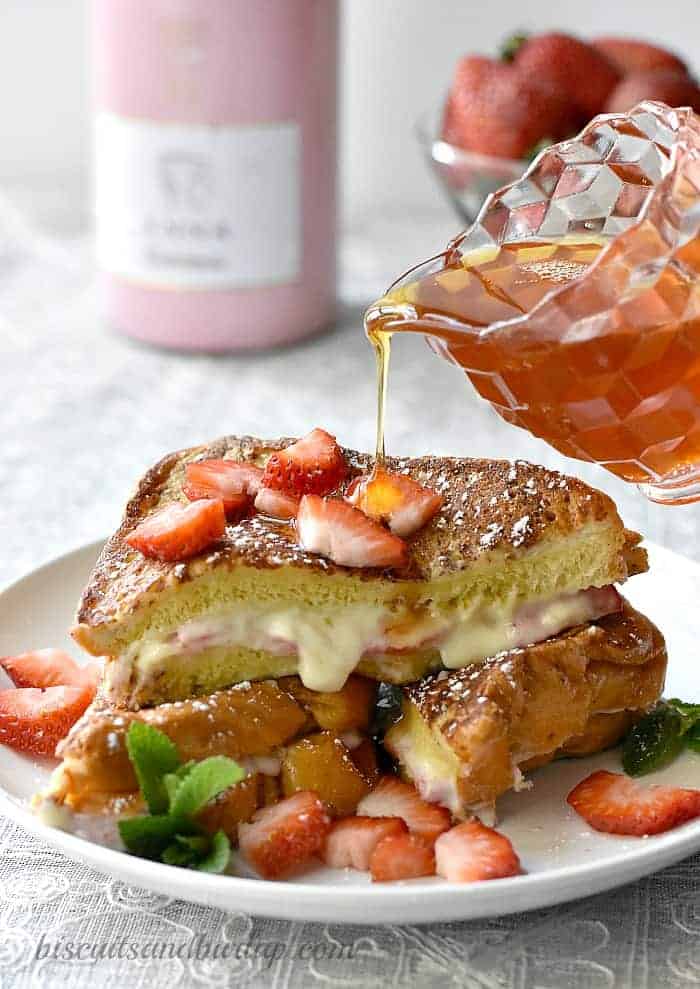 Cooking for one or two people has never been my strong suit. Growing up in a family of five (including two teenage boys who ate as if they were five people themselves), meals were large and if there were leftovers, they got eaten the next day or tossed in the freezer for a weeknight meal later down the road.
This French Toast Recipe is perfect for special occasions
When I set out to write this post, I knew I wanted to make something just for two people. Valentines Day is coming up, then Mothers Day, Fathers Day... What could be a better way to celebrate your loved one than with a delicious breakfast for two? And nothing impresses more than stuffed French toast.
Need more recipe ideas? Click here to subscribe to our weekly newsletter!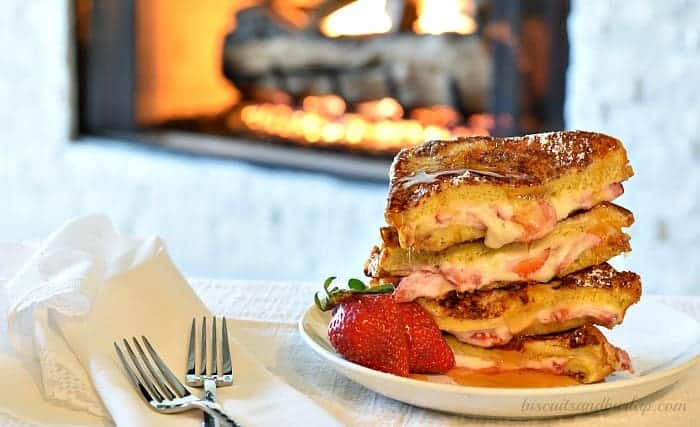 Stuffed French Toast?
Trust me, it's not as complicated as it sounds. Picture a Monte Cristo, but with sweet stuff instead of savory. Two pieces of bread, a schmear of a sweet cream cheese mixture, and fruit.
Then you dip the whole "sandwich" in an egg and milk mixture, and cook it in a skillet just like you would a grilled cheese. Boom- Stuffed french toast!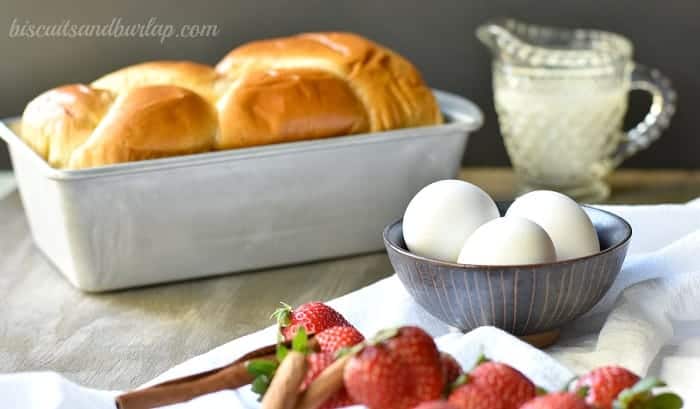 The bread you choose to do this french toast recipe with is pretty important. You want to be sure not to use pre-sliced bread because the sliced will be too thin. Get a whole loaf of Brioche, Challah, or sourdough (I used Brioche) and slice it into 4 pieces ¾ inch to 1 inch thick.
What is the french toast stuffed with?
The mixture on the inside is a combination of cream cheese, powdered sugar, regular sugar, and vanilla. You want to spread a thin layer on each slice of bread. Top the mixture on 2 pieces with thinly sliced strawberries, then with the other slice of bread to make "sandwiches."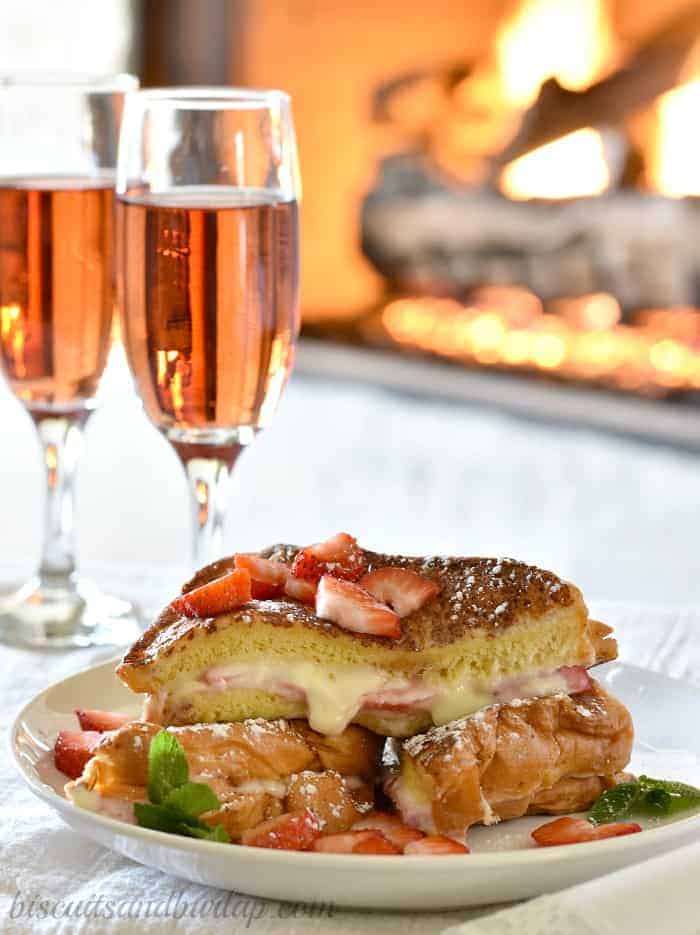 Dip each sandwich in a mixture of egg, milk, cinnamon, and vanilla, then put them in a skillet over medium-high heat. Cook for 4 minutes on each side, or until golden brown. Be super careful when you flip them because the cream cheese mixture will be slippery when it heats up.
Slice the stuffed french toast sandwiches and top with syrup. Serve immediately, with a mimosa if you're anything like me 😉
If you love brunch like we do, you'll also want to look for an opportunity to make Ham and Potato Frittata. And, Spiced Plum Coffee Cake is another favorite of ours as is this more traditional version of French Toast made with Sourdough Bread. If you're feeding the whole family, you're going to want to try this Brioche French Toast Casserole. Be sure to check it out.

📖 Recipe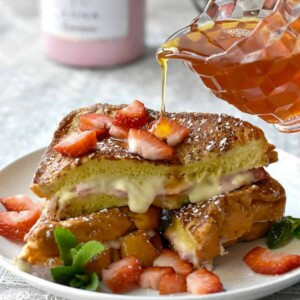 Stuffed French Toast: An Elegant Breakfast for Two
Ingredients
Challah or Brioche bread

¾-1 inch slices
Instructions
Spread think layer of filling mixture on 4 slices of bread.

Create 2 sandwiches by putting strawberries in 1 layer on top of 2 pieces of bread and topping with other 2 pieces.

Dip sandwiches in egg mixture.

Cook in skillet on medium-high heat for 4 minutes on each side, or until golden brown.

Slice sandwiches, sprinkle with a little powdered sugar for garnish if desired, and serve immediately with syrup.
Looking for something else to make for a special occasion? Try these!