This tangy Blackberry BBQ Sauce includes chipotle chili peppers for a bit of smoky flavor. Easy to make it's the perfect condiment for any type of smoked or grilled meat.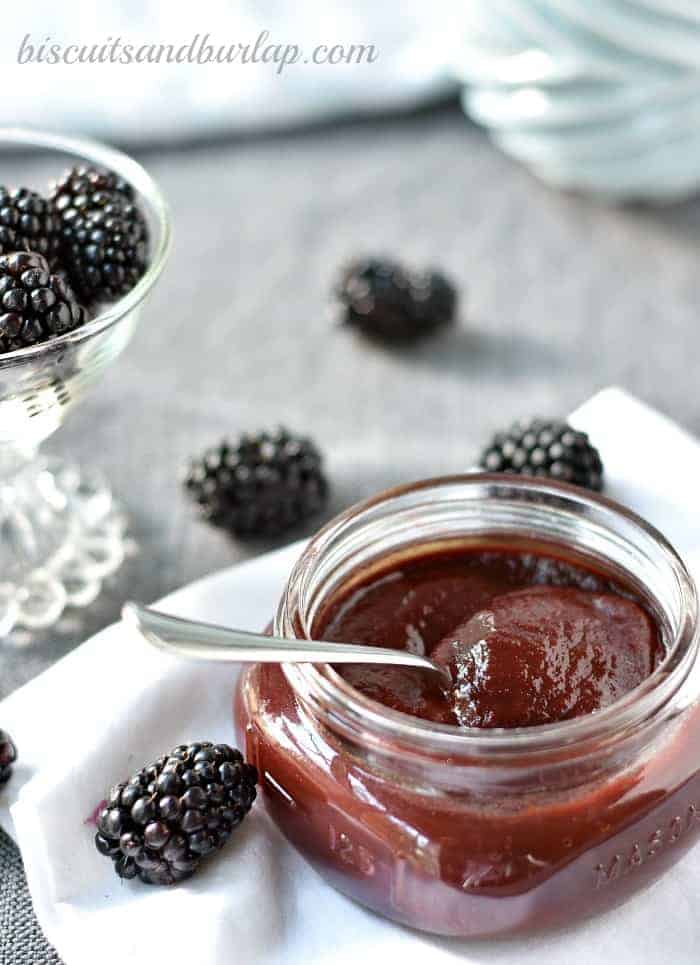 One of my favorite memories from the lazy summer mornings of my childhood was walking across the street in my pajamas (barefoot if Mama didn't catch me) and picking blackberries from the edge of the woods.
I'd take them back to the house, rinse them off in the kitchen, and then add them to my morning cereal. There is just nothing like fresh blackberries!
Do you remember picking wild blackberries? Southern Food Then and Now is all about traditions, regions and the origins of our favorite cuisine!
The idea is born for blackberry bbq sauce:
The students at the school where I teach live in urban neighborhoods, and most of them, I discovered, have never had this experience.
So when we spotted thousands of blackberries on the edge of the field where we spend recess, I just knew I had to take the moment to show my 1st graders a part of their neighborhood they never knew existed.
We talked about the thorns and the love snakes have for these juicy berries. We discussed the difference between the red ones and the black ones and why we should leave the red ones alone.
I went over why it was crucial to have a grown-up check before you eat anything you find growing...
Then we dove right into that Southern rite of passage known as blackberry picking.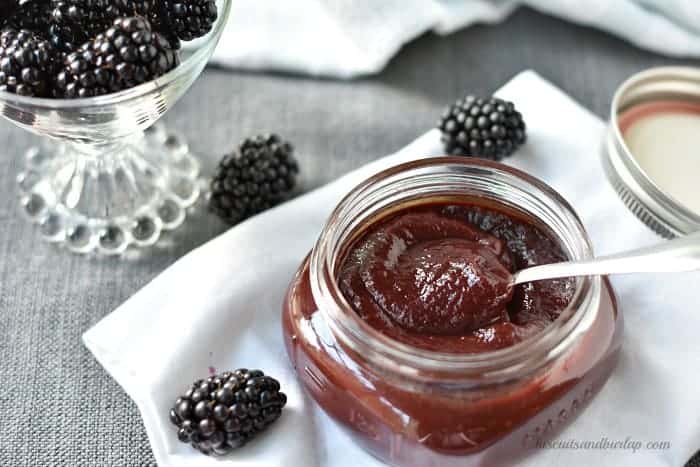 As much as I love blackberries on my cereal, in my smoothies, on my ice cream, and in my cobblers, I wanted to get a little outside the box with this recipe.
It is grilling season, after all, so why not put blackberries on our barbecue? This tangy sauce has chipotle chili peppers to give it a smoky kick, too!
You'll find it to be absolute perfection on any of your grilled or smoked meats - use it for ribs, Smoked Chicken or even brush a bit on grilled shrimp.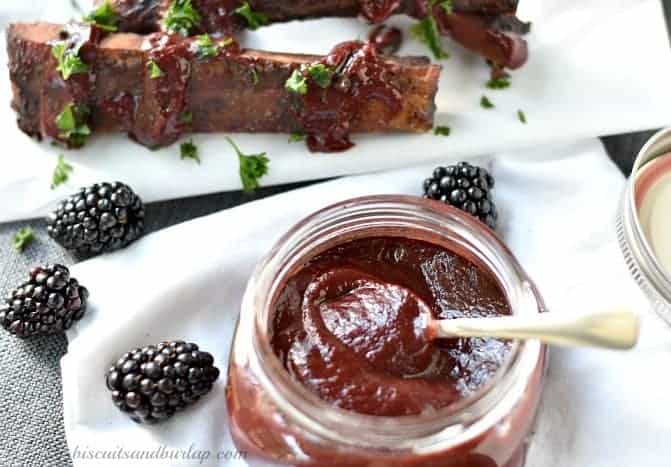 How to make Blackberry Barbecue Sauce
To make the sauce, you combine blackberries, a chipotle chili pepper (the kind that comes in a can of adobo sauce), tomato paste, brown sugar, garlic, apple cider vinegar, worcestershire sauce, and salt & pepper in a pot.
Bring all the ingredients to a boil, stirring constantly, for about 5 minutes. As you stir, use a wooden spoon to crush the blackberries and the chili pepper to release all the flavors they have to offer. Turn the heat off and let the mixture cool for about 10 minutes.
Next, spoon the mixture into a fine mesh sieve and use the wooden spoon to press all of the liquid out into a bowl. Once all you have left in the sieve is the solid part, discard that. Serve the blackberry bbq sauce any way you would serve a more traditional version!
More favorites:
The perfect side dish for whatever you're cooking on the grill and serving with Blackberry BBQ Sauce is this Watermelon Salad with Cucumbers and Lime Vinaigrette.
And, Blackberry Syrup is great over pancakes, waffles, biscuits or stirred into a cocktail! And Southern Blackberry Mules? Deliciousness in a copper mug!

For a fun and quick look at this recipe check out the Google Web Story.
📖 Recipe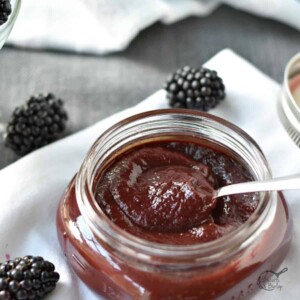 Blackberry BBQ Sauce
Blackberries give a unique twist to this smoky barbecue sauce.
Ingredients
¼

cup

apple cider vinegar

¼

cup

brown sugar

½

cup

tomato paste

3

Tablespoons

worcestershire sauce

1

whole chipotle pepper

2

teaspoons

adobo sauce

6

ounces

fresh blackberries

1

clove

garlic

salt and pepper, to taste
Instructions
Combine all ingredients and bring to a boil over medium high heat and stir constantly for 5 minutes.

Crush blackberries and chipotle pepper as you stir.

Remove from heat and let cool 10 minutes.

Spoon mixture into fine sieve and press until solids are all that remains in the sieve.

Discard solids and serve sauce as desired.
Notes
Chipotle pepper is the type in a can of adobo sauce. Take the pepper out and then use sauce as directed in recipe. 
Nutrition
Calories:
60
kcal
Carbohydrates:
14
g
Protein:
1
g
Fat:
1
g
Saturated Fat:
1
g
Polyunsaturated Fat:
1
g
Monounsaturated Fat:
1
g
Sodium:
453
mg
Potassium:
270
mg
Fiber:
2
g
Sugar:
11
g
Vitamin A:
397
IU
Vitamin C:
9
mg
Calcium:
27
mg
Iron:
1
mg
More recipes you'll want to try: