These sliders are hearty enough for a whole meal, but small enough to make them the perfect tailgate munchie! And they ooze with melty pimento cheese when you bite into them? Be still my heart…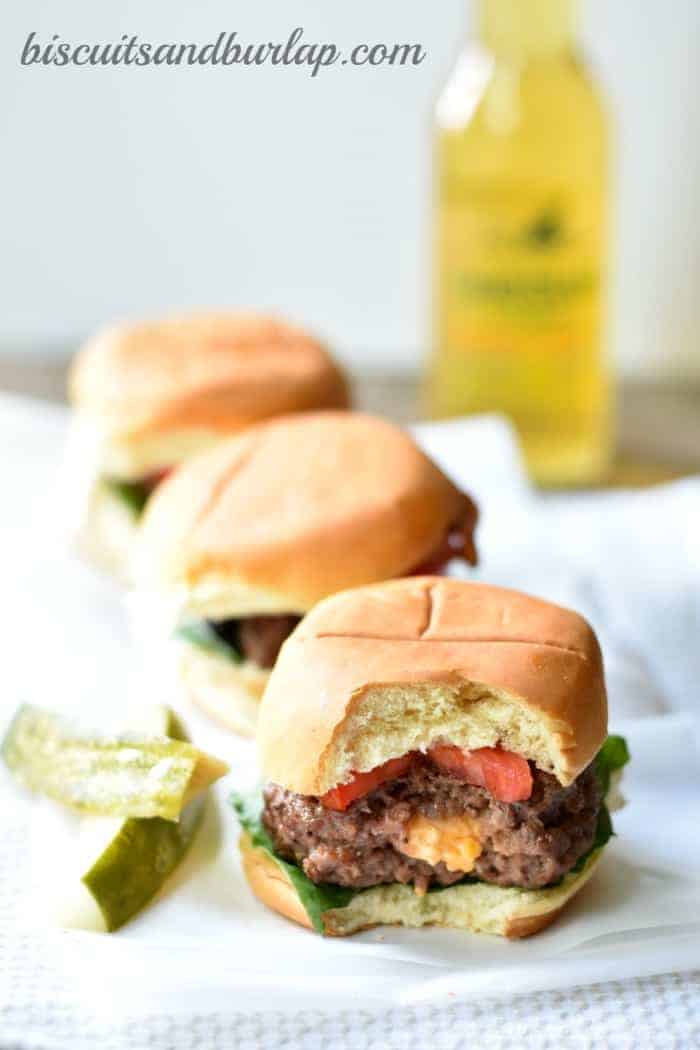 It's the most wonderful time of the year! Nope… not Christmas.
Football season. 
Now we've had this talk before. Remember back when I posted the Gift Guide for the Southern Football Fan? Football is religion around here I know that baseball is supposed to be the great American past time and all, but I don't care if I never see another baseball game again. Football season is finally upon us again and with that comes Game Day parties and tailgating. So whip out the grill and get your Game Day started off right with these Pimento-Cheese Stuffed Sliders.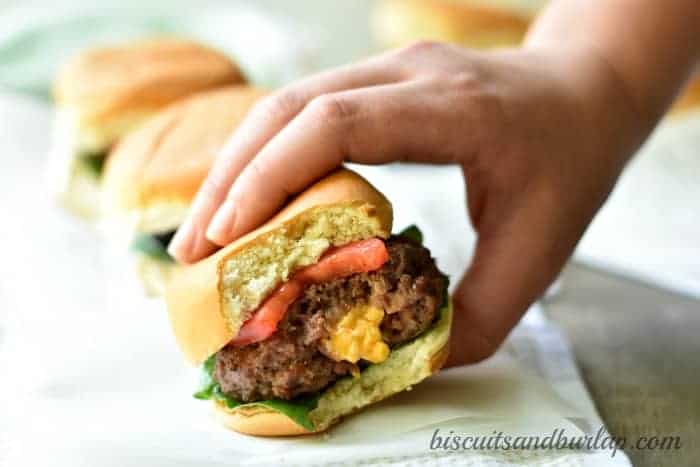 The Pimento Cheese
You can certainly put in all kinds of extra work and make your own pimento cheese to stuff these burgers with, but if you ask me, Palmetto Cheese is as good as homemade. It's known throughout the South as "The Pimento Cheese with Soul." The recipe comes straight out of the South Carolina lowcountry and is now produced in Pawleys Island, SC. I grab it at my local Kroger and best of all, you can get it in original, jalapeno, and bacon. If you know me, you already know which one I got…
Another great recipe using Palmetto is our Cheese Ball with Pimento Cheese. And it's an old family recipe.
We tried a couple difference techniques for stuffing the burgers to achieve maximum cheesiness. The most effective we found was creating a frozen pimento cheese "log" by scooping pimento cheese into the bottom of a sandwich-size plastic baggie (about an inch and a half deep) and then freezing it for a couple hours. The log removes easily and can then be sliced into 1-inch thick discs.
The Sliders
Next, make 2 small thin patties (however you typically make burgers- I just used salt, pepper, and Worcestershire) and put the pimento cheese disc between them. Press the edges together and smooth them out so the pimento cheese in well enclosed in the center of the patties. Grill for 4-6 minutes on each side and then serve with whatever toppings you like. Of course, a little piece of bacon is great, but even better is our homemade Bacon Bourbon Jam. 
Game on!
Make this the perfect all-American meal with a southern twist by making our Homemade French Fries with Creole Aioli. 
This recipe and lots of other great ones are featured on Meal Plan Monday.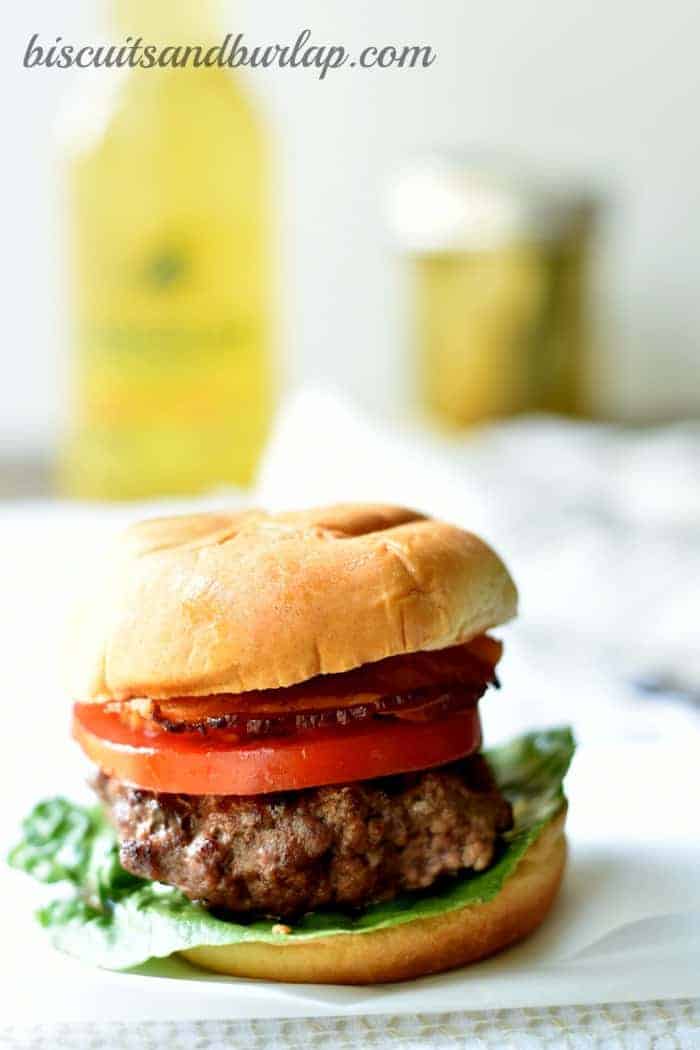 Pimento Cheese-Stuffed Sliders

Ingredients

1

lb

ground chuck

1

T

Worcestershire sauce

1/4

t

each salt and black pepper

1

c

prepared pimento cheese

Palmetto Cheese

Slider buns and desired toppings

Instructions

Put pimento cheese in bottom of plastic baggy until filled about 1 1/2 inches across bottom of bag.

Put baggie in freezer on level surface and freeze 2+ hours.

Create 2 thin patties (about 4 inches wide) and put a 1 inch slice of pimento cheese "log" between them. Pinch and smooth edges.

Repeat until all beef has been used.

Grill 4-6 minutes on each side (middle will still seem soft- Don't worry- It's just cheese!)

Top any way desired!
Find some great ideas for putting together a special cheese board here.
Looking for more ideas for your tailgate party?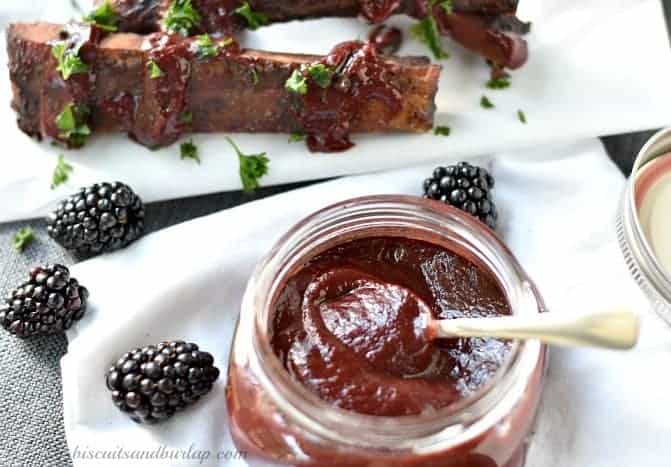 And if your fanwear has seen a few too many tailgate parties…
What game are you most excited about this season? I am looking forward to a little revenge on Tennessee for my Bulldogs this year…
Happy tailgating!