Turkey Cranberry Crostini are a creative and elegant way to use those Thanksgiving turkey leftovers.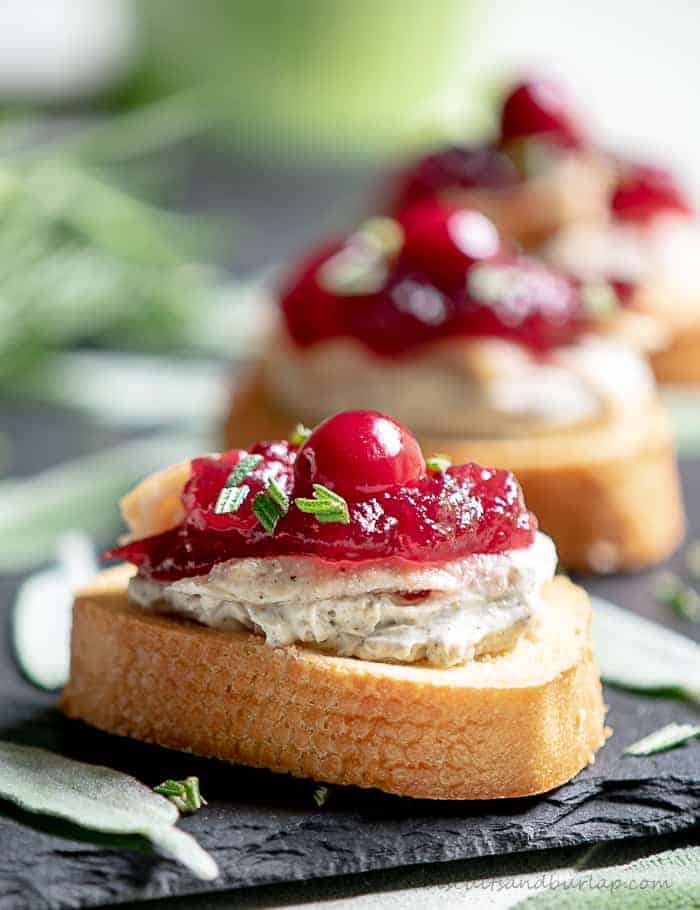 Year before last we were out of town for Thanksgiving, switching things up a bit. We have lots of friends and family on St. Simons Island, so we decided to have everyone over for a cocktail party the day after Thanksgiving.
As we made our plans, Mom said the main goal was to get rid of the turkey leftovers as we were leaving the next morning. So, I came up with this easy little appetizer and it was a huge hit with everyone there.
Not only was I using up the turkey leftovers, but cranberry sauce too!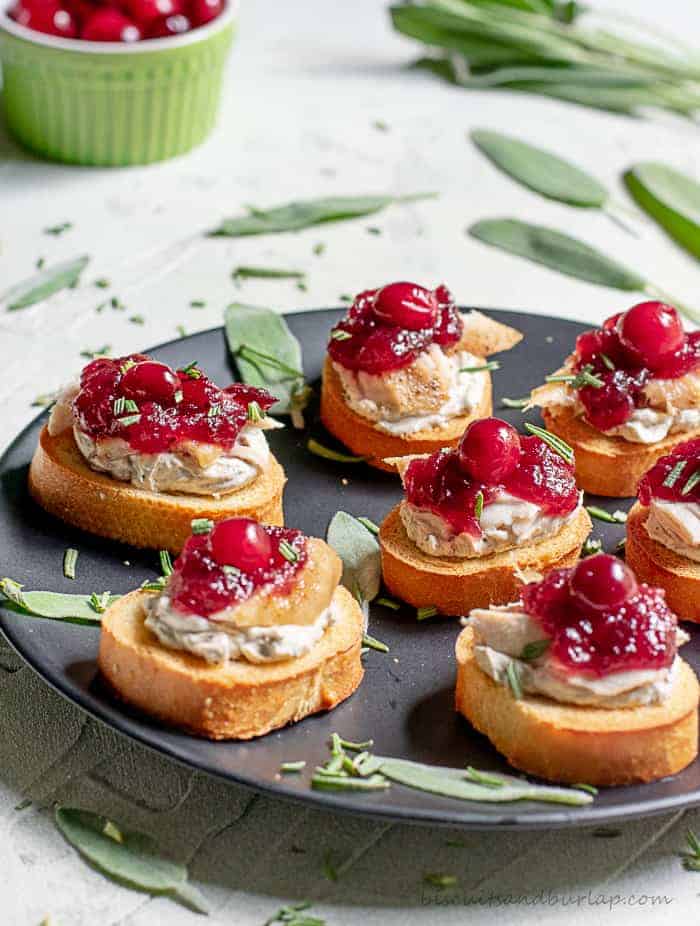 It was so easy. I just took a French baguette and sliced it to make the toasts and baked it at 375 for about 10 minutes (keep an eye on it!). Then I took an 8 ounce package of cream cheese and added a teaspoon of poultry seasoning (a combination of sage, marjoram, thyme, rosemary, and nutmeg) and salt to taste.
I also shredded up about a cup of turkey leftovers (ours was Cajun fried… yum!) and set aside ¾ cup of leftover cranberry sauce.
Then… assembly! I spread about ½ a tablespoon of the cream cheese mixture on each crostini, and topped it with a pinch of turkey and a teaspoon of cranberry sauce!
What a great way to use up those turkey leftovers! And so pretty…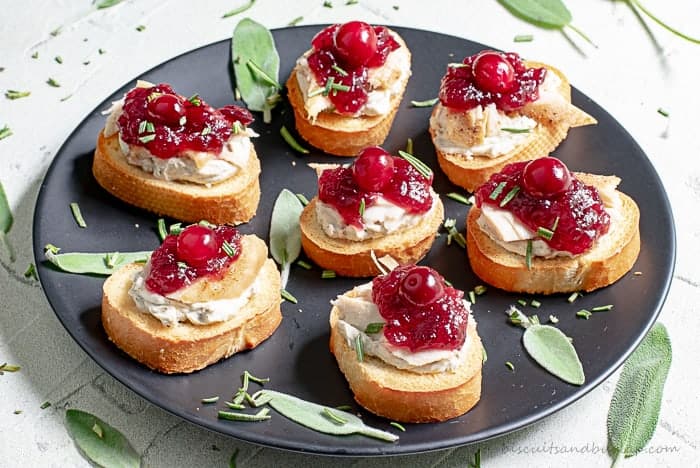 We do love our Cajun fried turkey, but if you have a few extra people who love the white meat you'll want to check out this recipe for Slow Cooker Turkey Breast.
It's so easy to have it cooking while you make the rest of the meal. And the gravy is divine!
If you have leftover ham, check out our Black Bean Soup with Ham.   Or if you need a brunch recipe for that leftover ham try Ham and Potato Frittata.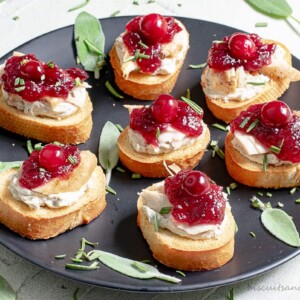 Turkey Cranberry Crostinis
The best way ever to use up Thanksgiving leftovers.
Ingredients
1

loaf baguette

8

oz.

package cream cheese

1

Tbsp.

poultry seasoning

salt

to taste

1

cup

shredded turkey

¾

cup

cranberry sauce
Instructions
Slice baguette into about 24 thin slices

Toast for 8-10 minutes at 375 degrees

Mix cream cheese and seasoning

Spread ½ Tbsp. of cream cheese mixture on each toast

Top with a pinch of turkey and 1 tsp of cranberry sauce

Garnish with fresh herbs, if desired.
Looking for more holiday ideas? Check these out!